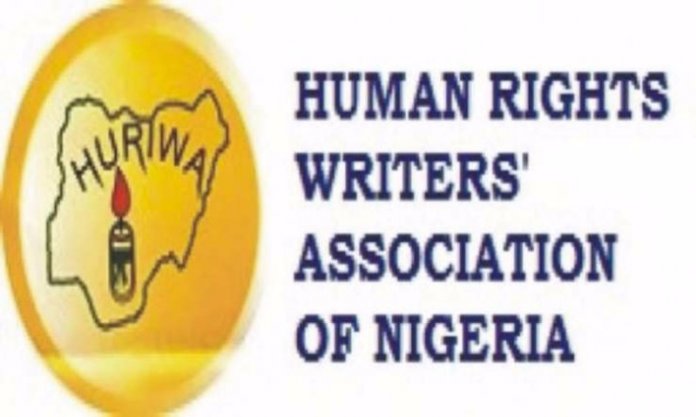 Peter Uzoho
Civil rights advocacy group, Human Rights Writers Association of Nigeria (HURIWA), has warned that the controversial Water Resources Bill recently re-introduced to the House of Representatives for passage "will cause civil war" in the country.
HURIWA also strongly condemned the current National Assembly members for "their penchant for introducing obnoxious, draconian and imperialistic anti-people's legislations, with emphasis on the re-introduction of the bill on Natural Resources," which it said was aimed at stripping southern littoral states of their control of water resources.
In a statement issued yesterday and jointly signed by its National Coordinator, Mr. Emmanuel Onwubiko, and the Director, National Media Affairs, Miss. Zainab Yusuf, HURIWA said the bill, which lacked consensus and wide consultations with critical stakeholders, was ill-timed.
It said: "At a time when the country is bedeviled with an atmosphere of ethno-religious suspicion, which has replaced our previous harmonious coexistence, bringing up a controversial bill such as the one on natural resources without consensus and wide consultations with critical stakeholders is ill-time even if it contains some good clauses.
"More so, it is coming under a presidency that has increasingly found it difficult to shake off the tag of being deeply parochial and sectional.
"Again, it trespasses into the terrain of land and water resources, and therefore, conflicts with powers conferred on state governors by the Land Use law. Additionally, it assumes a unitary federalism which runs counter to the current agitation for power devolution and restructuring in the country."
HURIWA added that just like the Companies and Allied Maters Act (CAMA 2020), an otherwise necessary and important legislation that has become divisive, the National Water Resources Bill had also strayed into the country's delicate fault-lines and lost in the brackish waters of Nigeria's recurrent political criticisms.
It said the president should be worried that almost all his important policies have continued to energise certain concealed instincts in the society, "and that Nigerians now appear incapable of having any decent conversation without resorting to ethnicity and religion."
The group said: "All factors considered, therefore, this National Water Resources Bill is obnoxious, draconic and imperialistic; conceived in a time of mutual suspicions, promoted by divisive interests and opposed by the current politics of ethno-religious distrust in the country, and should be jettisoned.
"This bill on water resources, if not discontinued, could result in civil war if not now, then sooner rather than later, because it is not possible to take over the natural water resources of the indigenous people in the South and hand them over to strangers under the guise of the central government controlling these water resources."