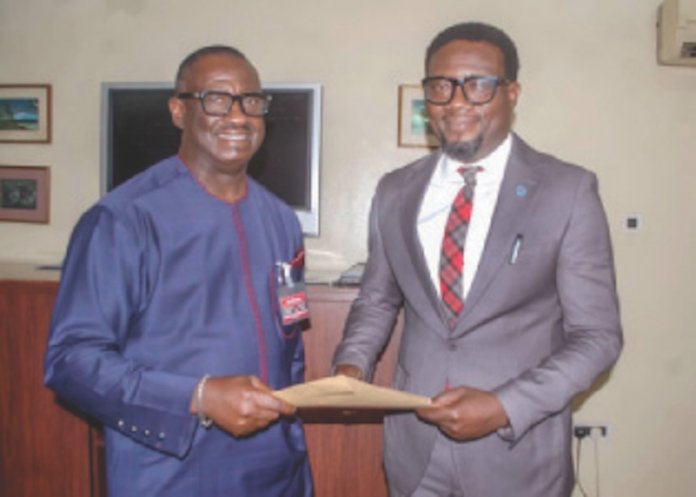 At Skymit Motors, one of Nigeria's choice dealers in exotic automobiles, Segun Naiye who joined the company 29 years ago, as a vehicle cleaner, has been graciously instated as the General Manager. Ferdinand Ekechukwu and Peter Uzoho report.
On a recent Wednesday morning, the premises of one of the first choice automobile giants, Skymit Motors Limited, on the ever busy Bank Anthony Way, Ikeja Lagos, buzzed with excitement. The large expanse showroom which is the head branch of the 33-year-old auto marketing company, exudes freshness of the sleek cars as well as the glory hovering around them, and leaves one marveling about those eye-catching whip and wheels of wonder.
The day was special, very special. It was not about striking business deals neither was it about signing and receiving checks and all that marketing demands. At the Skymit boardroom situated at the first floor of the office complex was a special inauguration ceremony of the company's new general manager, Mr. Segun Benjamin Naiye.
Ordinarily, such inauguration would go unnoticed but that was a rare type of inaugural ceremony. It was a day to celebrate the rise from grass to grace and to reward the hard work and faithfulness of a loyal employee who has been steadfast with the company and has given his all to see to the growth of the company.
For the board of the company, it was a moment to reflect and recount the personality of Naiye, who has consistently and diligently served the organisation since joining them some good 29 years ago as a vehicle cleaner and has been a big part of the company's success story. Naiye's journey at Skymit fits well into a story of one wrestling with destiny; one who is determined to change the status of his family by starting small and by internalising the immortal teaching about the dignity in labour. Laced with emotion, his citation at his inauguration as the substantive general manager of the automobile dealer, revealed that Naiye in 1991 walked into the premises of Skymit Limited, then located at 35. Opebi Road, Lagos, seriously looking for a menial job fit for a very young school certificate holder.
He was fully aware of the situation at home and that gave him concern. But he was not scared to face life. In his quest to assist his parent to contribute to the upkeep of his family, he gladly and thankfully accepted to work as a vehicle cleaner, as offered him by the company. At the time, he relished his new-found job and never bothered about the lowliness or otherwise of his position as a vehicle cleaner. He never minded what his peers at the time would say. He had no inkling of what fate would turn out to be for him later. He neither knew that he would one day rise through the ladder of destiny to attain the proud position of general manager in a reputable company. His concern then was to work and earn his little stipend and help his parents and siblings.
By dint of hard work, diligence focus, determination, and self-development, Naiye has been able to conquer 29 years' life challenges and attained this lofty height, an achievement that can never be over-celebrated. In his quest to develop himself further and be better positioned to cope in a 21st century work environment, Naiye attended the prestigious University of Lagos where he bagged a Diploma in Mass Communication; he went further to obtain a Bachelor of Arts degree from the Lagos State University. His undying quest for more knowledge and exposure led him into taking several online courses and programmes. All he achieved without any loss in enthusiasm or performance for his work.
Prior to his elevation to the post of the general manager, Naiye had served the company in several capacities, moving from Supervisor to Head of Operations at Moontrends (trading as Skymit), Operations Manager of the Victoria Island branch of the company; and Senior Manager, Sales and Marketing department at the head office of the company. During his time as Head of Sales and Marketing, Naiye undertook several sales and marketing courses with Daimler AG locally and in Germany.
For serving the company faithfully and diligently, the board of the automobile dealer found him worthy to be elevated to the position of general manager to oversee the total operations of the company, and take it to the next level in the automobile marketing industry. Naiye is being admired by his colleagues, customers and the board of directors of the company because of his rare inspiration, and excellent attributes. He is not relishing his achievements and rewards alone as he is happily married to his dear supportive wife, Stella, a marriage blessed with lovely children.
Recounting his excellent attributes and the desire to win, his colleague and Head of Corporate Services, Skymit, Mr. Monday Obadan, who moderated proceedings during the inauguration, hinted on the scenarios that played out in Naiye's favour in the 33 years old company, which led to the divine elevation to his destiny. According to Obadan, Naiye is the longest serving staff in the company who has more knowledge of the vision and mission of the founder and chairman of the company, instead of head hunting from outside.
"Second, he has won back to back Most Valuable Staff' awards severally. Thirdly, he heads a strategic department of Marketing and Sales. Fourthly, he represents a new, youthful and brighter future for the company in this age of technologically-driven economic and commercial activities. Lastly, it was a very smooth succession and transition borne out of consultation and consensus after the last general manager left to become an Oba, leaving a vacuum since four years ago," Obadan would testify.
The Chairman of Skymit, Mr. Tayo Ayeni, said Naiye's promotion to general manager was in line with the company's plan of giving youth the opportunity to lead and take the marketing giant to the next level. "The company is about 33 years old. So what we are trying to do is to give young people opportunity to actually take charge and take it to the next level. So I expect him to work with his team and take the company to the next level as expected them to," Ayeni enthused.
He said he has confidence in Naiye's ability to deliver, adding, that "he has been with us for a while. He started from 'car wash' to supervisor to manager. So he is experienced enough, and with the support of the management and his team in place he will deliver. I have confidence in him and his team." The chairman however noted that despite the current COVID-19 pandemic the company has remained strong owing to its solid foundation.
"You know our foundation is solid and because of that we are actually not shaking. Over the years we have been planning; every year we roll out a plan. But this year our plan was a bit affected by COVID, but we are still as solid as ever," he assured. The man of the day, Naiye, who was full of emotion all through the proceedings, expressed his happiness for being elevated and celebrated by the company. "I feel elated, I feel humbled, at the same time this is not the time to celebrate," he said.
"This is the time for us to really buckle up, roll our sleeves and get to work. It is very important for us to know that it's a challenging time globally, it's a challenging time in the nation, it's a challenging time in our industry. So it calls for more work and real work," he stated further. "We know that for every organisation, there is this quest to go higher, to get bigger than they are. This is what our challenge is. This is what the task ahead of us is, and we trust that from this period, we want to begin to go to the height that the vision and mission statement of this organization is all about, which is: 'go to the sky and begin from the sky and the sky is the beginning', not even the limit".
Despite the enormity of the demands of his new position and the natural tendency to feel scared initially, Naiye expressed determination to face the challenges squarely. He said: "Well for every responsibility there are challenges, and it calls for one to be worried or have the tendency to be afraid. But going through the experiences over the years, we have seen so many things. We have come through challenges, through the thick and thin, and we have come out of them successfully."