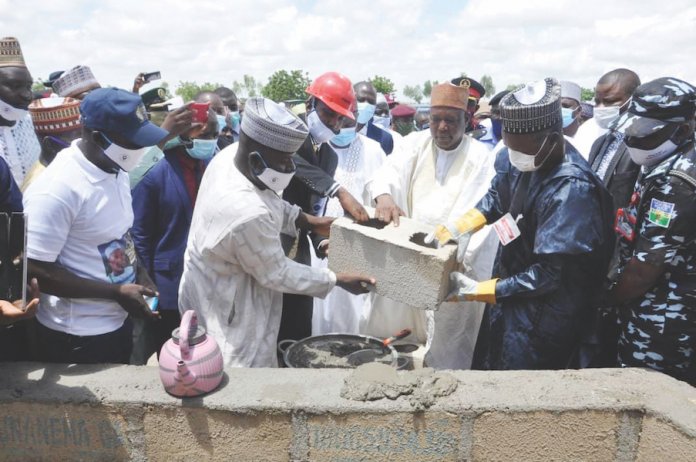 Francis Sardauna chronicles the humanitarian interventions of the Chief Executive Officer of Continental Computers, Alhaji Salisu Mamman, in his immediate community in particular and Katsina State in general
Katsina State-born philanthropist, Alhaji Salisu Mamman, has over the years impacted positively and transformed people's lives, particularly the vulnerable within his immediate community of Kadandani in Rimi Local Government Area of the state. Svelte and humble Mamman is the Chief Executive Officer (CEO) and Managing Director of the famous Continental Computers in Katsina, the state capital.
He grew up in a family where giving and humanitarian services were second nature and has continued this passion in life as he reaches out to people through empowerment, scholarships and developmental projects. Call him Mamman of our time and you will not be too far from or economical with the truth, because he had vigorously transformed his community that was hitherto neglected by successful governments, to a mini Nigerian Dubai City.
Mamman's first project of restoring the lost glory of Kadandani community, was the construction of two-block of classrooms, including a well-equipped staff office at the community's primary school. Miffed by lack of secondary school in the community, he single-handedly constructed a befitting 12-classroom secondary school in the area and named it Kadandani Community Day Secondary School. The school is well-furnished with administrative block, computer centre and VIP latrine.
He also laid the foundation for the construction of 350-seater capacity examination hall to enable the school meet the accreditation requirements for the writing of West African Examination Council (WAEC) and the National Examination Council (NECO). To enhance healthcare delivery in Kadandani, the philanthropist in partnership with Community and Social Development Project (CSDP), constructed a 16-bed comprehensive medical centre and equipped it with modern health appliances.
This, has contributed immensely in tackling cases of maternal and child mortality and other health challenges bedeviling residents of the community and its environ. He equally built a Juma'at Mosque in the community which has alleviated the difficulty residents faced in travelling to neighbouring communities for Friday prayers. Mamman, in an exclusive interview with THISDAY, said he also empowered 1,000 women with N10, 000 each and disbursed N10,000 each as scholarship to 701 indigent students of Rimi Local Government Area studying in various institutions of high learning across the country.
He said: "For the past 20 years, I have been providing scholarship to vulnerable students within the community who are studying at different institutions of higher learning. Even recently, I disbursed over N17 million to 1,701 women and students across the local government. I inaugurated assessment committee. The simple task I gave the committee is to identify any parent whose children have gotten admission and could not afford to pay and we pay for them.
"We later extended it to even those whose parents could pay the initial fees but couldn't afford other tuition fees and that has been going on for over two decades."
In his magnanimity to restore hope to the hopeless, Mamman in 2017 donated Solar Powered Blood Bank Refrigerators to six General Hospitals of Katsina, Dutsin-ma, Danmusa, Rimi and Tsegero to preserve blood in the hospitals. He also provided Solar Power Systems to Outpatient Department Treatment (ODP), Maternity Ward and Intensive Care Unit (ICU) to 12 general hospitals across the state. He provided same to Unity Primary School Jibia, Women Secondary in Mani, Arabi Women Teacher's College, Kabomo and Arabic Women School in Faskari.
In Katsina metropolis, the philanthropist has commenced the construction of a Female Comprehensive 24-bed Medical Ward at the General Hospital Katsina and ultra-modern Virtual Reality World Park located behind Katsina City Mall. The 24-bed ward, which has attained 80 per cent completion, is made up of four doctors' rooms, (self-contained) and nursing bay, 12 toilet facilities.
Katsina State Governor, Aminu Bello Masari, while performing the ceremonial foundation laying for the project, described it as a milestone that would complement the tremendous efforts of his administration in revamping the health sector. The governor applauded the CEO of Continental Computers for the decision to sacrifice his wealth on the construction of the ward, which he termed Sadaqatul Jariya in Islam.
While describing the female ward as the first of its kind in the state, Govenor Masari urged other philanthropists to emulate Mamman by supporting government with meaningful projects that will reduce the sufferings of the masses. On the Virtual Reality World Park, Masari termed it a good venture that would provide job opportunities to the teeming unemployed youths and enhance socialisation in Katsina and its environs.
In his welcome address, Mamman explained that the park was designed to contain all exotic, existing and refreshing indoor and outdoor digital adventure entertainment. He added that the park would place Katsina on the map of entertainment, tourism and hospitality in Africa and the world at large.
Also speaking during the event, the state Commissioner for Health, Mr. Yakubu Nuhu Danja, called on wealthy people in the state to also contribute by providing more medical wards in hospitals across the state for sufficient and effective service delivery to thrive.
On his part, the Emir of Katsina, Dr. Abdulmumini Kabir Usman, called on people in the emirate to assist in the development of infrastructure for enhanced living condition of the citizenry. He observed that Katsina has since been blessed with talented and qualified persons capable of contributing to its growth and development.
Speaking on why he embarked on such humanitarian projects, Mamman said: "Philanthropy is part of my life. I grew up in a family where philanthropic activities remained the cardinal objectives. My late father who lived for 94 years and died in 2003 was a community leader, businessman and a political leader. He was inaugurated into the council of former Katsina Local Government, consisting of six or more local governments when we have the former 12 states as far back as 1st October 1976.
"He represented the defunct Rimi District in the defunct Katsina local government as a councillor until December 1983 when there was a coup. So, I grew up to see my father as community leader and I continue from where he stopped."
Meanwhile, the revolving developmental projects of Mamman that cut across the 10 political wards of Rimi local government and some local governments in the state, had significantly supported the giant strides of Governor Aminu Masari in critical sectors of health, works, education, water supply, agriculture and environment.