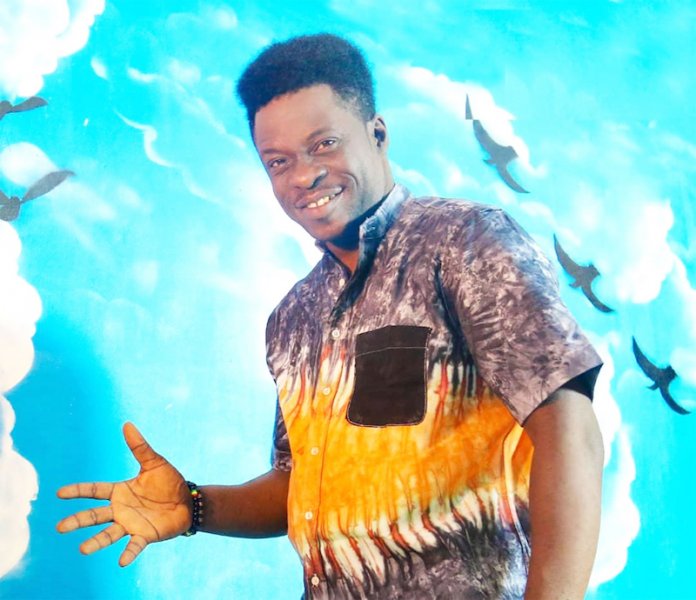 Oreofe Williams
In defining his own style, Oreofe William has carved a niche for himself in Nigeria's faith-based entertainment. Although he would rather he is known as a movie maker and not a gospel movie maker, but his exploits in the gospel film industry are matchless. Highly talented, rugged and blunt to a fault, the 'Awo Jesu' star has toed the unusual line to beat all odds along the path to success. He shares with Omolabake Fasogbon his grass to grace story, his biggest dream to meet Hollywood legend, Tyler Perry, whom he calls his role model and his stance on archaic human philosophies popular in gospel movies
When this reporter sighted his telephone number on one of his social media platforms, what came to mind was it was either his manager's or his personal assistant's, but definitely not his direct line. The reason for this guess is not farfetched. With this mindset, this reporter went ahead to make an interview request via a whatsapp message. The feedback was apt and came from him as the owner of the line. His response and para language corroborates the popular comment about him as an unassuming yet uncompromising creature, not different from the character he portrays in front of the camera. He speaks about the consistency in character thus, "Arts or literature is a reflection of who we are. To know a writer, study his books. To know a filmmaker, watch his films and you would have his ideologies before you. I am quite rigid with things I believe in. A million people may be doing something else but once I am convinced on something else, I wouldn't bother about whoever believes it or not. I am a very blunt person. I can't see the truth and dance around it. Not sure I would make a good politician."
Classic, absorbing and riveting are few epithets that capture his works. His carefully crafted works have successfully created impact that thousands of sermon might not generate in a very long time. Little wonder that during the lockdown when worship centres were shutdown, many had looked up to his films to quench their spiritual thirst. But he says he exists to touch life beyond the spiritual sphere. "Let me quickly clarify that I am an actor and not a drama minister. As a matter of fact, there is nothing like drama ministry because drama is just a talent and not a gift. A lot of people call me gospel movie maker, but I chose to be simply called a movie maker. I am a Theatre Arts graduate, which I studied to Phd level. So, I should be relevant in all spheres. The fact that I do gospel more does not restrict me to that space. I have done a lot of movies that are not gospel. Once a movie is promoting moral standards and condemning social decadence, whether secular or spiritual, then count me in."
Change is one thing that this literary figure has had to live with to boost his profile. But the change story is not a smooth one. "Overtime I've come to realise that some old- time beliefs or say practices do not match today's realities. The belief that gospel acts can't relate with secular artistes is still strongly held onto by some colleagues. I refuse to succumb to such belief in present time. I strongly believe in professional collaboration that works. Besides, feedbacks have shown that the audience likes it when secular and gospel artistes are combined in movies." While this may not necessarily be a strategy to attract more audience, he pointed out that doing business with secular artistes make interaction easy and possible, but more importantly that his steps are divinely ordered.
Continuing on why adjusting to trend is relevant in his profession, he said, "There used to be a time when female believers are not allowed to wear trousers in Christian movies, I tell you that it doesn't sell anymore. Haa! That was then o. We are more exposed now, especially by the reason of travelling outside the country. We now have some elders who have been able to see the other side of life. You know when you live in Nigeria and have not travelled, your views are restricted. But when you get out of the country and see a white woman praising God in trousers, will you have to condemn her because of her trouser? I mean God cannot be so bad that he will judge us by our culture. We need to understand that human-made philosophy cannot last forever. That is not to say that you should ignore God's directive and follow other people's template. My idiosyncrasies have been largely and still being criticised but the fact remains that I am a realist."
Taking a cue from Hollywood star, Tyler Perry, whom he fondly calls his role model, Oreofe has learnt to be self-dependent in a seemingly difficult clime. Apart from the fact that he repeatedly referenced him during this encounter, he hinted, "Tyler Perry was able to do extraordinary things to get extraordinary result. Funding is a major hindrance to achieving quality here, yet, we are not ready to compromise quality despite this challenge. Most businessmen don't like to sponsor gospel movie because they prefer to look at it from business perspective and not evangelical. Yet, most of the entertainment shows organised in this country are being organised and patronised by Christians. We don't have sponsors and like Perry, we have also decided to go extraordinary to achieve excellence. We discovered that most marketers were not honest with returns so I devised a selling strategy. We resorted to face-to-face marketing on the street, I also came up with the ideas of going to Churches, programmes and redemption camps. We also display our films anywhere we go to perform and this has really been fruitful.
"Even when I produced Awo Jesu, which was widely criticized because of the title, it got to a level where marketers were told not to sell the movie. We had to devise another strategy that got marketers begging us to release our movies. Today, technology has taken over marketing and we have also upgraded. We have the Oreofe Williams Life Fire TV on YouTube and other online platforms that we explore to market our works. As a budding artiste, Perry had no one to support him but today, he is widely celebrated. He is my role model that I would love to have as a mentor. I'm longing to meet him someday."
He again said asides physical challenges, sometimes, gospel actors have had to battle spiritual confrontations. "Haaa! There are also a lot of spiritual confrontations. I remember when we were on the set of Awo Jesu, we were attacked by a swarm of bees which of course wasn't natural. But we overcame it. You will be surprised that these confrontations are from the so-called born again. "The battle against the brethren is from the brethren and it is the toughest battle that any Christian will fight. Don't you notice that General Overseers are mostly attacked by Christians?"
His well-crafted script and creatively interpreted roles are some of the attributes that got his fans standing by him. Appearing shy this time around, he said, "I give that to God. Again my background in stage play has really prepared me for today. Anyone who started as a stage performer will definitely do better in films. I started stage performance on campus and one of the plays I staged then was Ogidiomo. It was dedicated to the then governor of Ogun State, Otunba Gbenga Daniel. More so, I live in a film village, a very quiet and lonely area that enable me concentrate and deliver a neat job. That has equally allowed my ideas flow undistracted. God, environment, people and location have been my source of ideas."
As it is in secular movies, he drops that sexual harassment is not uncommon in gospel movies. Finding the question funny, he replies, "Yes it happens, but as for me,"…… he pauses and chuckles, "I'm a very principled person o, you are not likely to see me as a friendly person if you are meeting me for the first time. For a lady to seduce me, haa! That is not likely to happen o, because you may not see me as a friendly person, although with time, I can be friendly but of course, I create boundaries. But then, when a woman seduces a man and the man is not interested, I don't think the man should be able to fall for it. I have not had that experience before because I engage responsible ladies and women."
Many times tempted, he recalls one of those occasions this way, "I was once tempted to kill a local armed robber who came to my house in the middle of the night. I wondered what manner of person will come to my house inside the forest to rob me. I concluded that he must be an animal and I summoned up courage to face him regardless. I eventually overpowered him and almost took life out of him before he escaped in his boxers. If I had killed him, I would have regretted."
With over 40 films and many skits to his name already, he says his forthcoming movie 'February 30' is his most challenging ever. The reason, "This is because of the role I played. It is the role of a villain. I had to smoke so crazily and I don't smoke in real life."
For the youths mentor, his weakness is that he plays too much even with his rigid nature. He says, "When I'm not working, I play a lot like a stupid man, I roll on the ground with my mentees. I also love playing chess because it's a thinking game. I equally love to play football, though I don't know how to play it. I'm always at the losing end when I play with my mentees."
Asked how he feels watching his movie, he answers, "Anytime I watch my movies, I check out for technical errors and love to improve next time. I also get ministered to when I watch. I defamiliarise myself as writer to get blessed".
Attachments area