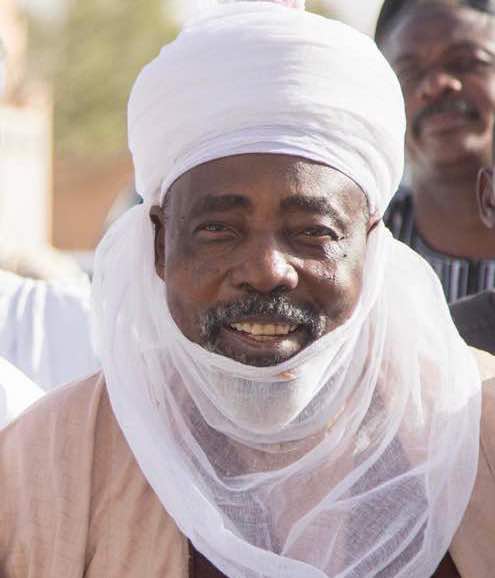 Fadekemi Ajakaiye
The Etsu Nupe and Chairman of Niger State Council of Traditional Rulers, His Royal Highness, Alhaji Dr. Yahaya Abubakar, CFR, has appointed former Minister of Agriculture and Rural Development, Emeritus Professor Sheikh Ahmed Abdallah as the Magajin Garin Nupe.
Etsu Yahaya Abubakar, who announced the appointment at his Wadata Palace, Bida, said Emeritus Professor Abdallah was elevated from Chigarin Nupe to Magajin Garin Nupe because of his contribution to the progress and development of the Bida Emirate in particular and the Nupe kingdom in general.
Sheikh Abdallah replaces the late Justice Jibrin Ndatsu Ndajiwo who died penultimate week after a brief illness.
A cross section of those who reacted to the appointment said the choice of Professor Sheikh Abdallah would facilitate rapid progress and modernisation of the Bida Emirate in particular and the Nupe Kingdom in general.
Reacting to the appointment, Chairman of Bida Forum, Dr. Mohammed Saganuwan said that the appointment of Emeritus Professor Abdallah is not an honour to the people of Bida Emirate alone but to the entire Nupe people.
According to Saganuwan, Abdullah's elevation from Chigarin Nupe to the enviable position of Magajin Garin Nupe, was well deserved, giving the professor's track record of service both in the academia and in the nation's public service.
"The new Magajin Garin is a true son of the soil, who has paid his dues and has been of immense benefit to our children who studied under his guardianship at the Ahmadu Bello University, Zaria from across all the localities constitute the Nupe nation. He has also done excellently well in the nation's public life, so I have no doubt that he will do well in his new assignment," Saganuwan said.
Processor Sheikh Ahmed Abdullah (Ndakolegbo) was born on the 15th of March 1948. He attended Koranic school at Banmisugaye quarters Bida. His early education at Tudun Wada and Kofar Doka Primary Schools Zaria 1959 to 1961 and 1961 to 1964 respectively. He was at Sokoto Teachers College between 1965 and 1968, setting a record for completing the college a year earlier than his classmates, thus a man of two classmates, earlier through self-endeavor, he passed London G.C.E in pure and Applied Mathematics, Physics, including Geography, setting a first place in the college.
He was at Ahmadu Bello University Zaria 1969 to 1974 and Syracuse University New York, U.S.A 1976 to 1978. He holds a Diploma in Commercial Accounting, A Bachelor of Science degree in Business Administration, Masters of Business Administration (MBA) degree, specializing in Finance and PhD in Administration. He was appointed professor of finance in 1993, he has been lecturing in the university teaching a Mosaic number of courses at all levels of distinctions including management finance and investment since 1975, previously he was the dean of faculty of Administration and the Director Institute of Administration, Ahmadu Bello University Zaria, he was also the Director General Administration Staff College of Nigeria (ASCON) Topo Badagry. His contributions to the university are eminently expansive in various committees and assignment.
At National level his involvement is a tall order in membership of committees including 1999 Constitution Niki Tobi Committee, Vision 2010 committee, Federal Government Committees on Review and Revision of Public Service Rules: Salary and Wages Relativity; Salary and Emoluments Consolidation; and Mainstreaming Conflict Prevention and Resolution. He was member Revenue Mobilization Allocation and Fiscal Commission. A regular consultant/expert on Capacity Development Programmes to federal, States and Local Governments including UNDP and NEPAD, Chairperson African Management Development Institute Networks.
He is a Fellow of Management Academy of Nigeria. He has to his credit a number of publications. He has served in a number of Committees including vision 2010. He is distinguished with a number of scholastic and leadership honours including Officer of the order of Niger (OON). He is blessed with 12 children, 5 males and 7 females. He is the Owegan of Badagry Kingdom and served as the Honourable Minister for Agriculture and Rural Development and is currently a member of the National Honours Commission.
Professor Sheikh Abdallah who is the first Professor of Management Finance in Africa.