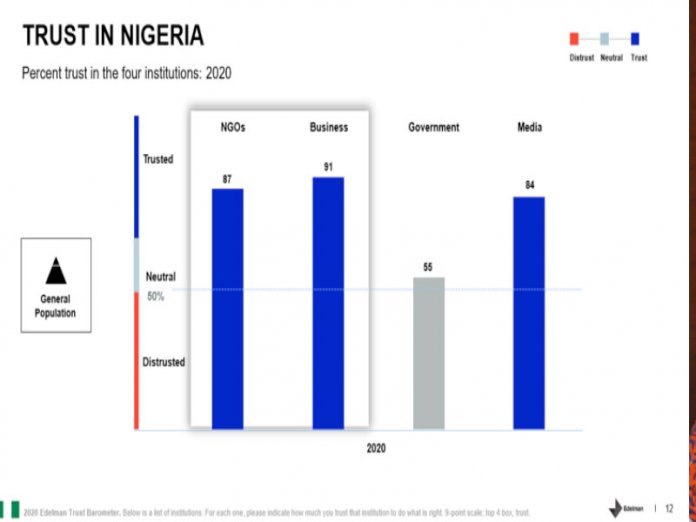 Raheem Akingbolu reviews the Edelman Trust Barometer on Nigeria and concludes that Nigerians still distrust Government but believe employers more.
The 2020 Edelman Trust Barometer on Nigeria has revealed that, of the four mainstream institutions of government, business, media and non-governmental organisations, government remains the least trusted with Nigerians having no confidence in the ability of current leaders to successfully address the country's challenges.
Conversely, Nigerians' trust in Chief Executive Officers of businesses as positive change agents rose while trust in NGOs and the media also increased.
These revelations amongst others were contained in the 20th Edelman Trust Barometer Survey Report themed 'Competence and Ethics' unveiled virtually by Edelman and its Exclusive Nigerian Affiliate, Chain Reactions Nigeria, in Lagos recently.
The Edelman Trust Barometer is the annual global trust and credibility survey conducted by Edelman Intelligence, the independent research arm of the Edelman global network testing how well people trust those four critical institutions of the society to do what is right. This year's survey conducted by Edelman Intelligence between October 19 to November 18, 2019, sampled more than 34,000 respondents across 28 countries.
The presentation done virtually saw the Chief Executive Officer of Edelman Africa, Jordan Rittenberry, present the global 2020 Edelman Trust Barometer and the Impact of COVID-19 on Trust reports. A Consultant at Chain Reactions, Adekunle Dixon Odukoya, presented the supplementary data for Nigeria.
An all-female panel drawn from government, media, business and civil society also discussed the survey report and its implications for Nigeria in line with the theme, "Competence and Ethics."
They were Special Adviser to President MuhammaduBuhari on Social Protection and former coordinator of the National Social Investment Program (NSIP), Mrs. Maryam Uwais; Director, Public Affairs, Lafarge Africa Plc, Folashade Ambrose-Medebem; Director of News, TVC, Stella Din Jacobs; and the Convener, Enough is Enough, YemiAdamolekun. Erstwhile Assistant Director of Programs at The Federal Radio Corporation of Nigeria, FRCN, Funke Treasure-Durodola moderated the presentation.
The supplementary data for Nigeria showed that while trust across the four mainstream institutions in the country increased compared to 2019, business still led with 91 per cent followed by NGOs with 87 per cent. The media was the third most trusted institution with 84 per cent while government only had 55 per cent.
The 55 per cent level of trust in government in Nigeria is actually better when put into context against the global average with a general level of distrust of government in 17 of 28 markets that recorded 45 per cent and lower. interestingly, South Africans returned a 20 per cent level of Trust in their government.
In a further vote of confidence in private sectors leaders, the survey revealed that 87 per cent of Nigerians trust CEOs to successfully address the country's challenges while 86 per cent trust journalists. 82 per cent trust religious leaders, 75 per cent believe in capability of scientists while only 51 per cent trust government leaders. Again, the least trusted set of leaders in the society.
90 per cent of the respondents believe that CEOs should take the lead on change rather than wait for government to impose it; while 82 per cent said it is important that their CEOs speak out on critical issues including ethical use of technology, automation's impact on jobs, training for jobs of the future, diversity, income inequality, climate change and immigration."
On the future of work and imminent threats to their livelihoods, Nigerians expressed an overwhelming level of worry about losing their jobs because of the looming economic recession and a lack of enough skills or training with 90 per cent, and 91 per cent respectively. Furthermore, 84%, 83 %, and 78% are fearful of the threats posed by cheaper foreign competitors, jobs moving to other countries, and immigrants who work for less respectively.
Concerning trust in media sources, Traditional media at 66% is the least trusted by Nigerians. Privately owned media channels remain the most trusted at 90 per cent, followed by Search engines at 83 per cent, with social media sources coming third with 75 per cent. On the quality of information, 30 per cent believe that the media they use is contaminated with untrustworthy information, while 57 per cent worry about fake news being used as a weapon.
On the interplay between competence and ethics, the theme for this year's edition, none of the four institutions of society was considered as both competent and ethical by Nigerians. However, the Ethical drivers of Integrity, Dependability and Purpose, together with combined 76 per cent were believed to be three times more important to the earning of people's trust than mere competence at 24 per cent.
The COVID-19 pandemic, the report further showed, increased trust levels in the four institutions, with government (63%) emerging as the most trusted. Business (62%), NGOs (62) and media (46%) followed in that order.
Rittenberry however noted that the increased levels of trust will revert to the pre-COVID era once the virus is tamed. "In times of crises, when trust increases, it's a bubble. It falls back to pre-crises levels after," he said, adding that the pandemic will lead to changes globally.
"As horrible as it is, this pandemic will lead to valuable innovations and changes for the better in how we live, work and treat each other as people. Recovery will not be immediate, but how businesses respond now will have an impact for years to come," Rittenbery noted.
One of the most interesting revelations of the 2020 Trust Report on Nigeria is the emergence of a new wave of disposition among Nigerian employees willing to be more involved in the affairs that will shape the future, and be part of the planning that will bring about the desired change with 83 per cent and 86 per cent expressing their interests respectively.
Commenting on the 2020 Edelman Trust Barometer report, Managing Director/Chief Strategist, Chain Reactions Nigeria, Israel JaiyeOpayemi, noted that since 2017 when the report was first unveiled in Nigeria, major corporate players have always looked forward to its release.
"There has been tremendous interest among corporate players in the society who have drawn significant insight from this report to grow the asset of their reputation," he said.
Opayemi, however warned institutions and corporate Nigeria not to take trust for granted. "Let's pay attention to the fact that trust itself is mobile. Today because you are highly trusted as an institution does not really mean that six or 12 months down the line, it's still going to remain the same. We all must focus on the asset of trust because it is highly mobile. It changes from time to time.