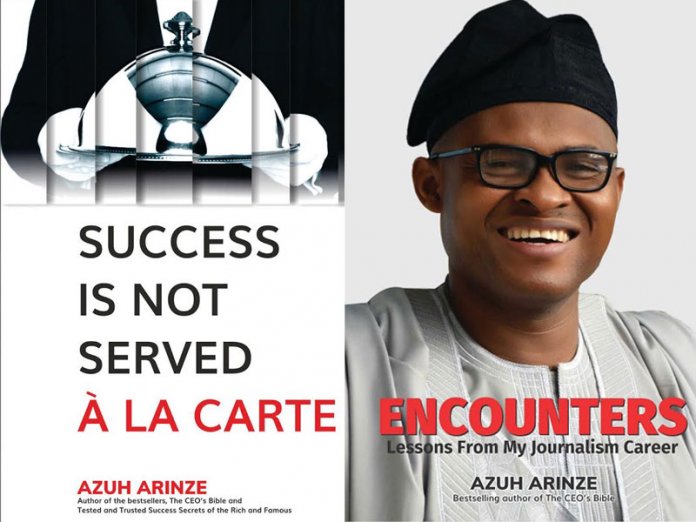 BOOK
Yinka Olatunbosun
Today, the friends of Azuh Arinze, a seasoned journalist and publisher of YES INTERNATIONAL! Magazine will meet on the virtual platform for the launch of his two literary offerings, Encounters: Lessons from My Journalism Career and Success is Not Served A La Carte. Named Africa's Best Entertainment Writer in 2010 by the organisers of African Film Awards in the UK, Azuh bears the responsibility of documenting his rare encounters in journalism to inspire the new generation of journalists as well as a wide range of readers.
With over twenty years in journalism, his knack for high-profile interviews has led to his conscious chronicles of success stories of individuals who are leaders in their careers. Thus his book "Success is Not Served A La Carte" parades 30 of these personalities drawn from different age range and professional backgrounds including names like Advertising giant Lolu Akinwunmi, Football Olympians such as Kanu Nwankwo, and Austin Okocha; Nigeria's Former High Commissioner to the United Kingdom, Christopher Kolade, Founding Editor, THISDAY LAWYER, Funke Aboyade SAN amongst others.
Azuh is set to present these easy reads at this virtual event which will be chaired by the Former Governor of Ogun State, Chief Olusegun Osoba. Other guests of honour include the Special Adviser, Media and Publicity to the President, Mr Femi Adesina; former General Overseer, Revival Assembly, Apostle Anselm Madubuko; GMD, SO&U Advertising, Mr. Udeme Ufot and EEVC, Verdant Zeal, Dr Tunji Olugbodi. The event has as chief host, the veteran broadcaster, Prince Bisi Olatilo while the books will be presented by Chairman, Ovation Media Group, Chief Dele Momodu.
In an interview with THISDAY newspapers, Azuh revealed how he became a journalist after nurturing the ambition of studying law for a long time.
"It was one Saturday out of boredom, I bought a copy of Punch,'' he recalled. "The anchorperson was Azuka Jibose Molokwu and I so enjoyed his style of writing and of course, entertainment writing was about stars. Much later he organized a competition that I won. After some time, he left for the united states of America and another gentleman, Mr Femi Akintunde-Johnson took over the column. He also organized another contest which I won. After that, they set up to organize FAME. They started another completion called Fame reader of the month bonanza. I happened to be the first winner. The prize money then was N10,000. The day I went to collect the money, I saw FAJ, Mayor Akinpelu and they were all well-dressed. I had to do a career detour. Instead of law, I went in for Mass Communications at a polytechnic in Enugu. When I came for my Industrial Training, the first five stories that I wrote were on the cover of the magazine. That's how I got automatic employment."
The book Encounters: Lessons from my Journalism Career offers a more detailed personal account of his efforts to land good interviews, the challenges and how determination yielded positive results such as long-standing personal relationships with prominent personalities some of whom had been deemed impossible by many other journalists.
"Encounter tells the story of what has worked for me. From expert networking to building self-confidence, never taking no for an answer, being professional and knowing when to apologise; from igniting enduring friendships, to doing mentors proud, being appreciative at all times, leaving a lasting impression and reaping the bountiful benefits of reciprocity, the lessons abound. They enabled me to attain the heights that I have in my profession," the author wrote in his introduction to the literary piece which includes pictures with some of the subjects in the book.
In his blurb, the Chairman, Editorial board, THISDAY, Olusegun Adeniyi described the book as "a fascinating collection that will inspire and fire the imagination of readers.''