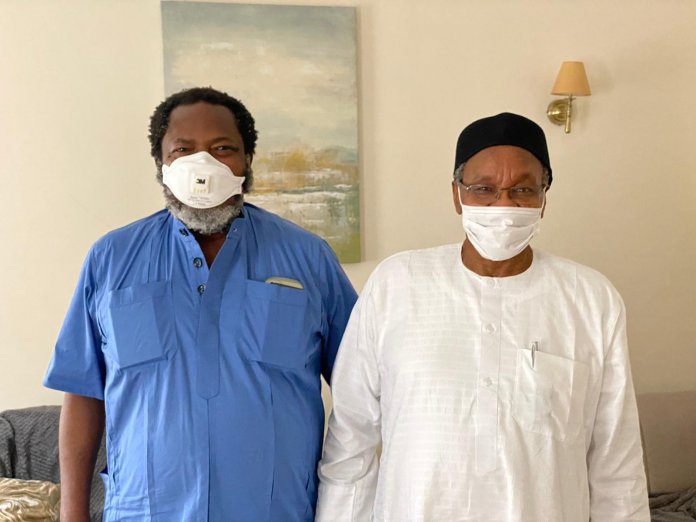 THISDAY/ARISE Group Chairman , Nduka Obaigbena on a courtesy visit to veteran journalist, Mamman Daura … earlier today in London.
A video showing Mamman Daura, nephew of President Muhammed Buhari, in London has been released.
In the video, posted by Kabir Daura on his Facebook page on Saturday morning, the President's nephew was seen wearing a light brown caftan with a white cap walking in his living room in London.
In the video which lasted 37 seconds, Mamman Daura was seen speaking on phone in Hausa language while a TV in the living room was airing a baseball match.
In the phone conversation, he said, "We arrived safely and we are in quarantine".
Kabir Daura, who posted the video, wrote on his facebook page: "Flown to UK for which treatment? Here is the Mamman Daura you talk about, yesterday, fit and spritely. Your evil wishes for Baba MD will come to naught. They will never see the light of day. Sahara Reporters = Fake News Merchants!."
Some reports during the week had alleged that Daura was suffering from an undisclosed illness and had been flown to the United Kingdom on Wednesday. Other reports on social media even claimed that his state of health was critical.
However, his son, Muhammad Daura, had told THISDAY that his father was hale and hearty, contrary to stories about his health, describing it as wicked and reminded those behind the story of their own mortality.
In a statement sent to THISDAY on Friday, Muhammad said: "Today is the 21st of August, 2020 and for the past couple of days, we have been forced to deny, numerous times, a completely fabricated story about our father's wellbeing. Alhamdulillah Baba is perfectly fine. He neither has a history of renal problems nor does he have any breathing difficulties like was suggested in the concocted news story."
Muhammad did not comment on whether his father was indeed flown out, where he was taken to, and for what reason, however, media reports during the week had quoted Daura's aide and close friend, Aminu Balele Kurfi, who said the octogenarian travelled to London for routine medical check-up.