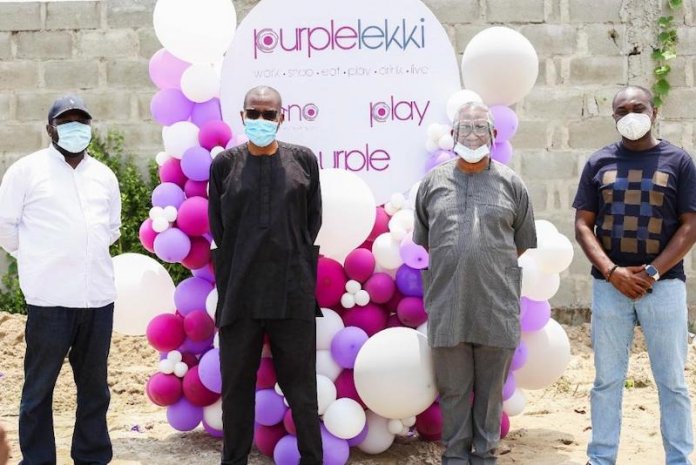 By Fadekemi Ajakaiye
Purple Group, the developers of Maryland Mall, have announced the construction of another sturdy project, known as PurpleLekki in Lekki Phase I, Lagos.
The developers, which recently celebrated the fourth anniversary of Maryland Mall and its success, have started the development of PurpleLekki, a mixed-use centre in the upscale Lekki. The precursor, Maryland Mall, now called PurpleMaryland, is an exquisite shopping hotspot, and leading neighbourhood retail and entertainment centre in Maryland area of Lagos.
The Chief Executive Officer, Mr. Olayide Agboola, confirmed construction work on the mall, acclaimed to be the biggest around, had commenced and would end in18-month time.
"We have started with the development of a new mixed-use centre in an upper-middle class area, Lekki, Lagos. This is a bigger development; occupying about 10,000sqm and about 7-8 floors which will be a mix-use development of retail groceries, department stores, entertainment and cinema, co-working and private offices, serviced apartments, of residential living and hotel and lifestyle living, these are developed into a brand called Nanos," he said.
Agboola added, "These Nanos by Purple, are essentially serviced apartments, similar to what you will find anywhere in the world. We are selling off some and retaining some, which we expect buyers to keep at the set standards for maintenance and operations. The starting price of these Nanos is N35 million, with only a few left.
"On the other side of the development, 65per cent of the space has been leased with anchor for Market Square, Genesis Cinema, Harmony, Casper, Workstation, all signed in, and interest from the essentials even as discussions with interested persons are still ongoing. From our Co-working space, we expect that to be taken up by a lot of tech companies, SMEs, growing businesses, and as things get better, we are confident it will fall in place. We ensure that these properties serve the needs of the upper-middle market," he added.
The chief executive emphasised that, "We are not worried about the occupancy level, as 65per cent of the retail and entertainment are already exhausted. The portion of the housing unit for sale is almost exhausted as we have about 20per cent left."
"Purple Lekki is an all-new state-of-the-art mixed-use lifestyle center blending retail, entertainment, private offices and hospitality into an unforgettable lifestyle experience," he enthused.
Agboola stated that Purple Lekki measuring nearly 10,000sqm, is strategically located on Freedom Way, Lekki Phase 1, Lagos; right between the emerging Orange and Periwinkle Islands and the Lekki expressway. Freedom Way is an arterial route currently being developed as a main thoroughfare between the Lagos Mainland and Island zones, he said.
Purple Lekki, being another lifestyle development from Purple chose the location which is ideal and will capture the heavy residential and commercial traffic of Lekki Phase 1, as well as the highly residential Ikate and other neighbourhoods on that axis, he said.
Purple Lekki comes with two floors of open plan grocery and department stores; entertainment floor which also houses swimming pool, pool bar and Sports bar; Workplace X; Private office spaces, conference facilities, meeting rooms, art studio, gym facility, he said.
Others include, on grid, multilevel and rooftop parking to ensure convenience; communal seating areas, Art Gallery, activation spaces, Nano Apartments on top floor for short stay and long stay; Gym facilities and Swimming Pool, all built with class and finesse.
"Purple Lekki is more than just a fancy multi-use building. It will also serve as a neighbourhood hub, aggregating visitors from the Lekki axis and beyond. We have included indoor and outdoor advertising opportunities which allow brands communicate with their audience. Our platforms include LCD and LED screens, activation spaces, lamp posts, elevator doors, wall drapes and so many more options," he said.
He stated that the project, which is expected to take 18 months, with its delivery between Q4 2021 and Q1 2022 is a mixture of equity, sales funding, and debt being run by some domestic financial institutions, as well as Mortgage banks that are also partnering with them.
He commended the discipline, focus and resilience of their partners, occupants and everyday customers at their centre, appreciating the value created over the years.
Agboola expressed satisfaction in the achievements of Maryland Mall till date.
He stated that the success of the mixed-use centre showcased the fact that domestic investment fuelled by the indefatigable spirit of Nigerian entrepreneurs is key to driving national economic growth.
"The Mall, which is now located where the defunct Maryland Shopping Centre was once located, sits on one of the most important arterial routes in Lagos today, with an estimated 5,000 cars passing through every hour," he noted, adding, "We are proud to be supporting the retail and entertainment industry and creating lifestyle experiences for Lagosians on that axis."
"The Mall, which is seating on a 7,700sqm and located on the ever-busy Ikorodu Road, Lagos commenced its construction in September 2014 and was open to the public in 2016. It contains 3 floors with a mezzanine, about 50 stores and hoists on its external façade the largest outdoor screen in sub Saharan Africa spanning 550 square meters, a unique feature that sets it apart from any other retail centre in Nigeria," he noted.
"Since its official opening in June 2016, Maryland Mall has welcomed over 6million visitors boasting about 97per cent occupancy from top domestic and international retailers," he pointed out.
Agboola said, "Leveraging on the success of the Maryland Mall flagship project has enabled us grow our footprints in retail, entertainment and lifestyle by delivering similar assets within the next few years. The new outlet is larger and our success with Maryland Mall gives us the confidence to go for more."