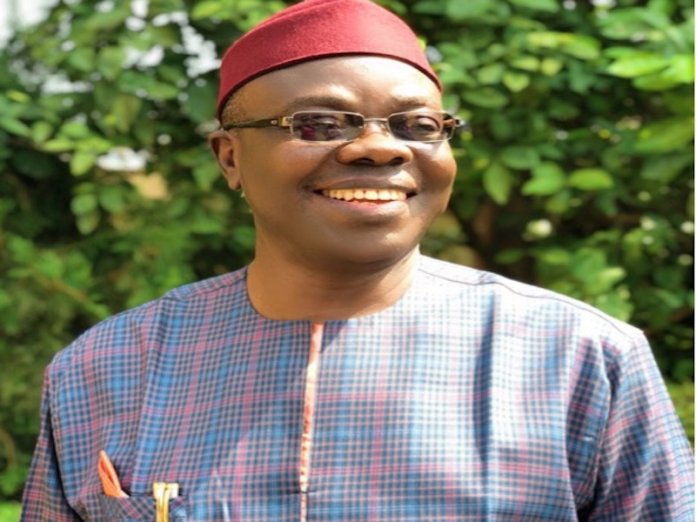 Accomplished. Astounding. Avid. Adventurous. That and many more adjectives describe a Nigerian journalist of many firsts in his exciting career. Indefatigable and industrious, Barrister Kingsley Osadolor excels with panache as is a journalist, communication expert, broadcaster and scholar. Pragmatic and passionate, his life in the last 60 years illustrates the need to be focused and inventive. From journalism to law, Osadolor, who clocked 60 on Saturday, has not stopped learning and is following knowledge like a "sinking star," write Funke Olaode on turning 60
Barrister Kingsley Osadolor. That's a name not a few want to be associated with. His assuming looks understate his giant strides. He wears a mien that signposts discernment, discipline and dedication. His confident countenance underscores his expertise and experience in life and media career.
He has been described as being a strategic and stubborn icon of RUTAM House where he began his career in 1985.
Stubborn and strategic suit him well like a piece of a tailor-made suit as the Benin born media icon distinguished himself early in his career and the reward was accelerated promotions that saw him scored many firsts in The Guardian. He reigned supreme there for 25 years.
He was born some 45 days before Nigeria's independence; on August 15, 1960. After his primary and secondary education in Benin City, he became a foundation scholar (studying Mass Communication) of the University of Nigeria, Nsukka between 1981 and 1984.
By June 1984, he had emerged with a First Class, the overall best graduating student of the ivory tower and his class valedictorian. To date, Osadolor remains the first and only graduate of Mass Communication to have emerged as the best overall graduating student of the University of Nigeria, Nsukka, since 1960.
Always in search of knowledge, seven years after he left Nsukka, he went to the University of Lagos, Akoka, to study law in 1991 and in 1996 he graduated with a second class upper division and repeated the same feat at the Nigerian Law School in 1997. He was called to the Bar in 1998. He had his LL.M at Unilag in 2010.
While studying law, Osadolor had already established himself as a journalism guru. Employed by The Guardian Newspapers in 1985 as a reporter, his sterling performance saw him climb the success ladder in quick succession.
Recalling his first day at the newspaper, he says: "I wasn't altogether a stranger when I joined The Guardian immediately after my youth service in August 1985. During my service, my articles were being published in the Op-Ed section of The Guardian. In fact, from late 1982, while I was still a student, and before the debut of The Guardian, my articles, mostly on sports, were published in The Nigerian Observer, Nigerian Tribune, The Herald, and Satellite based in Enugu. By 1983, I was also writing news analyses that were broadcast on Radio Bendel.
"Each news analysis earned me N8, which was a lot of money at the time. At 50 kobo a meal in the university, N8 was three square meals for at least five days. Or, it could buy two 'packet' shirts behind Mandilas in Lagos. It could take me, by Peugeot 504 saloon car, from Benin, through Onitsha, to Nsukka, and back."
However, considering the newspaper's trail-blazing prestige and reputation at that time, Osadolor believed that The Guardian was the place to be.
"Sometime in April 1985, before my NYSC ended, I came to Lagos to submit my application at The Guardian. I met the Features Editor, Tommy Odemwingie. It was the weekend after Marvin Hagler blasted Tommy Hearns with a third-round knockout in a middleweight title fight. The newsroom was abuzz with chats about the fight. Odemwingie hinted that The Guardian was planning on starting a weekly magazine, like Concord Weekly, Newswatch, Newsweek, and TIME.
"I was thrilled by the prospects of a weekly magazine because that would, I thought, give me the opportunity to follow in the footsteps of the inimitable Lance Morrow and TIME magazine which had made lasting impressions on me. So, I told Tommy (who, by the way, is an uncle to former Super Eagles striker, Osaze Odemwingie) to pass my papers for the forthcoming magazine."
Continuing, he says: "Immediately after my youth service, I came back to Rutam House. The African Guardian magazine hired Fred Ohwahwa and me as its first editorial staff, other than a handful who were redeployed from the newspaper. We were, therefore, involved in the incubation and delivery of the weekly news magazine which hit the newsstands in January 1986. I was posted to Harare, as East and Southern Africa correspondent, under the auspices of The African Guardian, in September 1987. I was recalled three years later and appointed Deputy Editor of The Guardian daily newspaper. Subsequent appointments followed."
Osadolor recorded many firsts at the media house. He was the first and the only journalist in The Guardian to rise from being a reporter to become a member of its board of directors; the first and only deputy managing director in the history of the newspaper since 1983.
In his private capacity, he has consulted for various organizations and agencies. He also served in the public sector; between 2011 and 2015, he served as the special assistant to the Minister of Information, and between 2005 and 2007, he was Edo State's commissioner for information.
Always a grateful heart, he points out: "My siblings and I have a lot to be thankful for, because of the privilege of having been born and raised in the heart of Benin City. Akpakpava Street used to be known as Ikpoba Road, named after the city's main river down the slope.
"As children, we used to boast that Akpakpava was the longest street in Benin and that it could take you, without a detour, to the South-East, South-South, and thence to elsewhere in Africa. Which is true! From Abakaliki or Cross River, you get into Cameroon, move to the Central African Republic, onward to East and Southern Africa."
He recalls that Benin City, in the 1960s, was calm, safe, and secure.
However, he says, "I remember vividly how my mother ran bare-chested to snatch me from school with the outbreak of the Civil War in 1967. But once the federal troops retook the Mid-West, relative calm returned to Benin.
"Entrance doors had simple locks and latches; windows had no burglar bars. In most parts of the city, there were hardly properties that had fences, so you could walk some kilometres by just shortening your trip walking through premises. Up to the late 1970s, returning from a football match at Ogbe Stadium, you could walk through the premises of the P&T Exchange, as it had no perimeter fence.
"I grew up seeing and knowing that there were public utilities that worked: electricity, street lights, running water through the public mains from which houses tapped. I also grew up during the phenomenal years of Samuel Ogbemudia as Military Governor of the Mid-West, and that means I witnessed the massive construction works in the city, and lined up the streets as pupils, waving flags to receive VIPs, including Head of State Gen. Yakubu Gowon. After Ogbemudia introduced the Ogbe Hard Court International Tennis Championships in 1971, with Thompson Onibokun as the winner of the maiden tournament, I was an instant convert to the sport."
His father was a fleet services clerk at Armel's Transport Company and in the early 70s, he moved over to Guinness which had opened a plant in Benin. Thereafter, he started his own business. His mother traded in grocery and later went into catering services.
"My parents were disciplinarians with high ethical values. They believed in and invested in our education. There was no question about going to school without uniforms or books. When my elder brothers and I were in elementary school, it was mandatory for us to attend after-school extramural classes, called 'Lessons,' for which fees were paid in addition to school fees. My elder brothers attended Western Boys High School at Ikpoba Hill, Benin. My brothers were in the boarding house.
"When it was my turn, I was also shipped off to the boarding house. On the day I went, it was my father who took me there, and my initial pocket money was £1," he narrates.
As a child, he wanted to study medicine but the sight of blood killed that ambition. Then what influenced him to study mass communication?
"It was a combination of my father and my mother's PR prowess," he reveals. "I got my first media access through my father. He bought newspapers, and at an early age, I was struggling to read the papers with him. There was also a rediffusion box in the quadrangle. That fascinated me and stoked my interest in radio broadcasts.
"Rediffusion, by the way, was a subscription cable radio service that was the precursor of transistors. Rediffusion was fixed, while transistor radio is portable, easily movable, and requires only an antenna and no cable connection."
He adds, reflecting on his mother: "My mother has a prodigious memory and effortless power of recall. I have no doubt that I inherited that from her. Both of my parents were advocates of hard work, and my mother's practical demonstration of that was all the more evident after our father passed away, and she, with the grace of the Almighty, raised and sustained the children without going begging.
"My mother, in her catering business, deployed PR and customer relations to good effect. Part of her principles has been never to be a debtor. And she has her peace with no creditor knocking at her door."
For the past 35 years, Osadolor has been consistent in his calling, and he is arguably one of the most successful journalists of his time.
"Journalism is a sacred calling. We can locate journalists as prime actors in the broad media function of informing, educating, and entertaining," he says as he talks about what it takes to be a successful journalist.
"As drafters or chroniclers of history, journalists owe a sacred duty to present and future generations. To appreciate what I am saying is to recognise the true worth of quality journalism of which scrupulous gatekeeping is an essential feature. To be a good journalist, therefore, I would say that a keen interest in public affairs, which translates to a desire for a better society, is the single most important aptitude."
He points out that journalism is not a refuge for the jobless but a passion derived from the heart. He adds that journalism is knowledge-driven.
He suggests one other thing.
"The successful practitioner should have, on the one hand, general knowledge, and on the other, specialized knowledge. General knowledge enables you to navigate the gamut of issues; while specialized knowledge makes you an expert in given fields of journalistic coverage."
In addition, he explains: "Another very important quality is integrity coupled with fairness. There is a limit to which a scoundrel can blackmail anyone. There is also a limit to which a partisan can ply his trade, because the audience is very discerning and judgemental, and if a segment of the audience rejects you, then you have lost your influence over that segment.
"Perhaps nothing does more damage to a journalist and his product than reputational harm arising from integrity deficit. If media manipulators believe that you have a price, you are worthless no matter the price tag. Nothing challenges or rattles a media manipulator than the realisation that you are not his errand boy."
In 2014, Osadolor moved from print to broadcasting and currently co-anchor, Good Morning Nigeria, a current affairs programme, on Nigerian Television Authority. His transition from print journalism to broadcasting caught many by surprise.
"The truth is," he discloses, explaining his transition from print to electronic. "I have never been a stranger to broadcasting. Two of the persons who influenced me tremendously in broadcasting were Willis Conover of the Voice of America Jazz Hour, and Ernest Okonkwo of FRCN. For my 300-level industrial attachment, I went to Radio Bendel, and as an intern I worked as a reporter, news analyst, and sports commentator. And while I was SA to the Minister of Information, my work also overlapped. So I have always been an electronic media man."
As a barrister, Osadolor admits that the primary incentive for studying law was the quest for knowledge and the acquisition of additional tools to better navigate life in general and to enhance his journalistic engagements. He was influenced by an elder brother of his long-time friend, Osaro Isokpan, who studied law.
"I always knew that a first degree alone in mass communication would not suffice. After I returned from Harare in 1990. My encounter with Osaro Isokpan sealed the deal," he acknowledges.
"The more conversations he and I had, the more persuaded I was to study law. There were obstacles as the evening programme at Unilag clashed with my production hours at The Guardian, the six-year duration of the law programme was like an eternity and ill-advised policy that forbade first-degree holders from pursuing, through direct entry. But I navigated like a determined heart and overcame."
Osadolor as a media practitioner is also a family man, married to his wife, Jane for 29 years after a 10-year courtship. Theirs was love at first sight.
"We got married in 1991. We are blessed with a son and three daughters. Our son is a mechanical engineer. The first daughter is an economist with a passion for fashion, photography and new media. The second daughter is studying law and the 'baby' of the house is also in school. They are all avid consumers of media products. But none has shown any interest in becoming a journalist."
Reflecting on clocking 60, he admits, "As human beings, one continues to aspire. I give thanks to Almighty to have enabled me to record my modest accomplishments. I look forward to acquiring more knowledge and also contributing to the body of knowledge. I have a number of book ideas, which I hope to actualize. I equally look forward to returning to teaching. The greater motivation for me is to be a catalyst for change through the instrumentality of my profession."