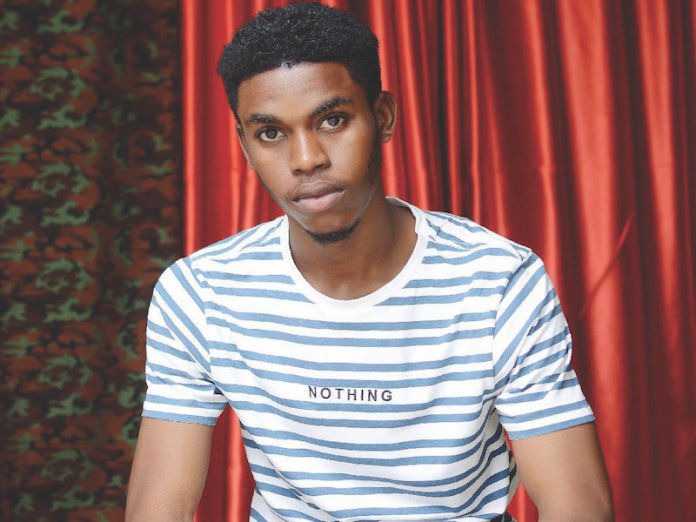 ART-LOGUE
By Okechukwu Uwaezuoke
A pair of eyes peers into the dark from behind the illumination produced by a cigarette lighter's flame. The image simultaneously resolves into partial coherence as a face and a thumb and a finger gripping the lighter looms into focus. The face, which the artist confirms as his, is bursting with curiosity and belongs to a young man on the cusp of great expectations. 
This charcoal painting, titled "Stars", is Tolulope Aladeduye's attempt to pictorially depict the disillusionment hanging over the present-day Nigerian society. "I was simply uncomfortable with the way things have turned out in this country," he laments, decrying "the fact that good people soon become tyrants once they assume political power." 
But then, he believes that even those he would like to call the "good people" are rare to find.
And it is on these "good people" that he counts to present a fighting front against the evil influences of corruption and other social vices, which he metaphorically represents as the darkness. 
This explains his allusion to "Stars" as a title for the 11" x 13" hyperrealistic painting. "I believe stars shine brightest on the darkest nights," he says. "I gave it that title because it explains the need for light to keep on shining even in utter darkness." 
The Obafemi Awolowo University final year fine and applied arts student might just as well have substituted the word "Stars" with "Shinning Examples". In this time of despair, he finds solace in art. 
Flashback to as far back as he could recall. All forms of creative expressions have always intrigued him. But, it was not just this fascination for creativity that corralled him into the embrace of fine and applied arts as a course of study.
He had always been conscious of a congenital talent since his childhood years. "I had always embarked on crude creative adventures of all kinds. This later developed into something I would live by all the days of my life. However, I had mentors to look up to, ranging from specific local and international visual artists. Above all, the environment was favourable for nurturing my interest in art and this was in the form of encouragements from my parents and peers."
A bid to hone his hyper-realistic skills over the years transmuted into his peculiar technique and the charting of a course for his studio practice.
"With constant learning and practice, my technique has over time evolved into what it is today," he says, adding that it will keep improving.
His enthusiasm for art soon developed to the point of obsession. Indeed, art still got his undivided attention despite the fact that he was studying industrial chemistry at the Obafemi Awolowo University, Ile-Ife. This attention, he recalls, was "probably more than I gave to my course of study. It was like a calling I couldn't resist answering. It was an overwhelming period of my life, especially when I got to the point where I had to choose between pursuing art and studying industrial chemistry."
Parting ways with his initial course of study in his third year in favour of art turned out not to be as hard as anyone would have imagined. Most importantly, his parents, who could already tell where his heart was, accepted his inevitable choice. Of course, some of his contemporaries questioned the wisdom behind his decision.
But, there were others, who simply wished him well. All in all, he never regretted making that decision of a lifetime. 
Early enough, he became serious about his studio practice. This year alone, he has done a total of 10 commissioned works for different clients. Among these clients was the Ekiti State Governor John Kayode Fayemi, who received his portrait at his country home in Isan-Ekiti. 
Naturally, the 24-year-old aspires – like every starry-eyed young artist would – to get to the very zenith of his career. But, he makes no secret about his resolve to be numbered among the few leading lights of his generation. 
"To achieve this, I have started embarking on uniquely aesthetic and functional art projects," says the artist, who is yet to participate in any art exhibition. "I also hope to personally awaken the dying awareness of art in my state, Ekiti State. This is by working to establish a notable art institution, be it in the form of an art gallery or an art workshop."
Among the artists that he counts as his role models are the British hyper-realist Kelvin Okafor, Lagos-based Olumide Oresegun, the Italian Marco Grassi as well as the Brazilian Fabiano Millani.
Meanwhile, Aladeduye, who is the first of the three male children of his Ado-Ekiti-based parents, has since the pandemic been confined to a regimented lifestyle. He typically starts his day with a short prayer, he says. This is followed by a series of press-ups and a reflection on the day's to-do list. 
Soon he had had after a "good breakfast", he lunges into the planned activities for the day. "Asides days that I have drawings to work on, I spend about half of the day coordinating and running specific errands both for my family and myself."
Most evenings usually find him cooking supper for the rest of his family members. Soon after his meal, he scours the social media for inspiration, news updates and entertainment, after which he goes to sleep just before midnight on most days after saying a short prayer.