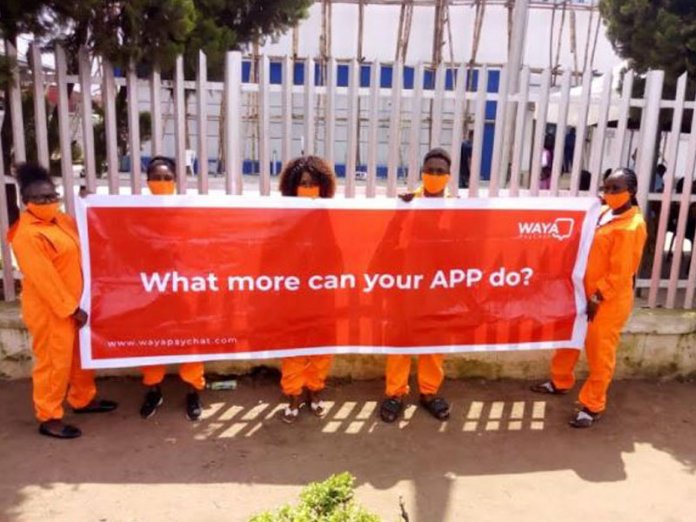 Something strange is happening across some sections of the Country. Something that involves the sighting of 5 men in orange jumpsuits holding a banner in 4 cities simultaneously across the Country. The hype generated by the sightings has prompted people to ask the question WHAT MORE CAN MY APP DO?
Scrolling through posts on social media from various users in Benin, Ilorin, Onitsha, and Kaduna where the Orange men in jumpsuits are sighted, you will find hilarious responses by users to the question raised by these 5 men in jumpsuits. Most of the responses are comical like a user who was asking if his App can help him find a wife, cook food, help him study for his upcoming exams, and while others are focused on more critical questions for my current state of curiosity.
These questions had led to my pondering about the functionality of many of the Apps on our phones. Can they perform multiple functions? Why do I need a separate app for conversations and calls, an app for sending money and paying bills and groceries, and another app for connecting with our loved ones? Let's not forget about our Bank Apps taking space on our phones.
I believe that What More can your App Do should be the driving force and motivator for our home-grown Developers and Tech companies when designing their products. After all, in Nigeria, we are known to adapt one product or platform to suit so many needs different from what the original creator intended it for. We are in the phase of interconnectivity or simply put the internet of things where you connect and can control so many appliances and gadgets like your Cooling system, your Digital Camera, your TVs through multiple apps on your phone. Why can't we have just one app that allows us to call, chat, send money, pay bills, connect and so many other things that make like simple?
It is strange that for a country of over 200 million citizens with an active youth population and internet penetration of over 50%. We don't have a homegrown Applications made by Nigerians for Nigeria. Looking at the statistics of the number of applications currently in use and highly embraced by Nigerians in their daily lives, it is an abysmal less than 1% owned by Nigerians and created for Nigeria. We should take a cue from the Chinese Companies, 80% of platforms created by Chinese Tech firms are created to solve problems experienced by the Chinese people.
I urge that instead of just gliding over the question raised by the parading 5 men in jumpsuits, we should ask ourselves the critical question, why don't we have our own social media apps? Why are the tech startups not looking into the creation of an all-inclusive app or platform that you can do so many things, built by a Nigerian Company for Nigerians?
For the sake of the future of our National Security, I do hope we take this seriously just like I am doing currently.
Unveiling Waya PayChat, the Company behind the 5 Orange men stunt
Over the past 48 hours, we have had multiple reports on social media about the presence of 5 men in orange jumpsuits in Benin, Ilorin, Kaduna, and even Onitsha. I even reported about them in my yesterday column about the critical questions they raised with their message on their banner WHAT MORE CAN YOUR APP DO?
Finally, we know the Company behind the stunt and what they are trying to achieve by forcing us to ask the questions, what more can our app do. The Company is called Waya Multilink Ltd and the platform is called Waya PayChat. Going through the information on the website, it says that with Waya PayChat, you can send and receive money even if you do not have a Waya account, scan to pay either merchants or other users, fund your wallet via bank or through the USSD option. You can also send money to someone's phone number and they withdraw or receive the money through an authorized Waya PayChat Agent/Vendor.
In addition, you can chat and call on the app free to other Waya users and your customers and connect with your friends through its own Waya Gram for picture share. Going beyond the benefits of this platform is the fact that this app is created for Nigerians by Nigerians taking into consideration our peculiarities and needs. We don't need to download a social media app, a fintech app, a bank app to pay, call, and send money. With Waya PayChat, you only need to download one app, connect your bank details, and perform all that functions and much more.
Waya PayChat has been created to disrupt and totally redefine how financial services has been done and perceived, we are well-positioned to become Nigeria's most preferred digital payment platform. Waya PayChat is a perfect marriage of seamless digital financial services and exciting online socialization, a platform that understands her target audience and is dynamically positioned to fit into their lifestyle, optimizing the transactional interactions between service providers and service consumers while tightening the bong of communication and relationship among acquaintances, friends, and families.
Delving deeper, the introduction of Waya PayChat into the Nigerian FinTech Market is positioned to provide the solutions to our problem of including the unbanked (those without bank accounts or have smartphones into the 21st century). Waya PayChat does this through the introduction of the USSD option, sending money to a phone number, and benefits.
Article written by Odiri Eboh, Lagos based techpreneur and Public Analyst