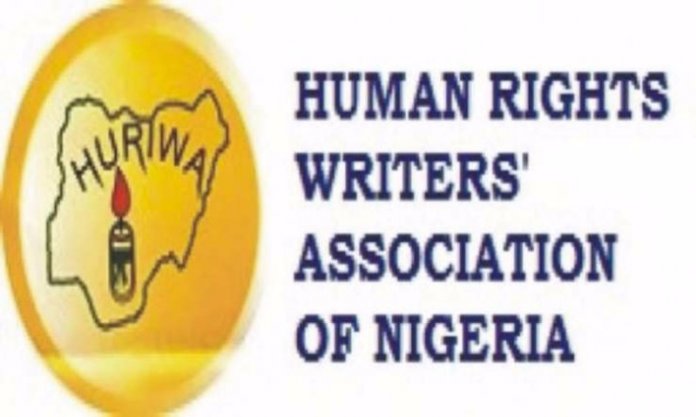 Human Rights Writers Association of Nigeria (HURIWA) has thrown its weight behind the reforms being engendered by the Attorney General of the Federation and Minister of Justice, Abubakar Malami and warned against detractors being used by those found on the wrong side of the law to desist from distracting him.
The Rights body pointed out that what Malami had been trying to achieve was to ensure that rule of law and not rule of man was the grundnorm and for investigations to be properly carried out and cases where getting conviction stood good chances taken for prosecution.
HURIWA lamented on what it called campaign of calumny by beneficiaries and cohorts of those benefitting from the poor handling of investigations and prosecution as well as those who felt their falling out of favour was the making of Malami.
"It has come to our notice that the Attorney-General of the Federation (AGF) and the Minister of Justice; Abubakar Malami (SAN), who is the Chief Law Officer of the Federal Republic of Nigeria has been the subject of a vicious and sustained attacks in recent times.
"The campaigns, which intensified since the AGF urged President Muhammadu Buhari to sack the suspended Chairman of the Economic and Financial Crimes Commission; Ibrahim Magu for alleged infractions is being executed by elements close to power backing Ibrahim Magu and these groups hide under compromised Civil Society Organisations and induced media platforms to launch personal attacks against the Chief Law Officer of the Federation.
"To achieve their nefarious objectives, they have twisted several allegations which range from mismanagement of funds, abuse of office to obstruction of criminal investigations just to distract and even disable the Chief Law Officer of the Federation and make a mess of the whole anti-corruption fight especially that involving Ibrahim Magu," Huriwa alleged.
Advancing reasons for backing Malami, a statement by the National Coordinator of the body, Comrade Emma Onwubiko listed his contribution in taking over the Sowore case that eventually saw to the release of hitherto detained Sowore and Dasuki; decongestion of Nigerian Correctional Centres and release of almost 7,000 inmates; his legal acumen in handling suspected Boko Haram members; implementation of Criminal Justice Act; implementation of National Correctional Service Reform and speedy litigation of election matters.
Others are enhancement of access to justice; his efforts in making Socio-economic Rights justiciable; handling of Apo Six Killing; contribution in the signing of Executive Orders especially No 10 on Independence of State Legislature and Judiciary and coming out with Post COVID-19 Justice Sector plan, among others.
"We all are aware that Ibrahim Magu; a Nigerian Police Officer who served as acting chairman of the Economic and Financial Crimes Commission (EFCC) from 9 November 2015, until his suspension on 7 July 2020 is embattled with about 21 corruption allegations brought against him by the Attorney General of the Federation (AGF) and Minister of Justice; Abubakar Malami and we have credible intelligence that the people behind these attacks and compromised civil society groups are being sponsored by persons sympathetic to Ibrahim Magu just to mess up the whole investigation on the EFCC, which involves Ibrahim Magu and to scuttle the whole essence of trying to reorganise the anti-graft Agency.
"Nigeria Incentive-Based Risk Sharing System for Agricultural Lending (NIRSAL) issue they are basing their allegation of obstruction of corruption cases on, the AGF did not direct the stoppage of the investigation, but only directed for a well-coordinated investigation to be carried out by the Nigerian Police, which is the body legally recognized and empowered under section 214 (1) and Section 29 of the Constitution of the Federal Republic of Nigeria (1999 as amended) and the Police Act, respectively.
"The sponsors of this vicious campaign must not be allowed to achieve their evil plans of destabilizing measures to strengthen our laws and institutions, especially the Economic and Financial Crimes Commission. If we sit back and fold our arms whilst this vicious campaigns against the AGF is allowed to aggravate, then we will be shooting ourselves in the foot and destroying whatever is left of the credibility of our institutions," the body explained.
Probe Threat to Life of Tombomieye, NNPC COO, Group Tells IG
A group, Niger Delta Young Business Leaders Forum, has warned against continued attacks and threat to life aimed at blackmailing the Chief Operating Officer (COO), Upstream of the Nigerian National Petroleum Corporation (NNPC) Adokiye Tombomieye and charged the Inspector General of Police, Mohammed Adamu to investigate it
The group which condemned what it called campaign of calumny against the official alleged it was orchestrated by some misguided Niger Delta youths to intimidate, blackmail, extort and stampede him for financial gains against the tenets of the recent office he occupies in the oil industry.
The group in a statement by its Coordinator, Richard Akinaka, alleged that preliminary investigation into the smear campaign against Tombomieye revealed that some unscrupulous Niger Delta indigenes were trying to extort the oil chief.
"We therefore, call on the Inspector-General of Police and the other security agencies to immediately launch an investigation into these acts of harassment, intimidation and threat to life of a public official whose only crime is working judiciously along other top official to fulfil the mandate handed them by President Muhammadu Buhari," the group charged.
According to Akinaka," Adokiye is one of the reputable sons of the Niger Delta and a role model to many young aspiring Business leaders and should not be smeared in any manner. All checks showed that those behind the blackmail and smear campaign are out to extort him. This act is a typical way used by these clueless, greedy and empty few to drag indigenes of the region in position power into corrupt practices."
Akinaka wondered why people from the region would rather than celebrate that one of their own was elevated now resort to threatening to protest against his recent promotion from the position of Group General Manager, crude oil marketing division to chief operating officer, Upstream which he said was "shameful and criminal."
"These people have gone as far as threatening the life of an official of government for refuse to bow to their pressure.
"We wish to thank Mr. President, The minister for Petroleum our own brother and leader and the GMD NNPC for the confidence reposed on Mr. Adokiye who is an outstanding and illustrious son of the region by promoting him to such enviable stake. We know his promotion is merited and as such, no amount of blackmail from criminal characters should hold sway," they concluded.