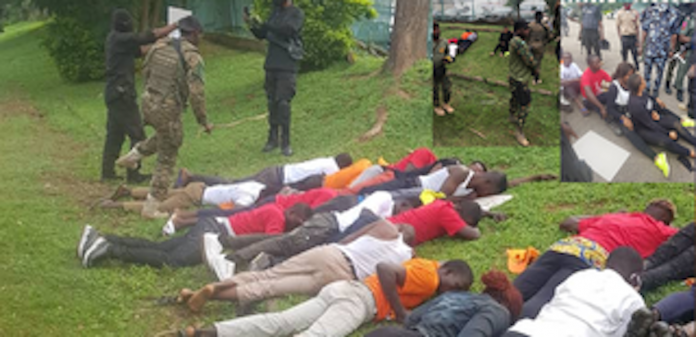 *FCT Police say deployment of personnel routine, protesters to face mobile courts
By Kingsley Nwezeh
Security agents Tuesday morning arrested about 25 protesters in Abuja. The protesters were members of the Omoyele Sowore-led #RevolutionNow movement.
The protesters, who marched on the streets around 9am carried placards with the inscription: "Nigerians are sick and tired of poverty, corruption, injustice and untimely death'; 'Say no to injustice', 'Yes to living wage for unemployed youths".
Security agents were Tuesday morning deployed in various parts of Abuja city center in an bid to halt the protest by #RevolutionNow movement.
A combined security team of police, Department of State Services (DSS), army and civil defence was deployed to different parts of the Central Area and Maitama District especially the Abuja Unity Fountain where the protest held.
FCT Police Public Relations Officer and Deputy Supretentent of Police (DSP), Mr Anjuguri Manza, said the deployment was a routine deployment.
"It is a routine deployment designed to protect lives and property. It is not because of any protest", he said.
He said those arrested were being tried by mobile courts.
"They are being tried by mobile courts", he said.
Leader of the group, Omoyele Sowore, tweeted:
"Police, army and airforce put Abuja on lockdown to frustrate #RevolutionNow.
"Police attack #RevolutionNow members at Unity Fountain in Abuja, protesters arrested and are being brutalised."
"Several #RevolutionNow protesters were arrested by the police and the Nigerian Army in the Abuja metropolis on Wednesday".