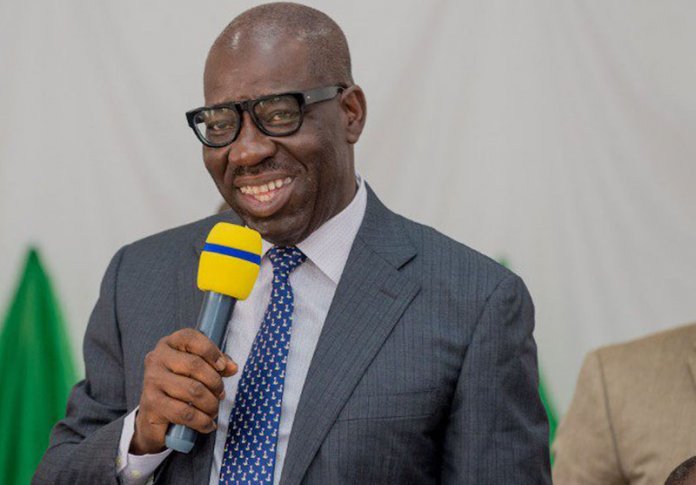 By Adibe Emenyonu
The Edo state Governor, Mr. Godwin Obaseki has created the Women Wing Campaign Council of the Peoples Democratic Party (PDP) ahead of the September 19 state's governorship election
The PDP's women campaign council was structured to cover the senatorial zones, local governments as well as the wards and unit levels.
The inaugural meeting of the women wing was chaired by Her Excellency, Betsy Obaseki and supported by the PDP Board of Trustees members, former Senator of the Federal Republic of Nigeria, Professor (Mrs) Stella Onu and former Minister of Women Affairs, Mrs. Josephine Anenih.
The First Lady of Edo State urged council to rise up as things are now different and politics in Nigeria is changing.
Mrs Obaseki said that her interest is not just politics whenever she is in the midst of women but on how to deliver to Nigerians the results desired from politics.
She said: "Some people play politics for their personal gains. They think only of their stomachs, only of themselves. But politics is changing in Nigeria whether we like it or not. The decent and patriotic ones are more in numbers. Those supporting good governance are more in number, they just happen to be decent."
Onu, in her address to the women, said that the Edo State Governor, Mr. Godwin Obaseki, is a treasure that must be preserved at all cost.
She urged the women to forget about those who would want to lure them with money and think about the future of their children.
"What I want to say now is that you should forget about those who will be bringing tons and tons of money to say if you follow us, vote for us, we will do you this. Even if they give you all the money in this world because God has designed this victory for Obaseki, their money will be nothing. So I want to appeal to all of you here, we know we all love money, but integrity pays."
Anenih, who is also a BOT member of the party, described Obaseki as the governor with a plan of action right on his swearing in day.
She said: "When he came, he came with a plan. He had a detailed plan broken down year by year, and he has only done four years out of the eight years plan and we can all see the evidence. He still has four more years to go and there are things he hasn't done."
On her part, the Deputy National Woman Leader of the PDP, Mrs. Hadizat Umoru, admonished the women on the need for a patriotic spirit.
Umoru urged the women to "make this project a reality. Let us believe that we have come to secure Edo State. We have come to make Edo State the heartbeat of Nigeria that originally God said it is. Whichever way we look at it, Godwin Obaseki has worked."
The State Woman Leader of the PDP, Mrs. Lindsey Tes-Sorae, admonished the women against being used by politicians as a mole. She said: "Don't bring any shame by being a mole, playing a little to the left and a little to the right. We will not tolerate it. It is not a threat.