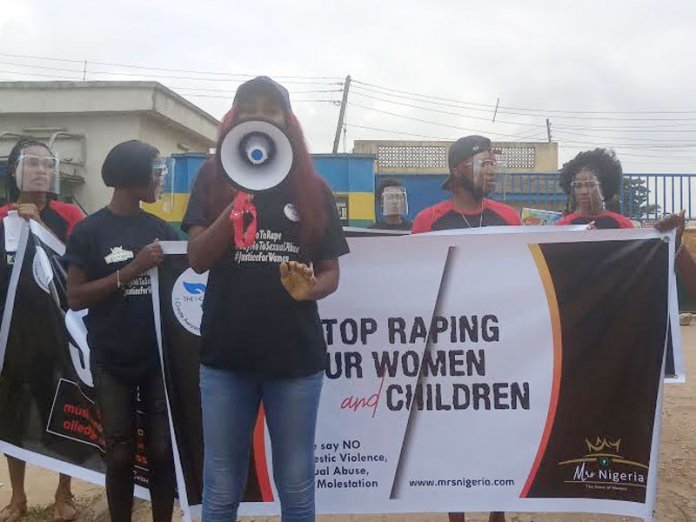 Rebecca Ejifoma
Mrs. Nigeria Organisation, a non-Bikini pageantry for married women, has charged women across the country to emulate the leads of the former Acting Managing Director of the Niger Delta Development Commission (NDDC), Joy Nunieh and speak against sexual harassment and all forms of violence against women.
The group, in a peaceful protest demonstration in Lagos recently, gave this urge where it further called for the resignation of the Minister of Niger Delta Affairs, following allegations of sexual harassment.
Tagged 'Demonstration against Rape, Domestic Violence and all Menace Perpetrated against Women in the Country" held at Ikeja and its environs, the convener, Mrs. Sarah Anogwi said it was time for women to speak out.
"This is a clarion call on all Nigerian women to arise and speak up against this menace being perpetrated against women and children in our country today," she said.
The organisation pointed out that the protest aimed to draw the attention of the government, the justice system, security agencies and the public to the plight of women and children who have been constantly subjected to ridicule, shame and stigma on crimes of sexual harassment, rape, domestic violence, child labour and abuse meted.
Anogwi added: "We join our voices with Nunieh who have spoken vehemently against sexual harassment, oppression and corruption."
Part of their requests is, "We are calling on Senator Godswill Akpabio to step aside and present himself for probe over the sexual harassment allegation. If eventually proven to be true, it will vividly depicts a perfect precursor to typical rape incident, as severally reported."
"Given the magnitude of this allegation and its devastating impact on the nations integrity and moral compass, we insist Senator Akpabio steps aside with immediate effect. We find the allegation too
weighty to be swept under the carpet, especially in the light of increasing cases of rape, domestic violence and marital-related homicides in the country," she highlighted.
The NGO, therefore, appealed to the President Muhammadu Buhari to order a probe into the sexual harassment allegations immediately. "If let go, it would amount to sexual endangerment of the entire women folk by some dominant male, even in the position of power across the country".
Having received a lot of revelations from women, the organisation has designed the i-CARE (I Create Awareness to Reduce Exposure) outreach programme that focuses on sensitisation and public enlightenment of the dangers of rape, child sexual abuse and violence against women and children.
"The platform aims to cater for rights of women and children passing through various forms of social injustice. We support them financially, build them back up psychologically and help with their emotional well-being," the convener expressed.