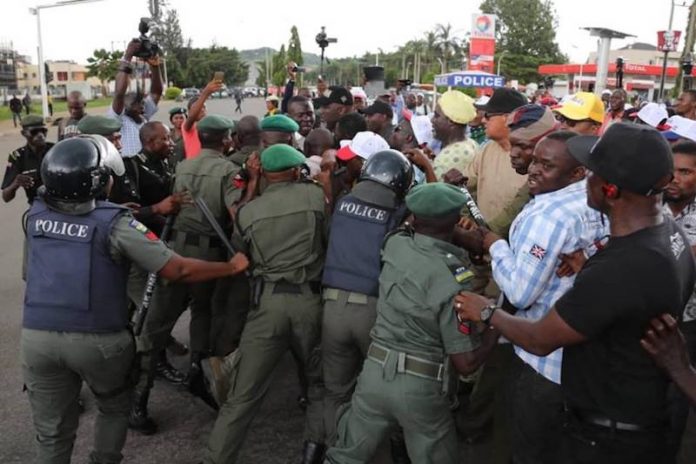 Sonnie Ekwowusi argues that the rule of law is the bedrock upon which our society lays its claim to civilisation
Somehow the refrain or the singsong, "Black lives Matter" has sunk into popular consciousness. It is now fashionable to appreciate and even discuss the sacredness and dignity of the lives of blacks in reminiscent of the barbaric murder of George Floyd. At the restart of the English Premier League all the 22 players on the soccer pitch were spotted, at least in the first week of the League, adorning jerseys with the bold inscription "Black lives matter" on their back in honour of the murdered Floyd, and, I guess, as a demonstration of solidarity against racism and inequality.
Unfortunately the police are undeterred. It is unconvinced that the lives of black men matter let alone be preserved. On or around 13th July 2020, another police officer was caught by camera kneeling on the neck of another Afro-American in the course of an arrest in Pennsylvania, U.SA. And just last week, the London Police Force suspended a London police officer pending an investigation after a footage emerged alleging that he knelt on the head and neck of a black suspect.
The victim allegedly started screaming, "Get off me … get off my neck". Back home in Nigeria last week, the embattled former acting Managing Director of Niger Delta Development Commission (NDDC), Ms. Joi Nunieh would have either been brutalized or forcefully abducted by the police if not for the timely intervention of Governor Nyesom Wike of Rivers State. As early as 4.30 a.m. the battle-ready policemen had besieged Nunieh's residence in order to gain entrance. If Governor Wike had not swiftly arrived at the scene they would have accomplished their mission without any police warrant, charge and trial and conviction of Ms. Nunieh. Were Nunieh, an ordinary citizen without contact with anybody in the corridors of power, the policemen laying siege to her residence would have succeeded in illegally brutalizing or abducting her.
So no lessons learnt from barbaric murder of George Floyd? I think so. We are still at the mercy of the police both home and abroad. You may be aware that the brutality and barbarity with which George Floyd was murdered are negligible compared to the gruesome police extra-judicial executions and police brutality in Nigeria. Extra-judicial executions by the Nigeria Police are well documented by the Amnesty International. The Amnesty International has also documented reports on how innocent civilians in Nigerians are habitually being extorted, raped, tortured, and killed by police officers who are members of the Special Anti-Robbery Squad (SARS). Permit me to briefly narrate one particular event of my professional life which you may find repugnant. Many years ago, I went to the Bode Police Station, Surulere, Lagos for something I cannot readily remember now.
No sooner had I climbed up the back stairs to meet a desk officer on duty than I saw a young man hanging upside down inside one of the dirty police cubicles. Blood was already gushing out and clotting on his nostrils. His face had turned red. He was gasping for breath. I spontaneously opened my mouth wide and began shouting to the hearing of everyone, "Release him! What did he do!", "You want to kill someone". Immediately the police officer standing in front of the victim quickly untied the victim and assisted him to stand in an upright position, thus enabling him to breathe properly. The officer obeyed because he sensed I was poised to do physically battle with the police for hanging a suspect upside down in order to suffocate him to death.
The rule of law ought to reign supreme over arbitrary and capricious exercise of police power. The fundamental rights of Nigerian citizens including the constitutional rights of criminal suspects, detainees and even criminal convicts are clearly stipulated in our 1999 Constitution. Every citizen is presumed innocent until proved guilty by a court of law of competent jurisdiction. Suspicion, no matter how probable or grounded, cannot secure a criminal conviction. A police officer or any law enforcement agents, in a bid to detect crime or apprehend an offender, may stop any citizen for a search or questioning, but on the condition that he first identifies himself as a police officer by stating his names, police station and the grounds for the questioning or the search.
If the police man fails to sufficiently identify himself as aforesaid, then the citizen is not obliged to submit himself for a search or questioning. Any person who is arrested or detained shall have the right to remain silent or avoid answering any question from the police until after consultation with his legal practitioner of his own choice. Also any person who is arrested or detained shall be informed in writing within 24 hours in the language in which he understands of the facts and grounds for his arrests or detention. And where a person has been arrested either for the purpose of charging him to court or upon reasonable commission of an offence, such a person must be charged to court within a reasonable time not exceeding 48 hours failure for which he should be granted bail pending appeal.
This is the law in Nigeria. I have recently acquired a copy of Chief Frank Agbedo's latest magnum opus with the alluring title, Casebook on Human Rights Litigation in Nigeria. The well-printed human rights book that runs up to 1090 pages focuses, inter alia, on cases on police brutality and ground-breaking innovations in human rights and public-interest litigations in Nigeria. With grandiloquent landmark legal cases and locus classicus illustrations, the learned author carefully marshaled out in his aforesaid book the new revolutionary trends in the enforcement of fundamental human rights and public interest litigations in Nigeria. For example, the author cited the case of Abacha V Fawehinmi and other cases establishing that the African Charter on Human and Peoples' Rights was adopted by Nigeria in 1983 and thenceforth had been incorporated into our domestic law.
Consequently, the law of locus standi in Nigeria has changed. Citing the case of Mrs. Ganiat Amope Dilly V Inspector General of Police and others, the learned author established that locus standi is now given a very expansive interpretation in contrast to the narrow interpretation given to it by the Supreme Court in Abraham Adesanya v. The President of the Federal Republic of Nigeria and Gani Fawehinmi V Halilu Akilu. Today an applicant does not have to first establish that he had directly suffered any personal wrong before initiating an action under the Fundamental Human Rights (Enforcement Procedure) Rules 2009.
The import of this revolutionary change is that aggrieved persons now have unimpeded access to court to seek remedy. Amid the reign of police brutality and executive lawlessness, the rule of law still remains the bulwark of our democracy. A democracy bereft of the rule of law is heading for anarchy. This is because regard for the rule of law is the bedrock upon which our society lays its claim to civilization.