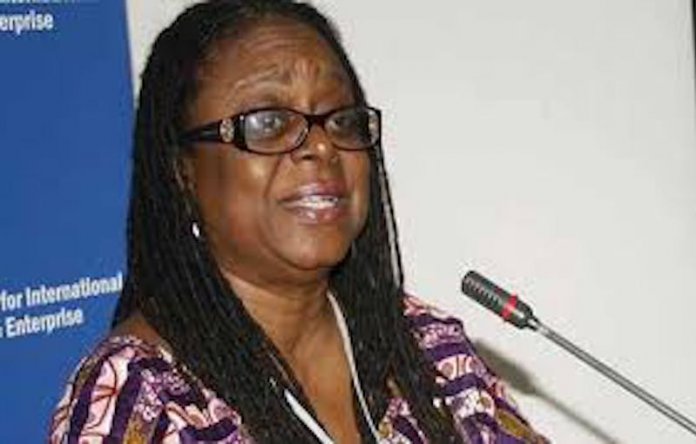 Dike Onwuamaeze
The Lagos Chamber of Commerce and Industry (LCCI) has advised the federal government to put in place measures to strengthen the federal government's agricultural programme that targets the cultivation of 20,000 to 200,000 hectares of land and create five million jobs.
The LCCI said such measures would address concerns on marketing, post-harvest losses as well as government buy-back of produce from the mass production to prevent glut of agricultural products, which could lead to depressed prices and disincentive to farmers.
The advice was given by the President of LCCI, Mrs. Toki Mabogunje, during a recent quarterly press conference on the state of the economy.
Mobogunje said: "It is important that strong emphasis be laid in ensuring market outlets before engaging in production activities."
She also enjoined the government to pursue the implementation of the Economic Sustainability Plan (ESP), which is meant to ensure that the economy recovered quickly from the harsh effect of the COVID-19 pandemic disease and continued on the path of growth, with utmost commitment and strong political will that is devoid of sentiments or political affiliations.
The chamber said these would ensure that the proposed initiatives in the plan could produce the desired outcomes.
"As a concerned stakeholder in the Nigerian economy, we call on the federal and state government to engage with the organised private sector where and when necessary, to ensure the ESP achieved the desired outcomes that would ultimately translate to improved living standards for the Nigerian citizenry," LCCI said.
The chamber, however, expressed concern that members of the Organised Private Sector (OPS) were largely excluded from the committee that is saddled with the implementation of the ESP in the same way the OPS were not actively represented in drawing the plan.
"While we see this as a significant omission on the part of the government, we would however advise that the OPS be actively involved in ensuring the implementation as well as in monitoring the progress of the recommended activities going forward," the chamber said, adding that it "is our collective duty to ensure a better investment environment for the progress of the Nigerian economy and the good of everyone."
The chamber also urged the government to "swiftly come to the rescue of some sectors whose business models and earnings projections have substantially been disrupted by the pandemic."
The Lagos' chamber described the removal of subsidy on Premium Motor Spirit (PMS) and the recent adjustment of the exchange rate from N360/$ to N381/$ as well as the postponement of the planned hike in electricity tariff by the power distribution companies to the first quarter of 2021 as steps in the right direction