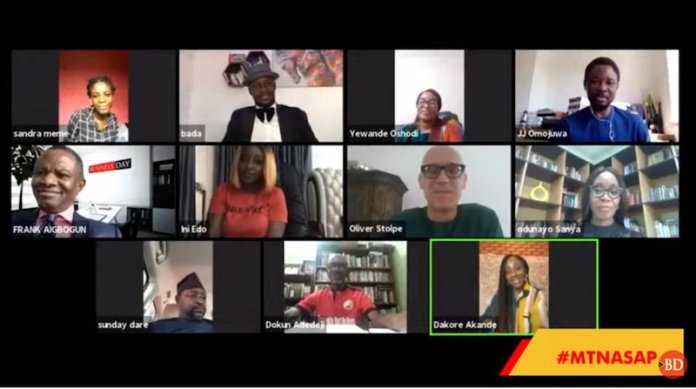 Ojo Maduekwe
On June 26, Nigeria joined the rest of the world to commemorate the International Day against Drug Abuse and Illicit Trafficking, to create awareness on the dangers of substance abuse. As a result of the limitation posed by the COVID-19 pandemic, the MTN Foundation in partnership with BusinessDay newspaper, the NETng and MTVBase, organised a virtual event with the theme 'Better Knowledge for Better Care' to proffer solutions to the problem of substance abuse. The event had a panel discussion comprising personalities from non-governmental organisations, the entertainment industry, government, health, media, information and communications technology.
Speakers include Minister for Youths and Sports, Sunday Dare; Chairman, MTN Foundation, Prince Julius Adelusi-Adeluyi, OFR, mni; Psychiatrist, Yewande Oshodi; Country Manager, ViacomCBS Networks Africa, Bada Akintunde-Johnson and the Ag. Executive Secretary, MTN Foundation, Odunayo Sanya. Also on the panel were actors Dakore Egbuson-Akande and Ini Edo; Country Representative, United Nations Office on Drugs and Crime (UNODC), Oliver Stolpe; Director-General CADAM, Adedokun Adedeji; actor and anti-drug abuse advocate, David Jones David; musician, Praise 'Praiz' Ugbede; popular On-Air Personality, Chinedu 'Nedu' Ani Emmanuel and actor, Ada Afoluwake 'Folu Storms' Ogunkeye.
Chairman, MTN Foundation, Prince Julius Adelusi-Adeluyi captured it succinctly when he said, "It is easier to keep off drugs than to get off drugs when you are already hooked;". In his welcome address, Prince Adelusi-Adeluyi said it was encouraging to see young Nigerians who are most affected by drug abuse to be at the forefront of the anti-substance abuse campaign. Odunayo Sanya on her part explained that Nigeria has majority of young population under the age of 24, so it is important to focus on this demography. To build a nation, we need to focus on these people. She stated that there was a need for more platforms like the one put together by the MTN Foundation in tackling the issue. Above all, she said the curriculum at schools needs to accommodate the topic, and that parents should do more in setting good examples for the children.
The notion that one needs to be on drugs to stay productive as an artist and entertainer was debunked by all the speakers in the industry, from Ini Edo to Praiz, Dakore, Nedu, Akintunde-Johnson and David Jones. This shouldn't have to be the norm, according to Praiz. "As a musician, you don't need to be under any influence to perform on stage." Unfortunately, it is the norm for a good number of established and upcoming entertainers.
David Jones talked about how drug abuse has eaten deep into the fabric of Nigeria's society to the point that many people now think it's normal. "People come to my studio and before anything they've placed bottles of codeine for you to take; and when you express shock, they are equally shocked."
Continuing, he said, "There are others, especially entertainers who think if you must go on stage to perform you need to be high. They say "I am an entertainer," suggesting that they must be high to perform." While substance abuse is prevalent among young Nigerians, there are not enough organisations advocating against the issue. Considering it is a national health problem, one would expect that the government at every level will take a greater interest, but there's been disinterest on the side of the government. David Jones who described drugs as "one-chance," asking that young Nigerians considering drug abuse "don't even start".
"I think we've woken up a bit late to making the issue a national project," said Sunday Dare, Minister for Youth and Sports. "Institutional support is what has been missing on our part, and I think we are like 10 years later." Moving forward, the minister said Nigeria must look at its laws. "Not only the laws that criminalise this issue, but also look at the people who manufacture these drugs, the pharmaceutical companies and the supply chain as a whole." According to him, to put the menace to rest, "we must have a system that rewards good behaviour and severely punishes bad behaviour."
An interesting highlight was the story of a survivor of drug abuse, Sandra Meme, who narrated her journey to drug abuse and how she eventually managed to escape from its claws. According to her, it began occasionally by constantly hanging around people who were abusing drugs. Miss Meme was on her way to becoming a dancer but fell into the belief that to become a fulfilled entertainer, one needed to use substance. However, in hindsight, she said, "the idea that drugs will give you the inspiration to perform better as an entertainer is all in your head."
The notion was the re-education of substance abusers, beginning from home. All the speakers highlighted the roles of the family in educating and sensitising the young ones. The role of the media was also highlighted and the need to promote anti-substance narrative through music, movies and other forms of entertainment.
Caption: Cross section of participants at the virtual meeting