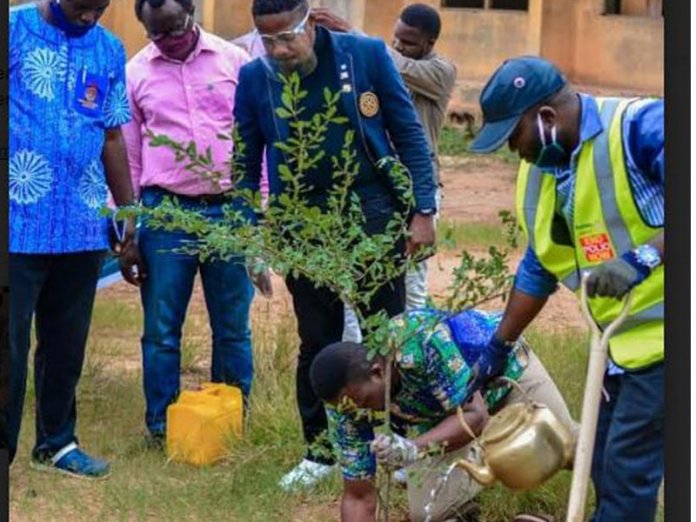 Rebecca Ejifoma
To stem the catastrophic tides of climate change, the Rotary Club of Idimu High-Rise (provisional) District 9110 Nigeria planted trees in two elementary schools in Lagos to support basic education in the state.
In each of the schools – Government Primary School, and Oreofe Primary School in Ikotun-Egbe area – half a dozen infant species of giant trees – Almond, Step, and Masquerade – were planted on dug and fertilised holes, as a means of reinforcement to the erosion-threatened citadels of learning.
The Supervising Officer and Chairman, Planet Earth Committee, Jelili Efedi, expressed that the club was consistent with the renewed global efforts targeted at stemming the catastrophic tides of climate change.
He added that the tree planting was its efforts in line with International Tree Planting Day 2020 and its slogan 'Supporting the Environment'. "Rotary Clubs across the world are expected to plant trees, gardens and beautify parks creatively manage wastes, and supports the coastal regions among others".
Efedi said: "For the public, because of the emergency of climate change, Rotary International has recently expanded its Areas of focus to accommodate what is now called 'Supporting the Environment' in a bid to support the environment."
Speaking also, the Charter President of the club, Bankole Adeshina, said the decision to plant trees inside the premises of the schools, was consistent with his administration's determination to support basic education however possible.
He further implored well-meaning Nigerians to, as a matter of priority, embrace tree planting, effective management of domestic wastes, and routine environmental sanitations as their indispensable contributions to global development.
According to Adeshina, the challenge of flooding became too conspicuous to be ignored. "The three days back-to-back downpour in Lagos recently rendered many poor residents homeless, and destroyed many other means of livelihood, especially when the rain has not climaxed yet".
"The same can be said of the extremely blazing sun and the highly polluted air and environment.
As a result, the president said, "We have an emergency on our hands. But we should not wait for every July 14, the International Tree Planting Day, to contribute our quotas."
For the club, the little they could do is plant trees more often, clean the environment, and find a more creative way to manage wastes. "This is for the good of all of us, for a healthy environment breads healthy inhabitants".
While lauding the efforts of the club, the Chairman, Egbe-Idimu Local Community Development Area, Kunle Sanyaolu, said giving its selfless contributions over the years, Rotary had proven to be a dependable ally in global affairs.
"We are happy and grateful for this gesture, especially the choice of this school, for I know that when the trees survive, they will not only beautify the environment, but facilitate learning assimilation too," he expressed.