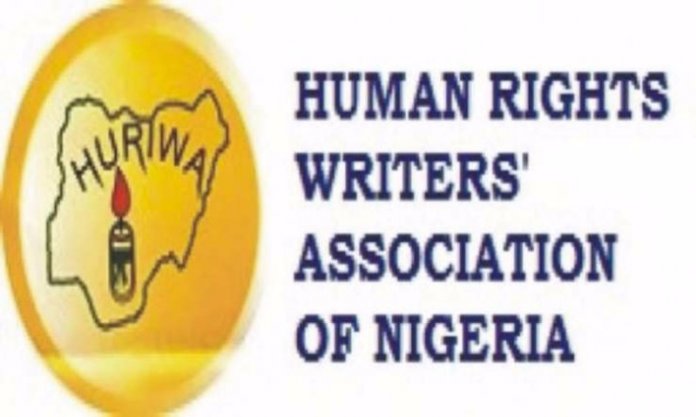 A Civil Rights Advocacy group Human Rights Writers Association of Nigeira (HURIWA) has asked the Presidential panel probing the embattled former acting Chairman of the Economic and Financial Crimes Commission, Mr. Ibrahim Magu, to widen the scope of the investigation by inviting Nigerians who had experiences with the agency to narrate them.
In the alternative, such people should be asked to send in memoranda and petitions, adding that the anti-graft commission stank of professional misconduct which should necessitate a more elaborate investigations from time of its establishment.
In a media statement made available by the National Coordinator, Comrade Emmanuel Onwubiko and the National Media Affairs Director, Miss Zainab Yusuf, the body said it had resolved to petition the Justice Ayo Salami-led Presidential panel investigating Magu to also look at the extensively damaging allegations made by Chief Emmanuel Nwude, convicted previously over advanced fee fraud by a Lagos High Court, that some of the properties not listed amongst his assets forfeited upon conviction were sold by the Economic and Financial Crimes Commission.
According to HURIWA, when Nwude allegedly protested over the illegality, both himself and his lawyer were then roped in and charged for a nebulous offence allegedly by the suspended Chairman of the EFCC which they eventually won at both the High Court and the Court of Appeal against the Economic and Financial Crimes Commission.
HURIWA submitted that the weighty allegations made against the EFCC and some of their lawyers by the complainant Chief Emmanuel Nwude were such that should be captured under the terms of reference of the Justice Ayo Salami headed Presidential panel of investigations just as the Rights group said it would also petition the President on the need to carry out a holistic forensic investigations of EFCC so the Aegean stable would be cleaned up thoroughly and for the anti-graft war to regain the needed credible momentum.
The body said that from the petitions and responses of the Commission and some of its lawyers, it would turn in severe revelations of various kinds of abuses should the government take time to invite petitions and probe some of the sleazy actions of the commission.
They promised to make available details of responses that they alleged were incriminating to allegations of criminal appropriation of lawfully acquired properties by individuals like Nwude, pointing out that similar cases abound and should form part of the Justice Salami panel investigations.
HURIWA is therefore challenging the Federal Government of Nigeria to look at all these petitions and deal with them on merit so the fight against corruption is not fought with corruption.