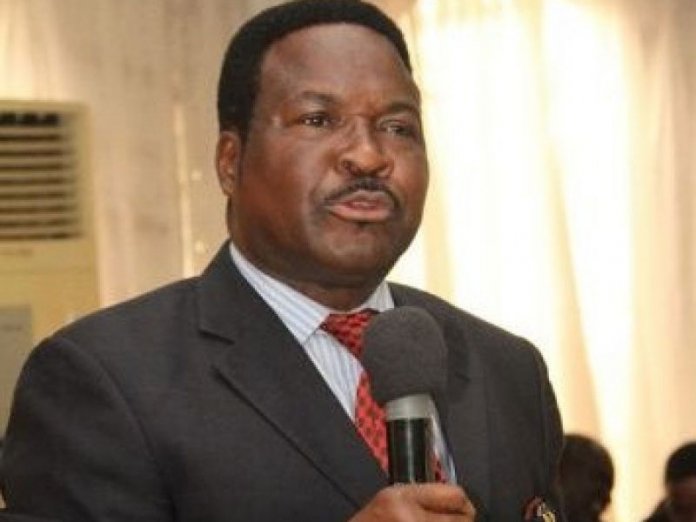 Alex Enumah in Abuja
Human rights lawyer, Chief Mike Ozekhome (SAN) has described the arrest, detention and alleged suspension of the Acting Chairman of the Economic and Financial Crimes Commission (EFCC), Mr. Ibrahim Magu, as a subtle reminder of the vanity of power.
Ozekhome who chronicled the 'sins' of Magu in the last five years as acting chairman of the anti-graft agency, emphasised the need for public officers and those in power to be cautious and always act within the bound of the law, adding that what goes around comes around.
"Last night, Magu was given his usual dolled-out treatment. He was detained at a cold Police cell at the Police Headquarters, Louis Edet House, Abuja. He was even accosted on the way from his EFCC's Formella Street office, Abuja, and driven away to Aso Villa, to face the presidential panel probing him on his alleged corruption infractions. The erstwhile roaring lion could not believe it. The chicken has finally come home to roost. The proud pursuer is now being pursued. The assumed victor has become the victim", Ozekhome said.
"This is a tragic reminder of the urgent need for temporary power wielders to act with moderation, modesty, circumspection and humility.
"This shows the transience and ephemerality of raw might and strength! The vanity and vain gloriousness of the illusion and delusion of grandeur of power and influence", he added.
Ozekhome however pleaded with Nigerians and those in authority, not to accord Magu the same shameless media trial as he did with most public officers accused of corruption.
He urged that Magu be presumed innocent until he has been subjected to the due process of law, through a free and fair public trial.
"The fact that he did it to others did not and does not mean it was right. Two wrongs can never make a right. As I argued again and again, like a broken record, the anti- corruption 'war ' was never a regenerative and ethics-defining resurgimento war. It was purely a score -settler against rights activists, the opposition, public critics, plural voices and dissenters.
"The breeze has finally blown and the smelly backside of the fowl has been exposed. The following days and weeks will open up new vistas, the Pandora boxes and closed cupboards of decaying skeletons", he added.