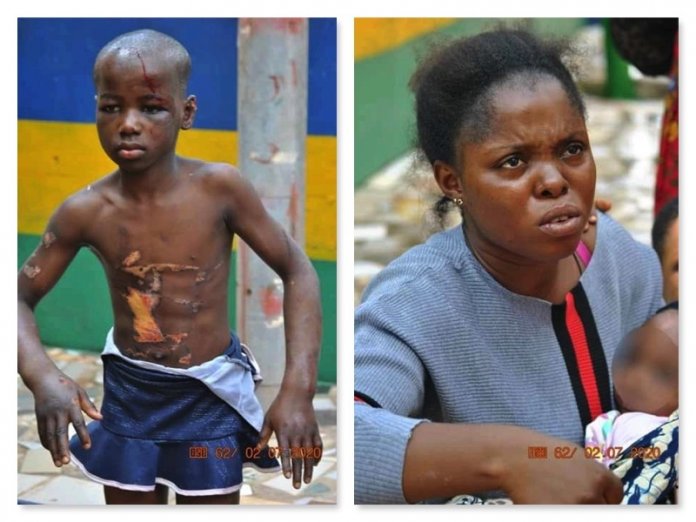 Enugu State Magistrates' Court yesterday remanded in custody a 40-year-old man, Mr. Jude Ozougwu, and his 24-year-old wife, Ifeoma, for allegedly brutalising a 10-year-old, Nneoma Nnadi, with hot pressing iron and nails.
In the charge marked MEN/298c/2020, the police alleged that between April and July 2020, the couple attempted to "unlawfully kill one Miss Nneoma Nnadi, aged 10 years, your house-help, by burning her belly, back and buttocks with hot electric pressing iron, nailing nails into several points on her head, which is capable of endangering her life."
The police said the offence was punishable under Section 275 of the Criminal Code, Cap 30, Vol. II, Revised Laws of Enugu State of Nigeria 2004.
After the charges were read to the couple, the police prosecutor, Paschal Nwachukwu, told the magistrate, "The evidence of this matter is grievous and weighty. How can one explain nailing a child as was done to Jesus Christ, using hot pressing iron, sharp and dangerous objects on even her private parts?"
However, the defence counsel, Mr. Emeka Orji, prayed the court to discountenance the various public sentiments on the matter and grant bail to his clients.
Orji argued that the offence was bailable and the court should use its discretion to grant the couple bail, adding that they had two little children to look after.
But the presiding magistrate, Joseph Agu, refused to admit the couple to bail.
The magistrate said, "In exercise of my discretion, the offence is grievous going by counts one and three; even as the girl is still hospitalised as well as the overwhelming public outcry, I reject the application for bail.
"I hereby remand the couple in the Nsukka Correctional facility pending further advice by the state Director of Public Prosecutions."
Agu adjourned the matter till August 10, 2020.