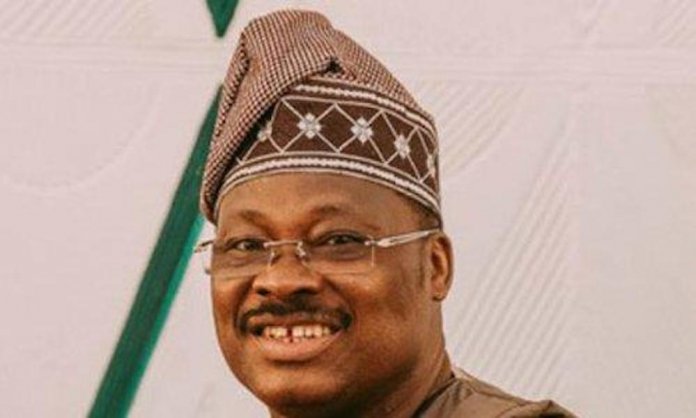 Apologises over incident
By Kemi Olaitan 
The crisis between the family of the late former governor of Oyo State, Senator Abiola Ajimobi and the state government, over the handling of the burial of the two-term governor, has refused to abate as a delegation of the state government to the eighth day fidau prayer for the deceased, was turned back.
The family has however, apologised to the deputy governor, saying the event was meant to be a family affair, adding that they did not know that the deputy governor would be at the ceremony.
The delegation led by the deputy governor, Mr. Raufu Olaniyan, which include: Abiodun Abdul-Raheem and Seun Ashamu, commissioners for Land and Energy, respectively; was turned back from entering the Yemoja Street, Oluyole Estate, Ibadan residence of Ajimobi.
THISDAY learnt that the security details at the venue were said to have resisted efforts by the delegation to enter as they almost engaged in open confrontation with the security details attached to the deputy governor.
It was gathered that Olaniyan thereafter left after making frantic calls to people believed to be close to the family to register his displeasure on the treatment meted out to him and others on the delegation.
But in a swift reaction, the Ajimobi said in a statement that the event was announced as strictly a family affair.
The family however, noted that some dignitaries arrived for the event prior to the commencement of the prayers and were permitted entry.
"There was a need to comply with the Covid-19 protocol as established by NCDC – Social distancing, not more than 30 people in a place and seats arranged, accordingly. Once we reached capacity, the gate was locked. No one was aware that the deputy governor was coming as neither the advance team nor the protocol informed us. The deputy governor arrived after the prayers had started and once the protocol team was informed they proceeded to the gate.
"By the time we got to the gate to usher him into the sitting room, he had left. Everything happened within a few minutes.
"Through a serving Senator and a former Attorney General we tried to get in touch with him that it was not to slight him and he could sit in a private sitting room provided by the family. Unfortunately, he had left. We however apologise to his Excellency," the statement explained.