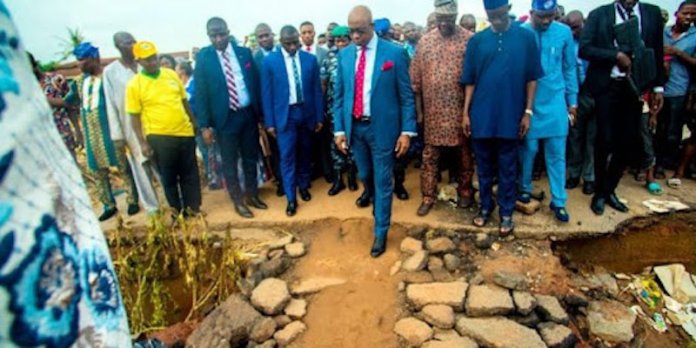 * Promises compensation, lasting solution
Ogun State Governor, Prince Dapo Abiodun, has said that his administration would carry out proper channelisation in flood prone areas to put an end to perennial flooding in Abeokuta, State capital.
He also promised to pay those who lost properties to the flood.
Governor Abiodun who stated these when he visited the areas affected by last weekend torrential rain, regretted the huge loss caused by the flood.
He however appreciated God that no life was lost.
According to the goverrnor, "I am here to look at the damage caused by the rain that fell on Saturday and Sunday. I am happy that it was only properties and not lives that were lost".
He said government had assessed the damage caused to the roads and bridges with a view to carrying out a comprehensive and proper channelisation of the waterways to bring permanent solution to flooding in the State capital.
"I want to assure you that we will repair the damaged roads, expand the gutters and bridges so that when such rains fall, the gutters and the bridges would be able to accommodate the large volume of water. With this, the problem of erosion would be a thing of the past", he promised.
Governor Abiodun who attributed flooding in the State capital to rapid development, urged the people to desist from dumping refuse or building structures on waterways.
He assured them that government would assist those who lost property to the flood to lessen their plight.
Speaking, the Secretary, Isale-Oja, Kuto, Community Development Association, Alhaji Bello Mohammed, informed the governor that his community had been experiencing flooding yearly in the last 10 years as a result of water flowing from other parts of the city to the area.
Alhaji Bello who appreciated the government for showing concern to the plight of the people, said that proper channelisation of the canal with adequate drainage system, would bring an end to the flooding.
Areas inspected by the goverrnor were Isale-Oja, Ago-Ijesha and Ijeun Titun, all in Abeokuta.