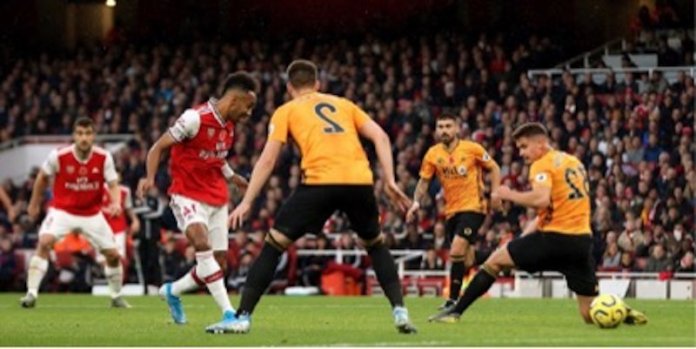 Wolves also in the mix, battle Arsenal at Molineux
With Liverpool and Manchester City having taken two of the available four Champions League spots, the trio of Leicester, Chelsea and Manchester United would be struggling for the remaining two places. That is why today's Premier League fixtures involving the trio would go a long way in determining who picks the remaining spots
A faltering Leicester City side will resume their search for a first win since lockdown when they welcome Crystal Palace to the King Power Stadium today.
The Foxes still sit third in the Premier League table but are winless in four games, while Palace go into the contest on the back of successive defeats.
Today's hosts have not won a game since March 9, and in the Premier League have only picked up one victory in eight games since January.
The fact that they still sit third in the table is testament to how impressive they were during the opening half of the campaign, but they needed a Chelsea defeat against West Ham United on Wednesday night to keep hold of that spot while Manchester United and Wolverhampton Wanderers are now also hot on their heels.
Leicester's season has been a tale of two halves so far; in their opening 16 matches they won 12 games and lost just twice, whereas in the next 16 they have won four times and lost seven.
Many of their recent top-flight defeats have come in pairs too, so Wednesday's 2-1 loss at Everton does not bode particularly well for them heading into this contest.
The Foxes need to turn their form around sooner than later, though, and if they do end up earning Champions League qualification, then they would have done it the hard way, with matches against fellow European hopefuls, Arsenal, Sheffield United, Tottenham Hotspur and Manchester United still to come this season.
Even if they are not pushing for it themselves, Palace could end up having as big a say on the top-four race as anyone with matches against Leicester, Chelsea, Manchester United, Wolverhampton Wanderers and Tottenham Hotspur to come in five of their six remaining games this season.
The Eagles will be underdogs heading into this one considering that Leicester's home points tally has only been bettered by three teams this season, although they have only won two of their last eight at the King Power Stadium while Palace have a respectable record on the road.
Meanwhile, Arsenal will begin a run of challenging fixtures with a trip to Molineux as they prepare to take on fellow European hopefuls Wolverhampton Wanderers in today's Premier League showdown.
The two clubs both enjoyed victories and clean sheets in their most recent fixtures, with Wolves overcoming Aston Villa 1-0 last weekend while Arsenal inflicted a 4-0 thrashing on Norwich City in midweek.
Even though Wolves have had relatively friendly fixtures to contend with in the past few weeks, manager Nuno Espirito Santo's side have shown no signs of complacency as they maintained their 100 per cent record since the restart over Villa last time out.
Nuno's men have now enjoyed three victories and three clean sheets over West Ham United, Bournemouth and Villa following the resumption of the Premier League, and Wolves are now only two points behind fourth-placed Chelsea following their dramatic defeat to West Ham on Wednesday.
Of course, fifth may be enough to guarantee a Champions League spot amid Manchester City's financial fair play troubles, and Wolves are now only behind Manchester United on goal difference with six games left to play.
The visit of Arsenal represents the most challenging task that Santo's men have faced since the English top flight was given the green light to return, although the Wolves faithful will have fond memories of their 3-1 victory over Arsenal at Molineux last season.
Man United and Chelsea are aiming to record straightforward victories over Bournemouth and Watford respectively this weekend, but should the English giants both slip up, Wolves could enter the final five games of the season in the top four with a win over Arsenal.
Things looked bleak for the Gunners following defeats against Manchester City and Brighton & Hove Albion in their first games back, but Arteta's men are firmly in the argument for a European berth with 46 points from 32 matches this term.
However, the trip to the West Midlands is followed up by crunch matches against Leicester City, Spurs and Liverpool in July – meaning Arsenal can ill-afford to drop too many points if they want to secure a spot in international competition for next season.
While Arteta's side are not renowned for their away form, the Gunners have only suffered defeat twice in their last 15 games in all competitions on the road, but they have not beaten Wolves in three attempts since Santo's side made their return to the big time.