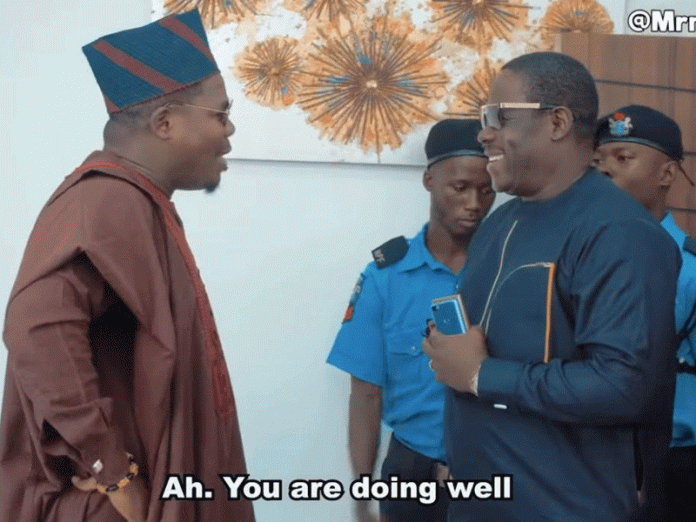 By Yinka Olatunbosun
Big players in the Nigerian movie industry are leveraging on the online platforms to showcase their artistry. The online skits are short comedy videos, usually less than five minutes that are popularly used by green horns in the entertainment industry to market their brands. Mark Angel Comedy, Broda Shaggi, Taooma and Mr Macaroni are some of the most prominent of these burgeoning artists who have become the toast of many indoor fun-seekers.
With the cancellations of large gatherings and closure of cinemas occasioned by the Covid-19 pandemic, many actors are temporarily out of production. Some of them have been spotted in some of these comedy skits which are now largely patronized by advertisers. Actors such as Taiwo Hassan (Ogogo), Jide Kosoko, Frank Donga, Denrele Edun and the music legend, Innocent Idibia otherwise known as TuBaba had featured in some of these comedy skits.
A comedy skit may either be scripted or spontaneous. The plot is usually simple and lucid, while the use of English language and pidgin English makes it accessible by a variety of audience. It often requires a moderate cast and a limited locale unlike a full movie production where a large cast and multiple scenes may be required. The skit is most appropriate in this era of social and physical distancing and it strikes a chord with the viewer when it ends with a climax.
Still, many of the prominent actresses in Nigerian movie industry are yet to be featured on these skits. Their absence is barely felt with the surge in the number of voluptuous and 'freaky' women who appear in skits by Mr Macaroni and Broda Shaggi.