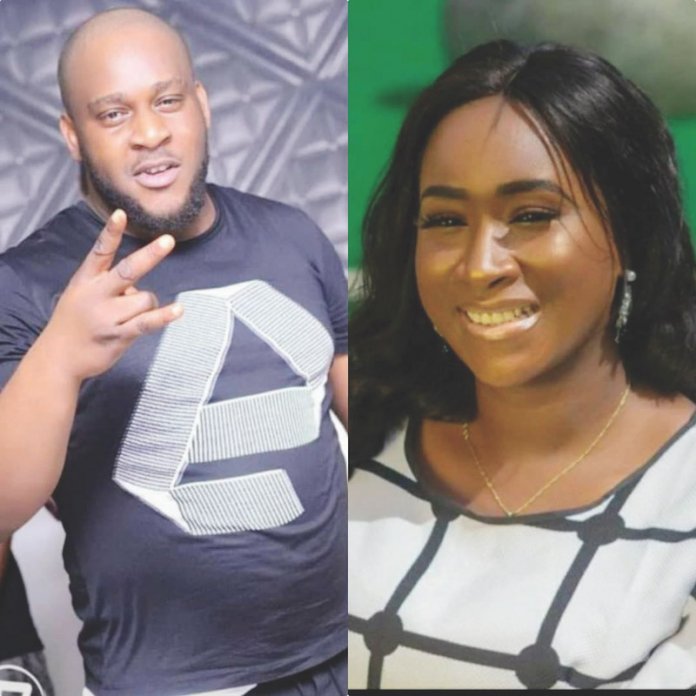 A man ties his lover in his room, butchers her and commits suicide afterwards. That was what happened at one of those posh estates in Lekki, Lagos last Sunday. What could have pushed the man to this extreme? Well, Nigerians are still waiting for the police to unravel the mystery. Ferdinand Ekechukwu captures all the stories around the murder/suicide
If only the dead could speak, the real cause of the murder/suicide that occurred in Lekki, Lagos, days back would have been a close call. But unfortunately, and eternally so, neither the alleged killer nor the victim are alive to give accounts of the real issues that led to the incident which happened on Sunday June 21, 2020.
So, the police in Lagos are still struggling to unravel why 39-year-old Chris Ndukwe, committed suicide after killing his 25-year- old girlfriend, Olamide Alli.
Ndukwe and Alli were found dead at the former's residence. The woman was found lying in a pool of blood, with deep cuts on her head, while the man's mouth was frothing with whitish substance. It was alleged that the man stabbed the woman to death with a kitchen knife and thereafter drank some poisonous substances suspected to be insecticides. "Two blood-stained kitchen knives, two empty bottles of the poisonous substances, three empty cans of Red Bull energy drink and a plier were recovered from the scene," the police reported.
Family members of the two deceased revealed that they were not married but had been in a relationship for over seven years, resulting in two boys, age seven and three.
Their relationship was complicated, as the couple were on and off over the years.
While the man lives at Victory Point Estate Ilasan, the woman lives at Ogba.
One account has it that Olamide visited his lover, with her sister, a night before the incident, on his invitation. Police said Olamide's sister was the first to have noticed that they were both dead and raised alarm.
The police added: "In her statement, she (Olamide's sister) said she was woken up by loud music from the room where the corpses were found, as she and the kids slept in a different room. It is not yet clear what might have triggered the murder."
While the circumstance surrounding the misunderstanding that led to the man's action is yet to be known, there have been unsubstantiated claims and reports flying in the media, especially on social media. A report credited to a friend of Chris has it that Chris and Olamide were scheduled to get married in August, amid paternity issue.
Both were said to have been dating on and off for over 7 years. They have a seven-year-old son and then had a second son, three years ago.
The friend of Chris, who spoke on condition of anonymity added: "There has been an issue that has been coming up about the second child. Chris planned to get married to her in August. He had told friends about it. This is the most confusing for everyone. He had called a comedian earlier to tell him he was going to be the MC at the occasion. He had told our older friends that are doctors that they would accompany him to go do the normal legal rites.''
The friend said Chris and Olamide were never living together. He said Olamide often takes the boys to the house to see Chris. And that on Saturday, they went for jogging and when they returned, she offered to give him dinner. "Later that night, she went to his room to spend some time with him while her sister was in the room with the boys, and that was when he committed the murder-suicide," added the friend.
However, another account emerged during the week. The source claimed to know Ms Olamide Alli and her family. She further alleged that Chris, "who some reports called Femi," was a serial killer who had attempted to kill his ex-girlfriend in Port Harcourt. According to the source who goes by the name Adaeze, the late Olamide, a young entrepreneur and graduate of the University of Lagos, was the daughter of the late iconic broadcaster, Olufunke Alli (ex-GM Raypower FM), one of her six children, and her most striking look-alike.
"She is yet another statistic of the rampaging gender-based violence's virus, especially worsened by the COVID-19 socio-economic destabilisation. Why her family is still reeling in shock for a beautiful and promising life cut short in a brutal manner, I think people should stop the lies about paternity issue being involved. Not only is there no justification for murder, the rumour is a big fat lie and another source of aggravated pain for her family. Yes, I know because I happen to know.
"You can take this to the bank; those fabricating and spreading this nonsense know neither the couple nor have information around their issues. It is just like the lies around the equally gruesome murder of 23-year old Uwa Omozuwa, the undergraduate of the University of Benin, allegedly 'killed because she was pregnant for a certain pastor who demanded an abortion' etc. All of that have been debunked by the Edo State Government following an autopsy. There are so many others being spread mostly on social media, then feasted upon and 'analysed' by idle minds.
"To set the records straight, the late Olamide didn't have a child outside her relationship. The so-called Femi whose real name is Chris Ndukwe, a serial killer that kills his lovers escaped from Port Harcourt where he tried to kill his ex who he threw down a two storey building some years back but fortunately the babe survived and has been relocated to Canada by her family. He happened to lie to Olamide when she met him and fell in love in her second year, had a child for him then when she finished school a second one came. Her parents were like 'you guys are in love why not tie the knot' and wedding was fixed for next month.
"Olamide lives with her parents. The so called Femi asked her to come and visit with the kids. Olamide went with her nanny not her sister like the blogs reported. On Sunday, he sent his security man around 10pm to get him tape which the guy did. In the evening, he asked Olamide to come join him in the room. He was almost drowning a bottle of Hennessy. He put on the music very loud and tied her to the chair and taped her mouth, used a plier to remove her braids one after the other, then he plucked her eyes, stabbed her 11 times before she died, he then drank two bottles of sniper and killed himself.
"The nanny came knocking on the door and no response. She went to call their neighbours who called the estate security. They came in and called with no response. They then called the mobile police in the estate to come. They broke the door and saw the horrible sight. Now, this so called Femi moved into that house three weeks ago as he was planning to settle down with her.
"So, this guy is mentally sick and this is not the first time he has attempted to kill his lover. He isn't alive to testify, that's quite unfortunate. This guy is a serial killer. We need to be alert now; the days are evil. A lot of danger lies ahead for so many; so many people are bipolar and mentally sick. Always investigate people before delving into a relationship. Times have changed seriously now. Let's all trade cautiously."
For now, the Lagos police are still working to unravel the mystery of the Lekki murder/suicide. Will they be able to untie it? Only time will tell.