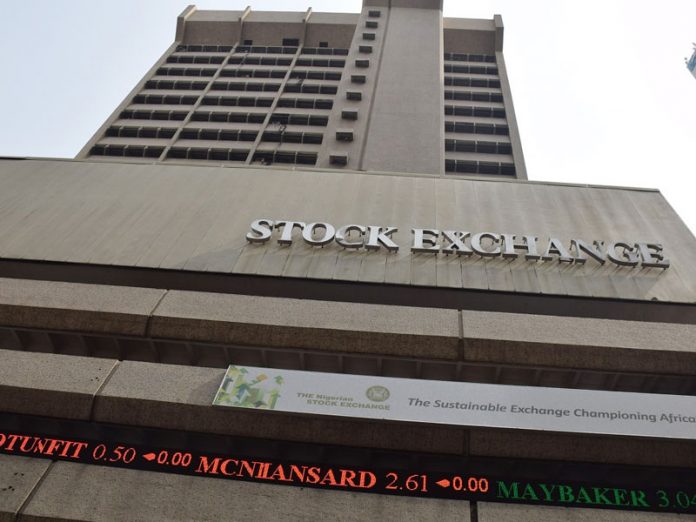 By Goddy Egene
Investors staked N10.125 billion on 1.050 billion shares in 19,576 deals last week, compared with N9.876 billion invested in 16, 616 deals the previous week. However, the Nigerian Stock Exchange (NSE) All-Share Index (ASI) depreciated by 1.4 per cent to close at 24,826.75, while market capitalisation shed N185.7 billion to be at N12.95 trillion.
The depreciation was as a result of profit taking by investors. All other indices finished lower with the exception of NSE-Main Board, NSE Consumer Goods, NSE Lotus II and NSE Industrial Goods Indices which appreciated by 1.0 per cent.
Reacting to the performance of the market, analysts at Cordros Securities, stated that risks remain on the horizon due to a combination of the increasing number of COVID-19 cases in Nigeria and weak economic conditions.
"Thus, we continue to advise investors to trade cautiously and seek trading opportunities in only fundamentally justified stocks," they stated.
Apart from the Nigerian market, most other countries in Africa closed bearish. Mauritius' SEMDEX and Kenya's NSE 20 indices recorded the highest selloffs, down 2.8 per cent and 2.1 per cent respectively. In the same vein, Ghana's GSE Composite indices trended south, shedding 0.5 per cent. On the positive side,
Morocco's Casablanca MASI gained 4.3 per cent, trailed by Egypt's EGX 30 with 0.2 per cent appreciation.
Performance across the BRICS markets showed that mirrored that Brazil's Ibovespa index led the gainers, up 4.7 per cent following the a 0.75 per cent rate cut to an all-time low of 2.25 per cent during the week. South Africa's FTSE/JSE All-Share and India's BSE Sens indices advanced 1.1 per cent and 2.8 per cent respectively. Russia's RTS index also expanded by 0.9 per cent. On the other hand, China's Shanghai Composite index surged 1.6 per cent on the back of anticipated market friendly reforms.
It was a bullish performance in Asian and Middle East markets four and five indices closed the week higher. Thailand's SET index emerged the lone loser, down 0.8 per cent. On the positive side, Turkey's BIST 100 and UAE's ADX General Indices led gainers, up 3.4 per cent and 1.2 per cent in that order.
Qatar's DSM 20 and Saudi Arabia's Tadawul ASI indices trailed, advancing 0.9 per cent and 0.6 per cent respectively.
Performance in the developed markets was impressive, In the United States, the NASDAQ rose 4.1 per cent, trailed by S&P 500 index that garnered 2.9 per cent. France's CAC 40 and Germany's XETRA DAX indices advanced climbed 3.2 per cent and 2.9 per cent in that order. Similarly, United Kingdom's FTSE All Share gained 3.2 per cent. In Asia, Japan's Nikkei 225 and Hong Kong's Hang Seng indices closed the week 1.4 per cent and 0.8 per cent higher in that order.
Market turnover
An analysis of the turnover showed that Financial Services industry remained the most traded with 736.274 million shares valued at N5.472 billion traded in 9,776 deals. It thus contributed 70.13 per cent and 54.04 per cent to the total equity turnover volume and value respectively. The Conglomerates industry followed with 69.496 million shares worth N334.478 million in 471 deals. The third place was the Consumer Goods industry, with a turnover of 66.380 million shares worth N1.351 billion in 3,130 deals.
Trading in the top three equities namely Guaranty Trust Bank Plc, FBN Holdings Plc and FCMB Group Plc accounted for 316.321 million shares worth N3.350 billion in 2,983 deals, contributing 30.13 per cent and 33.1 per cent to the total equity turnover volume and value respectively.
Top price gainers and losers
Meanwhile, only 14 equities appreciated in price during the week, lower than 34 equities in the previous week, while 47 equities depreciated in price, higher than 31 equities in the previous week.
Honeywell Flour Mills Plc led the price gainers with 17.3 per cent, trailed by Nestle Nigeria Plc and Cutix Plc with 10 per cent apiece. Redstar Express Plc chalked up 9.1 per cent just as Cornerstone Insurance Plc appreciated by 7.8 per cent.
Skyway Aviation Handling Company Plc chalked up 7.3 per cent, while Cadbury Nigeria Plc garnered 6.6 per cent. BUA Cement Plc appreciated 6.0 per cent as investors continued to react to the company's improved results for the first quarter ended March, 2020. BUA Cement Plc posted a 25.1 per cent increase in revenue of for the Q1 of 2020 to N54 billion, from N43.1 billion. Profit before tax (PBT) grew by 15.7 per cent from N17.4 billion to N20.1 billion while profit after tax (PAT) rose by 26.2 per cent from N15.7 billion to N19.8 billion.
Commenting on the results, , the Managing Director/CEO of BUA Cement Plc, Yusuf Binji said the excellent performance in the Q1 financial results amid the outbreak of the COVID-19 pandemic is yet another landmark of the company since its listing on the Nigeria Stock Exchange.
He said that the company's performance was buoyed by an increase in production capacity from five million metric tonnes at the end of Q1'2019 to eight million metric tonnes currently. He added that the company's strong product differentiation strategy which translates to an increasing appreciation of BUA Cement product offering and a growing distribution network across existing and new markets also boosted the performance.
"In response to the global pandemic, we implemented our "COVID business continuity programme built into our corporate governance framework. This minimises disruptions along the value chain, prioritises the safety of workers and customers; and assesses probable scenarios a prolonged lockdown would have on the business.
Clearly, our strong-showing epitomises the effect of further growth in output but most importantly, a growing appreciation of the value and service offering we continue to afford customers in the market place: with sales revenue increasing by 25.1 per cent to N54 billion. We continue to anticipate changes to customer and market behaviour, aimed at further strengthening our value model, even as we continue our push into 'new markets," he said.
Meanwhile, Neimeth International Pharmaceuticals Plc led the price losers with 40 per cent as investors offloaded to stock after rising by over almost 100 per cent in weeks. NPF Microfinance Bank Plc with 25,1 per cent. Prestige Assurance Plc shed 18.5 per cent.
AIICO Insurance Plc went down by 15.2 per cent, while UACN Property Development Company Plc lost 12.5 per cent. Sterling Bank Plc and Caverton Offshore Support Group Plc shed 11.1 per cent each. Nigerian Aviation Handling Company Plc closed 10.3 per cent lower, while University Press Plc and Seplat Petroleum Development Company Plc shed 10 per cent and 9.9 per cent respectively.
.