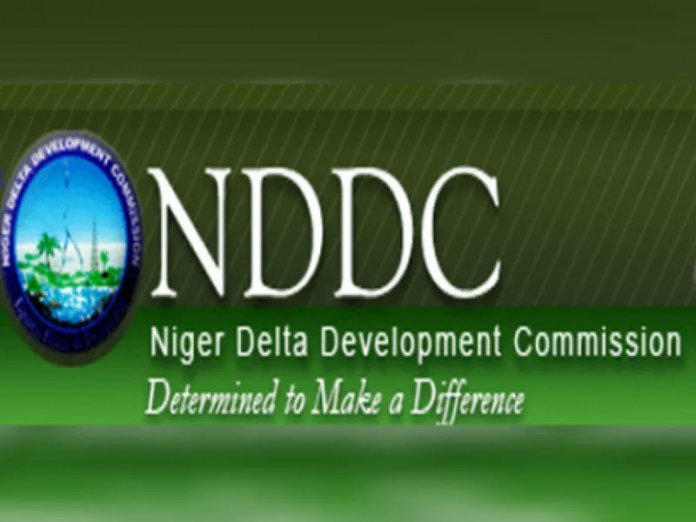 Ernest Chinwo in Port Harcourt
A coalition of youth groups in the Niger Delta has given the National Assembly a 14-day ultimatum to stop further probe of N40 billion allegedly squandered by Niger Delta Development Commission (NDDC) or risk mass action from the youths.
The coalition argued that the probe of the commission was politically motivated, targeted at some political office holders, and not in the best interest of the region.
The coalition issued the ultimatum in a communiqué signed by the Coordinator, Niger Delta Elements Progressive Union, Lawrence Akpeti and the Coordinator, League for the Sustainable Development of the Niger Delta, Kingsley Arthur jointly issued in Port Harcourt yesterday.
The groups said they were against the probe and expressed their support for the Minister of Niger Delta Affairs, Senator Godswill Akpabio.
The communique read in part: "Council resolved to give members of the National Assembly a 14-day ultimatum to drop the threat of the N40 billion probe against the NDDC since it has become obvious that such a move is clearly political.
"Failure to abide by this directive, we will mobilize our numerous members for peaceful protest across the Niger Delta states until our demands are met.
"We declare total and unwavering support for the leadership quality of the Niger Delta Affairs Minister, Senator Godswill Obot Akpabio because he truly means well for the region that has been impoverished over the decades despite its abundant resources.
"Hence, we hereby pass a vote of confidence on the Minister and urge him to go ahead with the dream of transforming the region the same way he made a quality impact on Akwa Ibom state when he was the governor."
The National Assembly has been probing the NDDC over allegations that the Interim Management Committee headed by Prof. Kemebradikumo Pondei mismanaged over N40 billion within a few months of its inception.
The IMC of NDDC has also fired back that the allegations were sponsored by politicians, including the leadership of the Senate and the House of Representative Committees of Niger Delta to torpedo the forensic audit of the commission ordered by President Muhammadu Buhari because of fears that the audit would unearth their involvement in massive corruption in the commission.