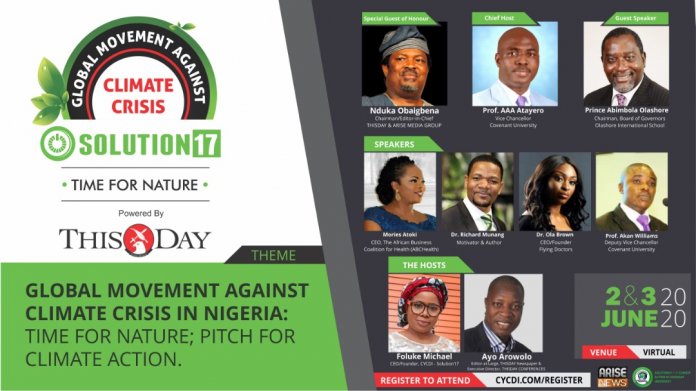 POST COVID-19 ECONOMY: Solutions Coming From Unusual Quarters!
Come June 2 and 3, 2020, the 47 Covenant University students who scaled through with outstanding solutions will pitch their projects to the Refiners and Advisory Team
during which 17 participants will emerge as FINALISTS; they will be admitted for training, project development and sustainable business creation at the Solution17 Reality Innovation Hub later in June 2020.
The project will train, showcase and empower the 17 successful participants to frontally confront the challenge of climate change, and incorporate lessons learnt from COVID19 to fight the scourge of climate crisis.
The solutions will be presented to world leaders in New York by September 2020.
This will be followed by product development and project replication across the nations of the earth.
Each participant is expected to train 17 young innovators across Nigeria under the Train-The-Trainer Entrepreneurship Network Marketing Module.
Through our ENM, Solution 17 for Climate Action is expected to grow from seventeen (17) at the start to minimum of Five (5) million direct and indirect beneficiaries by September 2030.
Do you want to see the stuff these geniuses are made of? Then join us on June 2 and 3 at the live events where 17 finalists will be selected and showcased to the world.
To be a part of it
Register here:cycdi.com/register
Join our community:https://cutt.ly/QyLplU2
Learn more about us :cycdi.com/climateaction
Once you register, we will send you event details including meeting ID via your email and phone numbers.