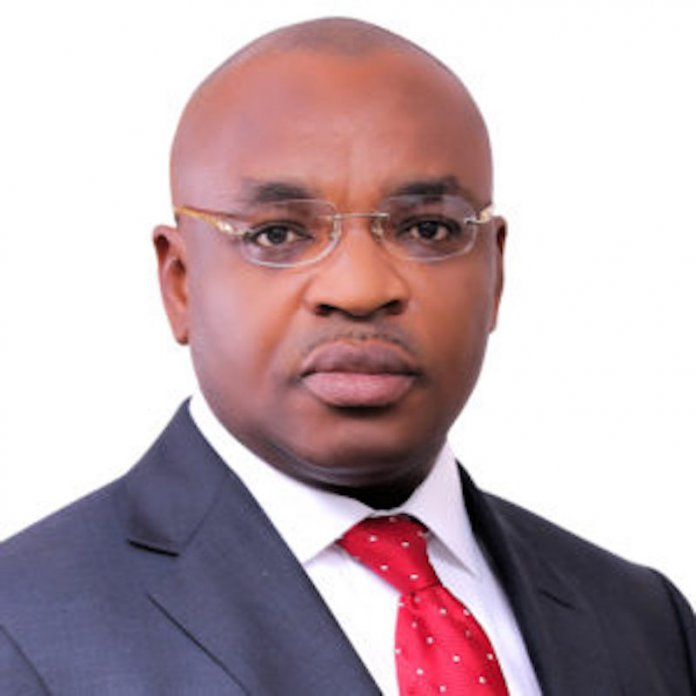 By Okon Bassey
Akwa Ibom State Governor, Udom Emmanuel, has said that it was too early to indulge in preparations, ahead 2023 politics.
Rather, he said strengthening the economy of the state remained his priority for now.
He disclosed that a Polymerase Claim Reaction (PCR) laboratory for the running of critical tests like COVID-19 samples and other infectious diseases had been completed.
Emmanuel who made this known in a statewide broadcast in Uyo yesterday to mark his fifth year in office said emphasis had been on ensuring a steady economic growth for the state.
The governor called on the people to lay less emphasis on party politics with its attendant negative consequences on the social and economic life of the state but concentrate on issues that could build and unite the state.
"As I have always said, this is the time for governance and all hands must be on deck to ensure that we move our state collectively to a path of steady growth and development. It is too early to engage in the politics of 2023. We will have enough time to do so, when the time is ripe. Good leaders do not plan for the next elections; they plan for the next generations.
"Let us therefore, see the next generation of Akwaibomites as assets that must be nurtured, expanded and made ready for the future. Destroying the chords of our unity at the altar of partisan politics, or waging wars against brothers and sisters just to settle ancient animosities should be discouraged.
"Let me emphatically state here, that Akwa Ibom people enjoy the peace and security we currently have and will resist any attempt by individuals or groups to return us to the evil years when kidnapping and politically motivated killings brought untold fears into this land. Akwa Ibom people have made a choice to stay and live in peace, and this is the new normal. Those who traffic in violence should take note.
"Government will ensure that those who are planning such evil as a strategy for winning elections will be sorely disappointed. Akwa Ibom people have gone beyond those fearful years. I call on all patriotic Akwaibomitmites to come join the train of peace and development as it moves gingerly on the path of our Completion Agenda. "We have achieved a lot for our people in five years, and we hope to do as much with the resources at our disposal in the coming years." He said.
"May history celebrate and reward those who work to make our people be more in thoughts, actions and deeds; do more to strengthen our cords of unity and brotherhood, dream more of opportunities for growth and development and inspire more to become great and all that God desires for us," he concluded.
Emmanuel maintained that he had been able to utilise the resources of this State to touch lives in the areas of industrialisation, agriculture, education, healthcare delivery services, infrastructural development, aviation, youth and women empowerments, rural development, sports and tourism.
" Today, from the rice fields in Ini Local Government Area, to garri processing mills scattered all over the three senatorial districts, to fertilizer blending plant which helps with our agricultural output, to improved seedlings and storage of our excess produce, to our most modern flour mill which produces the flour for our bread and other confectionary needs, our vegetable Green House, which produces most of which we consume, these huge investments in agriculture have helped us stay ahead of Covid-19.
"From remodeling of hospitals across the ten Federal constituencies to the world-class isolation centres at the Ibom Specialist Hospital, the one at Ikot Ekpene and the icing on the cake – the 300-bed Isolation Centre at Ituk Mbang which will be commissioned later today, we have been able to utilize the lean resources to work for our people.
"Our world class Polymerase Claim Reaction (PCR) Laboratory where critical tests, including Covid-19 and other infectious diseases would be carried out will also be commissioned later today. We have also received our brand new ambulances, which are of the same standard and quality as those in the Western World. Most of our over 35 container loads of world class medical equipment have started arriving and would be deployed to different hospitals across the State soon.
" In the area of education, so far, we have constructed and renovated over 500 school blocks through the Inter-Ministerial Direct Labour Committee. This is in addition to the 601 projects including class room blocks executed by State Universal Basic Education Board (SUBEB) through matching grants.
"Industrialisation is the linchpin of our governing agenda, and so far, we have attracted over 18 industries to this State; some which include the largest syringes manufacturing company in Africa, the metering solutions company, the plywood factory, the fully digitized flour mill, coconut refinery, whose work is at advanced stages of completion, numerous cassava processing mills. Pencil and toothpick industries, Rice mills, plastic making factory, among others," he said.
The industries the Governor said have helped with the state government's job and wealth creation agenda and would continue to make the State a destination of choice for investors, post-Covid-19.
" Last June, Ibom Air, began commercial operations. Today, less than a year later, the airline has become a national sensation, confounding skeptics who said it couldn't be done.
"Two weeks ago, in keeping to our promise of expanding the fleet of Ibom Air, we received a new Bombardier CRJ 900 bringing the fleet of Ibom Air to four aircrafts. We hope to add another one before the end of June. Ibom Air again has shown in clear terms that with proper planning and the right passion, what was thought impossible can be made possible. ." As you may have observed, the 21-storey Intelligent Building, easily one of most modern and sturdy buildings in the nation is almost ready. We hope the International Oil Companies will see the need to relocate their headquarters to our State as well as such agencies as the Department of Petroleum Resources (DPR.)
He said that the Post-Covid-19 Economic Reconstruction Committee inaugurated last month remained another proactive way to plan for the economic fortunes of the State.
"As you are all aware, Nigeria is a mono-product economy propelled by oil. Today, the oil market is gloomy and completely bearish. A little over a month ago, oil prices were in the negative which means you couldn't even sell the oil you have and you have to pay for storage space.
"Our State as the highest producer of crude oil in Nigeria given the challenging oil market prices would have to think out of the box, which necessitated the inauguration of the committee. We are hopeful that the recommendations the committee will come up with, will help us strategize and look at Akwa Ibom in a possible post-crude oil propelled economy.
"I call on our people to come together and bury the poisonous chalice of politics, of blackmail, of sponsoring false and libelous stories about our leaders in the press just to settle political scores.
"May history celebrate and reward those who work to make our people be more in thoughts, actions and deeds; do more to strengthen our cords of unity and brotherhood, dream more of opportunities for growth and development and inspire more to become great and all that God desires for us." Emmanuel stated.