---
Preparing Your Small Business for Post-pandemic Economy
By Adeife Adeoye
Earlier in 2020, the COVID-19 pandemic hit the world with a storm, causing a global health crisis. Along with the painful health crisis, businesses worldwide face global economic challenges, including unemployment, recession, total lockdown, collapse in demand, and uncertainty.
There have been improvements in the health side of the crisis, but what about the business side?
Now that the country is gradually relaxing the social distancing guidelines and work start again, what will your business look like?
COVID-19 hit every business differently. Some businesses were able to shift to a remote work model, while some couldn't. With the new trends emerging, the post-pandemic economy will be nothing like before for most businesses.
So how do you prepare your business for that?
The Big Plan
If your business is going to bounce back into the economy, you need a plan. To create your re-opening plan, you need lots of internal and external assessment of multiple factors that could impact your business. Here are things you should consider in preparing your reopening plan
Do you still want to stick to your old business model?
If you've been running a regular brick and mortar store, it's time to rethink your model. The pandemic has shown customers they don't need to go out to get what they want. My sure bet is that your original business model might not fit into the future economy, so it's time to rethink your business model.
Here are reasons why you should rethink your business model:
Your original business model doesn't work anymore.
The economy is changing, and consumers have changed their priorities. Statistics show that ecommerce platforms in Nigeria have undergone about a 35% percent traffic increase between January and May 2020.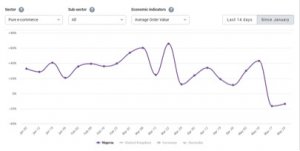 Global e-commerce sales have been growing at a rate of 10-20%. However, over recent months, e-commerce sales are doubling from last year's.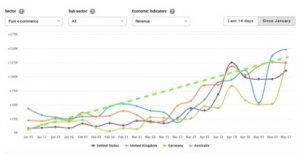 These trends raise important questions about the post-pandemic economy: Will the numbers decrease as the world begins to reopen?
The answer is NO; I don't see the numbers decreasing; I see it increasing. Consumers prefer the comfort of buying from their homes.
A recent study by CustomerThink shows that some customers prefer shopping online because they spend more on impulse purchases in brick-and-mortar stores. Some customers shop online because of the convenience of being able to buy at home rather than dragging their children to the store.
What does this mean for your business?
It means your business should adopt a new online model – get your business online.
With the emerging trends, your business must focus on its online presence, or you'll be losing so much money.
Getting your business online is very easy to do, and it requires little to no stress, here are three steps to get started.
1. Get your domain and design your website. Your domain is the address of your site. It is unique to you, and more like your physical store's address. For instance, Google.com is a domain name. Once you get a domain name, then you can get started with your website. Your company's website is the foundation of your online presence. You don't need a complicated website; you can create a basic website yourself. There are lots of free tools to help you get started.
2. Engage with social media. Social media is key to your business. Most people turn to social media when they need help with most things. If your business isn't on social media, customers are less likely to trust you. So make sure your business is on social media and active with your audience.
3. Promote your business online. If you want to make enough sales online, you have to go a little bit extra. You'd be surprised how many people can find your business online with simple tools, and the best thing is you don't have to strain your budget. You can use tools like Google Ads, Facebook Ads, and Microsoft Advertising to expand your reach and get more customers.
Tweak your business plan
Your business is evolving; your business plan should also change.
Revisit your current business plan. Give yourself time to adjust and make some tweaks to your business plan while taking into consideration your current business situation.
Before you redefine your plan, do some research on your competition, talk to your customers and employees. It would give you a clear insight into what you want your business plan to look like.
Make the most of the current customers
We're all used to this famous Nigerian adage, "the devil you knew yesterday is better than the angel you're about to know." The devil you knew yesterday are your current customers, and you need to treat them right. Your customers are opportunity to make more without having to spend more money looking for new customers.
You shouldn't ignore the potential profits of shifting your sales focus to your existing customers if you want to scale through the post-pandemic economy.
You need to improve your customer service. Make sure that your customers love your products or services, and make them happy. Identify your customers' needs and meet them. Retaining your customers should be your goal, and the best way to do that is to make them happy.
Identify you're business strengths and highest-earning products.
Survey your business and identify which products or services are the most successful and stable. Once you've got that, invest your available resources into these successful products. Doing this will help you manage your resources, and you'd be specializing in one thing. Specialization is one of the best approaches you might find helpful to sustain your business.
Pay off debt
You should pay off your debts regardless of the economy's state. This period is when many businesses, homeowners, and borrowers default on loans. As a business owner, you don't want that to happen to you. Make sure you pay off your debt; it will give you more opportunities to get more loans in the future.
Don't cut your marketing budget
Most businesses make the mistake of cutting their marketing budget during times like this, but this is when your business needs marketing the most.
Customers are always looking for ways to make changes in their buying decisions. Help them find your services and products and choose them. Marketing is key to your business's growth in the future; rather than quit your marketing, step up your marketing efforts.
Conclusion
Nothing guarantees your business success in the post-pandemic economy, but implementing these can ensure your business survives tough times and profits from them. It's about analyzing your current business position and planning for the future.
*Adeife Adeoye is CEO/founder at Penpalms (adeifeadeoye@penpalms.com)
Related Articles