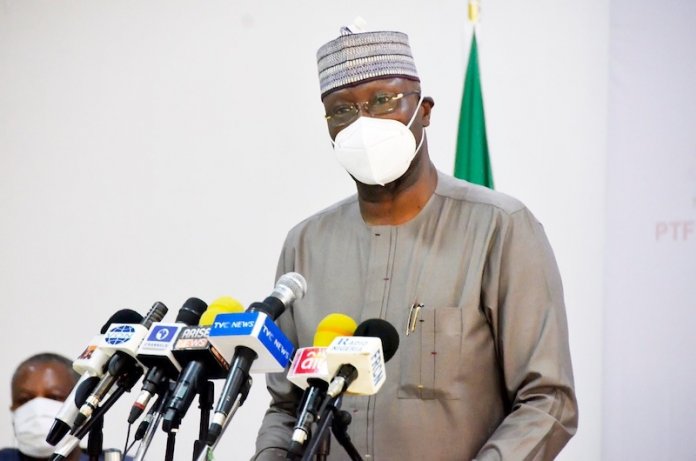 Mulls morning, afternoon classes
Agrees with religious leaders on unlocking of places of worship
To rely on NAFDAC's clinical trials
Shortlists three local herbal cures for virus
Finally, Kogi gets index case as 389 fresh cases increase tally to 8,733 with 254 deaths
Evacuation of Nigerians abroad suspended
Emma Okonji, Martins Ifijeh, Nosa Alekhuogie in Lagos, Olawale Ajimotokan and Onyebuchi Ezigbo in Abuja
The federal government has disclosed that it would soon unveil the policy for safe reopening of schools, saying it's also weighing the option of running two classes in the morning and afternoon in secondary schools to enable students make up for lost grounds.
Also, the federal government and religious leaders have reached an agreement on proposals for the reopening of worship centres nationwide.
As the government made these considerations, the virus increased its victims by 389 to 8,733 with 2,501 persons discharged and 254 dead in 35 states and the Federal Capital Territory.
The 389 new cases are reported in 22 states with Kogi recording its first index case and one other. The other states are: Lagos 256, Katsina 23, Edo 22, Rivers 14, Kano 13, Adamawa 11, Akwa Ibom 11, Kaduna seven, Kwara six, Nasarawa six, Gombe, Plateau, Abia, Delta, Benue, Niger and Oyo two each, while Imo, Borno, Ogun, and Anambra have one each.
Even as the World Health Organisation (WHO) has temporarily suspended clinical trials on Hydroxychloroquine for the treatment of COVID-19, the federal government has insisted it would only make its decision based on the recommendations of the National Agency for Food and Drugs Administration and Control (NAFDAC) and other government agencies researching on the drug.
This is coming as the government has suspended the evacuation of Nigerians stranded abroad until it unveils new policy on evacuation next week.
Speaking wednesday in Abuja during a press briefing by the Presidential Task Force (PTF) on COVID-19, the Chairman of the task force and Secretary to the Government of the Federation, Mr. Boss Mustapha, assured Nigerians that plans for the safe reopening of schools across the country would soon be unveiled.
"PTF has been deliberating on this situation and wish to inform Nigerians that the Federal Ministry of Education will roll out measures to be put in place for the safe reopening of our schools.
"The Hon. Minister of Education (State) will be elaborating on the subject, this afternoon. He will also clarify the purported announcement of the resumption date which went viral last week."
Also speaking at the briefing, the Minister of State for Education, Mr. Chukwuemeka Nwajiuba, assured Nigerian children that all hands were on deck to reopen schools at a safe time and urged states, local governments, proprietors and other stakeholders to begin to take steps that would facilitate an early and safe reopening.
Nwajiuba said until the government is sure that children could go to school, and return safely without being infected, it would not take that risk of reopening the schools yet.
Nwajiuba disclosed that the announcement that schools would be reopening on June 8 did not emanate from the federal government, adding that the government would work with the guidance of experts and the World Health Organisation (WHO) before it reopens the schools.
He said the Federal Ministry of Education would publish post-COVID-19 guidelines for school reopening.
The minister said the government is working on a model to ensure that all the children do not return to their schools at the same time to ensure physical and social distancing as well as proper sanitation and hygiene at every school.
"We are going to publish a specification on what we expect COVID-19 or post-COVID-19 reopening to look like. We are not talking about coping with COVID-19 but in spite of COVID-19, we expect that we will adapt.
"For a country that has over 115,000 primary schools, you will understand that 35,000 of these who are private must agree to set up the same standard in order to allow children to go in.
"We may have classes in the morning and classes in the afternoon so that we will have the whole of the infrastructure divided, provided they can serve us. I am not sure we will have classes at night. But we can do with morning and afternoon for now," he explained.
He added: "The plan entails adopting a two-shift system and allowing those who will write exams to return earlier than others. Use this period to upgrade skills and think of how to make their teachings impactful. Those running the secondary schools should think of what to do.
"We are looking at sanitary conditions of all the schools. SUBEB should use some of the monies we give them to upgrade sanitary conditions in schools. We are also looking at having sanitisation booths working with NASENI. It is a forewarning to private and state governments to ensure that these things are put in place before schools can reopen."
He urged state governments and owners of private schools to plan ahead on how to ensure maximum safety for students when the resumption plan is unveiled.
FG, Religious Leaders Agree on Modalities for Reopening Churches, Mosques
In a related development, the federal government and religious leaders have reached agreement on proposals for the reopening of worship centres nationwide under COVID-19.
The Special Assistant to the President of Christian Association of Nigeria (CAN), Pastor Bayo Ayodeji, said the agreement was reached yesterday at a meeting between PTF, Nigeria Centre for Disease Control (NCDC), CAN and the Nigeria Supreme Council for Islamic Affairs (NSCIA) in Abuja.
Ayodeji, who spoke to THISDAY, said the meeting proposed guidelines for the eventual reopening of the churches.
According to him, churches are expected to carry disinfection of their premises, provide alcoholic sanitisers, temperature readers, soap and water in their premises to be supervised by medical professionals in the church, while every worshipper must wear face mask.
He added that part of the understanding is that social distancing should be observed in the sitting arrangement with a one-meter gap between two worshippers being strictly maintained.
Regarding pattern of worship, the proposal states that churches' several mass services on Sundays should end at 5.30 p.m.
"There should be a gap of 10 minutes between one service and another where there are multiple services to avoid crowd. Churches can make use of classrooms and multipurpose halls for services where available especially in big churches in order to accommodate more worshippers at a go. Television circuit and speakers can be used for those who are not inside the main auditorium.
"Hand-shaking and hugging should be avoided before, during and after the service. Children should worship with their parents," the guidelines stipulate.
CAN said it would constitute a joint committee with law enforcement agencies to ensure full compliance.
THISDAY gathered from other sources privy to the meeting that Muslim leaders also submitted their proposals.
According to one of the sources, Muslim leaders want their worship to be held the same hour according to the Qur'anic injunctions but that children would not take part.
PTF and NCDC were said to have promised to prepare recommendations that would cover requirements for all religious groups, which would be presented to President Muhammadu Buhari for approval.
If the president approves the proposal, he would announce them in his next national broadcast.
FG to Rely on NAFDAC's Clinical Trials, Not WHO
Despite the temporary suspension of clinical trial on Hydroxychloroquine for the treatment of COVID-19 by WHO, the federal government has insisted it would only make its decision based on recommendations from its agencies researching on the drug.
Speaking yesterday on ARISE NEWS Channel, the broadcast arm of THISDAY, the Minister of State for Health, Senator Olorunnimbe Mamora, said NAFDAC has a responsibility to determine the efficacy of the drug, noting that the government would wait for its own findings.
"It is better for us to do our own check. It is not out of place as a nation to look at our own realities. If a particular drug appears to be promising one way or the other, we should engage and embark on clinical trial in respect of that drug.
"For us in Nigeria and Africa, Chloroquine is not really new to us. For ages, we have been using the drug even though not for the treatment of COVID-19 which is a new disease, but at least, while we were using it for the treatment of malaria, it was well tolerated.
"We have heard of issues of the drug being toxic to patients with heart diseases and the likes, but notwithstanding, it is not out of place to still carry out our own study based on realities of our own situation," he explained.
FG to Unveil New Policy on Evacuation of Nigerians
The federal government has suspended the evacuation of Nigerians stranded abroad until it unveils a new policy next week.
Speaking at the PTF briefing, the Minister of Foreign Affairs, Chief Geoffrey Onyeama, said the suspension was to allow take-off of a new policy on evacuation of Nigerians.
He said the evacuation was suspended to give room for new measures that would require citizens returning from overseas to get tested and self-isolate at home rather than in selected hotels.
Onyeama said henceforth evacuated Nigerians would not have to go straight into 14-day government monitored isolation if they test negative from their country of origin.
The minister said the new policy would take effect from next week.
According to him, "There is going to be a change in that protocol and that is going to affect the timing of any further evacuation we are going to undertake.
"Anybody that is going to be evacuated will first of all undergo a test from the countries they are leaving from, at least five days before travel and not later than nine days before.
"That will be a pre-condition for boarding the flights to Nigeria. And if they are positive, they will not be able to board the flight.
"The passengers will then be able to go home and not into prescribed hotels to self-isolate. Results from those samples will then be ready within a day or two; those who are positive will then be taken in for isolation."
He said with the new policy evacuees would have to be tested at most nine days before their flight take-off.
The new policy, he said, would give the government enough latitude to fly more Nigerians home.
"The whole issue of quarantining in hotels will no longer be necessary. This can also mean more people can also come back more frequently, and it will be a lot easier than it has been up to now.
"What we have been asked to do is to cease or suspend all evacuations for now until this new structure is put into place. We are very hopeful that maybe by next week, we should be able to commence evacuation," the minister said.
FG Considers Three Local Herbal Cures
In another development, Mamora said only three out of the numerous claims of local remedies for the pandemic have been approved for further analysis.
He disclosed that the three claims have now been forwarded to NAFDAC and Pharmaceutical Institute of Research and Development (NIPRD) for further evaluation.
Speaking at the media briefing by PTF, the minister said the federal government would be strict and meticulous to ensure that all necessary scientific processes were adhered to before certifying any drug for use by Nigerians.
He said Nigeria has been part of the global efforts to find a cure for the disease, adding that the Federal Ministry of Health team recently held a virtual meeting with traditional, complementary and alternative medicine practitioners to discuss and explore opportunities for local solutions to the COVID-19 pandemic.
He said the ministry had received a few proposals for local remedies for the disease, out of which three have been forwarded to the relevant agencies for evaluation.
"For a preparation to be approved for use in Nigeria, it must be subjected to safety, toxicological and efficacy tests as well as clinical trials," he said.
Mamora said the meeting with traditional doctors provided an opportunity for the practitioners to understand the procedures for validating medicines for use in the country.
He addeed that 19 traditional and herbal groups that attended the meeting sought the assistance of, and collaboration with the government to facilitate the process of evaluation and eventual production of their herbal regiment.
The minister said one of the major findings during the interface with the traditional medicine practitioners was that they were having issues with the process of getting listed with NAFDAC.
According to him, the claimants were also concerned about protecting their intellectual property, and getting government funding to facilitate commercial production of the remedy.
The minister said there was also the challenge of getting volunteers for clinical trials on the herbal remedies when eventually they scale through the evaluation.
He noted that the federal government was concerned about the increasing number of confirmed cases, adding that the very high cases could seriously exceed the capacity of the country's health system.
"At present, we have a total of 112 treatment and isolation centres in all the 36 states and FCT with 5,324 beds. While only five states including the FCT have at least 300 beds as prescribed for isolation and treatment, 21 states have less than 100-bed spaces," he said.
Mamora also explained that NIMR in collaboration with other institutes in the country was able to generate the genetic sequencing of COVID-19 which showed similarities with the virus traits in Wuhan, China.
While making his presentation at yesterday's briefing, NCDC Director-General, Dr. Chikwe Ihekweazu, said there was a new finding on the nature of coronavirus, which indicated that the lifespan of the virus is not beyond 10 or at most 14 days contrary to previous belief.
"What has emerged over the last few days was that the detection of fragments of this virus doesn't in itself mean that there is an active virus over time so studies have now shown that the longest viability timeframe for the virus is now 10 days," he said.
FG Not Researching in Vaccine, Says PSN
President of Pharmaceutical Society of Nigeria (PSN), Mr. Sam Ohuabunwa, has said the federal government is not researching on vaccines unlike most countries of the world such as China and Unites States of America that have different companies researching on the vaccine that would cure the dreaded pandemic.
Ohuabunwa, who also spoke yesterday on the Morning Show of ARISE NEWS Channel, said: "The federal government used to have a vaccine plant in Yaba, Lagos, but since it was shut down, government has not been involved in vaccine research and government has not been involved in the research of COVID-19 vaccine.
"About 10 years ago, the federal government called for participation of the private sector to join government in the research of vaccine, in order to revive the Yaba Vaccine Plant. Some companies bided, May & Baker was selected to form a joint partnership with the federal government for the research of vaccines, but up till now, the Yaba Vaccine Plant is not still functional, even though a lot of investments have gone into it to redesign the plant in line with modern realities and demands," he explained.
He said for Nigeria to benefit from any country that is currently researching on COVID-19 vaccine, Nigeria must participate in the clinical trial of the vaccine administration.
Ohuabunwa called on the federal government to begin funding of research institutes in Nigeria like National Institute for Medical Research (NIMR), National Institute of Pharmaceutical Research and Development (NIPRD), among others and give them mandates to research on.
He backed the decision of NAFDAC to continue with the clinical trials of Chloroquine.
"Nations have a right to try any product in their territory. In principle, NAFDAC has the right to continue any clinical trial of any vaccine, if the trial was initiated and sponsored by NAFDAC, but if the trial was initiated and sponsored by WHO, then NAFDAC and all other global regulatory bodies that are affiliated to WHO, have the obligation to respect the demands of WHO, concerning the clinical trials of the vaccine," he explained.
Lagos Discharges 87 More Patients, Predicts Decline in Cases by November
Lagos State Government has discharged 87 additional patients from its isolation centres, bringing to 825 the total number of successfully treated persons in the state.
Governor Babajide Sanwo-Olu said 47 of the discharged patients were males and 40 females, adding that they are all Nigerians.
He said: "Twenty-six of the patients were discharged from the Mainland Infectious Disease Hospital, Yaba, 24 from Onikan Isolation Centre, 12 from Eti-Osa (Landmark), 11 from Agidingbi, nine from Gbagada Isolation Centre and five from Lagos University Teaching Hospital (LUTH) Isolation Centre.
"With this, the number of patients successfully managed and discharged from our isolation facilities is now 825."
The state government also predicted a drastic decline in the number of COVID-19 cases in the state by November.
It has also concluded arrangements with the 57 flagship Primary Healthcare Centres (PHCs) across the state to embark on monitoring of patients with asymptomatic, mild and moderate cases of the virus who it hoped to confine to homecare soon.
At a press briefing to commemorate Sanwo-Olu's one year in office, the Commissioner for Health, Prof. Akin Abayomi, said: "It is difficult to predict when the pandemic will end in Nigeria because this depends on a lot of factors. But in the next four to six months (between September and November), we will see a sharp decline in number of cases in the country and this will signal that we are coming towards defeating the outbreak.
"We are watching what is happening across the world and using the pattern of the outbreak in different environments to try and reach some kind of modelling pattern. This will tell us when it will peak, and then when it will finally end."
He reiterated that by the end of July, Lagos was likely to reach between 90, 000 to 120, 000 cases of COVID-19, adding that these figures do not signify a peak period for the state.
"Because of this projection, we are ramping up our testing capacity. We are currently doing 2,000 testing every day, and this represents the highest in the country.
"Of the 90,000 projected cases, don't forget about 95 per cent of the persons will be asymptomatic or have mild symptoms. Only five per cent will require serious or intensive attention. It is this small percentage we are worried about, and it is the ones we will like to manage in our isolation centres because we hope to give them close medical monitoring," he stated.
He said for those asymptomatic or with mild to moderate symptoms, the state would confine them in their homes, adding that "we will use the PHC platform to deliver COVID-19 response to this category of cases. We have been revitalising our primary healthcare structure, and we are in the process of cascading management of the disease at primary healthcare levels. We are going to do that through our 57 flagship facilities."
PDP Faults FG's Method of Handling Pandemic
The federal government has come under criticism from the Peoples Democratic Party (PDP) over its method of combating the pandemic.
According to the opposition party, there's nothing commendable in the role played by the federal government and the All Progressives Congress (APC) under Buhari in the fight against the pandemic.
PDP National Publicity Secretary, Mr. Kola Ologbondiyan, who spoke yesterday as a guest on ARISE NEWS Channel and said: "If you ask an ordinary Nigerians to commend this government on the fight against COVID-19, I want to assure you they wouldn't answer. We are closer to the people; we are not locked up in the villa, we relate with them.
"Before the emergence of COVID-19 in Nigeria, we advised the federal government to come up with stringent measures, particularly in the area of our borders and airports, to ensure that we lock up our own country but the federal government under President Buhari has absolute disrespect and arrogance towards the opposition.
"So, there is no space for whatever suggestions or solutions we provide even though, sometimes they end up implementing these same solutions we provided.
"We also advised that we cannot assimilate in totality the procedures of the western world that we should have our homegrown methodology of fighting COVID-19 but nobody considered our suggestion."