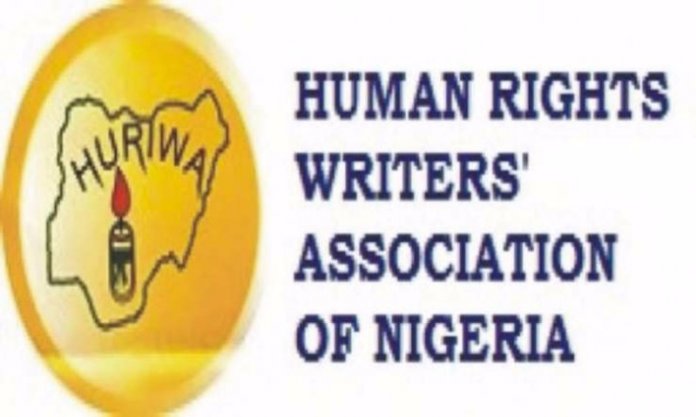 A civil rights advocacy group, the Human Rights Writers Association of Nigeria (HURIWA) has expressed disappointment at the federal government's handling of the raging allegations of N48 billion scam at the Federal Ministry of Agriculture.
The Permanent Secretary in the Ministry of Science and Technology Alhaji Mohammed Bello Umar who was the permanent secretary in the agric ministry when the alleged fraud took place had been querried by the Head of Service of the Federation on the orders of President Muhammadu Buhari.
However, HURIWA, in a statement said the way and manner the corruption allegations were being handled would lead to the allegations being swept under the carpet.
HURIWA is therefore calling for an independent judicial panel to investigate the allegations and counter-allegations as contained in Umar's reply to the querry.
In his reply, Umar said the ministry followed due process in handling the contracts in question and got the approval of the Federal Executive Council.
HURIWA "faulted the entire scenarios playing out as political drama because it is inconceivable and indeed outrageous that the president of the country can order that a query be issued to an appointee over allegations that the same official of government claimed that the approving authority who is President Muhammadu Buhari who ordered his indictment was actually the one who approved all the transactions for which he is being indicted."
The rights group said it was unimaginable that the Permanent Secretary was queried for the same allegations that he claimed that the Economic and Financial Crimes Commission (EFCC) investigated, interrogated and cleared him without such a sensitive information of such a high profile investigation not being made known to the president.
HURIWA expressed consternation that even though the EFCC is under the supervision of the Federal Attorney General and minister of justice and the Attorney General of the Federation and Minister of Justice is answerable to the President, so how come that the president is not in the know that one of his permanent secretaries was investigated and he the president went ahead to issue a query over same allegations to the Permanent secretary who has now come out to make the sensational claims that the Agriculture minister and the Federal Executive Council were all involved in the said alleged official misdeameanor of purchasing an uncompleted building for N7 billion?
The statement said: "There are many questions begging for answers and the way to go is to constitute an independent judicial panel to investigate these allegations?"