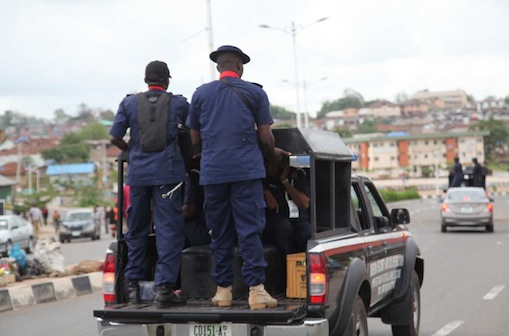 The Nigeria Security and Civil Defence Corps (NSCDC) and by Vehicle Inspection Officers (VIOs) yesterday intercepted 93 northerners in Oyo and Ondo states.
NSCDC in Ogbomoso yesterday stopped about 70 Ibadan and Lagos-bound northerners in the state despite the ban on interstate movement by the federal government.
Oyo State Commissioner for Information, Culture and Tourism, Dr. Wasiu Olatunbosun, disclosed that the travellers, who were being driven in a truck, were arrested following a tip-off by some residents of Ogbomoso.
He said task force set up by the state was informed that a truck loaded with passengers from the North was heading towards Takie area of Ogbomoso.
Olatunbosun said the arrested persons indicated that some of them were from different parts of the North.
He said, "Among them are Northerners from Katsina State, others are from Kano, Kaduna and Zamfara states. About 50 of them said they were heading to Ibadan while the other 20 persons said they were heading to Lagos State."
Also a truck carrying 23 youths from the North was yesterday intercepted by VIOs in Igbara Oke, headquarters of the Ifedore Local Government Area of Ondo State.
The driver, who spoke in Hausa, said he was going back to the North after delivering cement in Ile Ife, Osun State, when the youths begged him to drop them off in Akure.
However, his passengers said during interrogation they had no specific destination in Akure.
The Special Adviser to Governor Akeredolu on Transport, Tobi Ogunleye, ordered the driver to return the youths to the spot they boarded the vehicle.
Ogunleye told reporters that the state government had ordered the closure of all interstate motor parks across the state in a bid to prevent coronavirus spread.