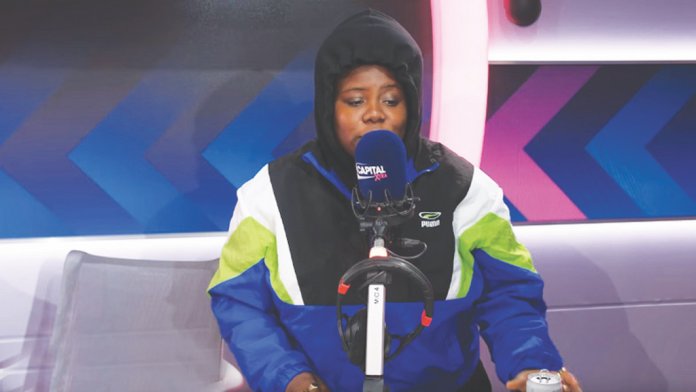 Teniola Apata (Teni) aced an eight-minute freestyle session on the famed Tim Westwood TV show in United Kingdom, writes Ferdinand Ekechukwu
Suspend Covid-19 gists a bit… Nigerian entertainer Teniola Apata (Teni) is spur-of-the-moment when it comes to belling out her craft. The singer cum songwriter has proved this overtime given her random on the spot delivery of her musical ingenuity. It is not surprising her talent has often been applauded. This has earned her trending bites. Not to mention clips of her freestyle sessions with fellow Nigerian superstar acts which swarm online.
In some other instances, it could be the singer and her team vibing outdoor, sometimes, in the studio. Fans of Teni Entertainer could recall her classic freestyle which opened her 'Uyo Meyo' song video. The multiple-award winning artiste recently displayed her creative competence and 'killed' an eight-minute freestyle session in the UK without breaks during her appearance on an international music TV programme. The singer went on the famed Tim Westwood TV and aced an eight-minute freestyle session without any significant breaks.
She was given an afro-swing beat on the show and she sung-rapped her way to a beat of Drake's 'Life Is Good.' The younger sister to Afro house music star, Niniola, used things in her life and people in the studio to create her verses. The verses were laced with humourous anecdotal.
Tim Westwood is the 61-year-old legendary British DJ and radio personality who has been running Tim Westwood TV for more than two decades. The show was formerly on BBC Radio, but now it's on Capital Xtra.
Teni once thrilled her fans after she displayed her vocal prowess in a studio session with Kemar Donaldson, Jamaican singer better known as Kranium. The 'Billionaire' crooner would then post a video of that session on her social media page. In the video, Kranium is seen delivering freestyle on a song accompanied by a piano music in the background while Teni took her verse in a typical fashion and it got fans excited.
She had also requested Kranium takes her to Jamaica before bursting into Patois, an English-based creole language primarily spoken in Jamaica. After that show, fans were impressed with the singer's creativity and vocal dexterity and as usual, the comments flowed. They immediately afterwards took to Instagram and Twitter platforms, especially Twitter, to register their appreciation for her talent.
"@TeniEntertainer your voice is everything. If you see this on your TL. Please open it and I promise you won't regret it. You can thank me later. Teni is too good. Oh God," a Twitter user said. "No way Teni won't become a Nigerian music legend," another Twitter user said.
Another freestyle session of Teni's comes to mind. The songstress got fans excited and thinking that she was getting ready for another hit track after she uploaded a video of herself freestyle with her team. The freestyle, which she had titled "Naufii", was supposedly about lady who double-date and enjoys living a promiscuous life.