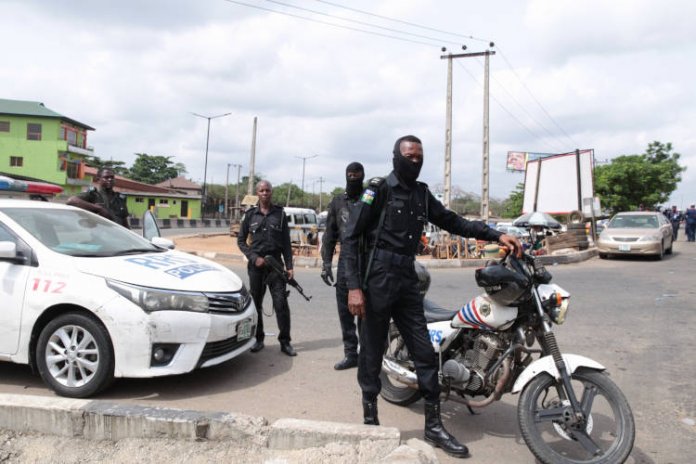 NHRC condemns violation of human rights by enforcement agents
Rebecca Ejifoma
The Lagos State Taskforce has sealed off Jumia warehouse, a Chinese firm and a brothel for non-compliance with the 14 days lockdown order issued by President Muhammadu Buhari.
This is coming as the National Human Rights Commission (NHRC) directed its staff to monitor and document all cases of human rights violations across the country for necessary actions after they received cases of human rights violations by security operatives enforcing government directives on COVID-19.
The taskforce announced the sealing off of Jumia and other erring business ventures via its Twitter account, @Lasepainfo on Wednesday with images as evidence.
Accusing security forces of human rights violations, NHRC through the Executive Secretary, Tony Ojukwu, said the public should report by telephone calls or text messages or video to relevant staff of the commission and ensure that such reports include the location of the violation, date, time of such violations including a clear description of alleged violators and their victims, their gender and vulnerability.
NHRC's complaint is coming two days after the commencement of the lockdown in Lagos and Abuja.
"Complaints should be reported to the commission for documentation and directed for redress to the commissioners of police of the three areas which include: CP FCT: 08033438900; CP Lagos: 08033438179, and CP Ogun: 08033438900," Ojukwu noted.
The commission also recommended that complaints of violations involving the military should be reported to the commission for documentation and directed for redress to the Director Army, Civil Military Affairs: 08057750691.
The executive secretary, however, alleged that there were reports that some security operatives were openly torturing and violating the rights of citizens in flagrant disregard to rules of their engagements, the laws of Nigeria and its international obligations having warned the agencies to refrain.
The NHRC numbers for reporting and documenting human rights violations during the implementation of COVID-19 regulations are: 08037875427, 08179371339, 08034354537, and 07033398657.
Reacting to complaints, the Lagos State Police Command through its PRO, DSP Bala Elkana has debunked claims by the Nigeria Medical Association (NMA) Lagos State that the police restricted movement of its members, describing it as false and misleading.
Elkana added: "It is on record that the restriction of movement order that took effect from Monday March 30, 2020 does not apply to hospitals and all related medical establishments as well as organisations in health care related manufacturing and distribution."
"Commercial establishments such as: food processing, distribution and retail companies; petroleum distribution and retail entities; power generation, transmission and distribution companies; and private security companies are also exempted."
He further highlighted that workers in telecommunication companies, broadcasters, print and electronic media staff, who can prove they are unable to work from home, are also exempted. "Banks are allowed to render skeletal services. Although these establishments are exempted, access will be restricted and monitored".
According to the PR, the Lagos State CP, Hakeem Odumosu, briefed personnel deployed for the enforcement exercise. Every police station was issued copies of the Presidential directive and extant laws for guidance.
He added: "The Command appreciates the daunting task ahead of all of us who are in the frontlines in curbing this pandemic, especially our medical and health workers. The relationship between the police and other professional bodies especially the NMA remains cordial. There is no time that we need each other than now. The nation depends so much on us in a time like this."