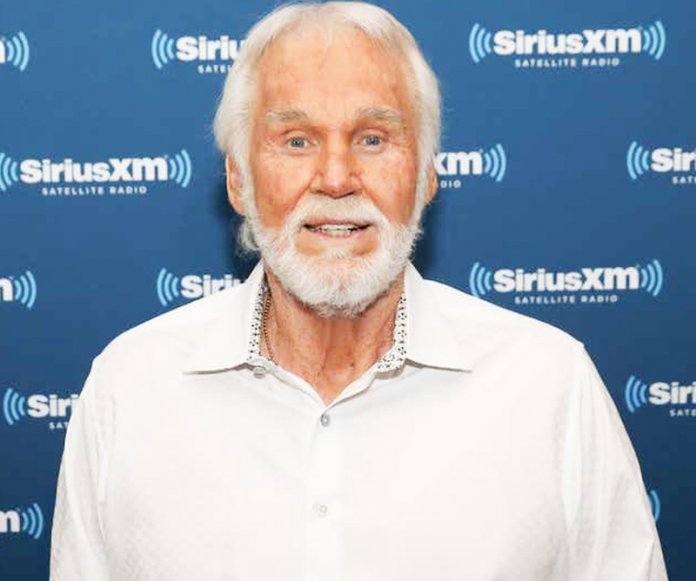 By Ferdinand Ekechukwu
As much a legend for his love of women as he was for the hit songs that made him a global superstar that sold 120 million albums worldwide, plus having a wild life that saw him marry five times and suffer a huge phone sex scandal, the death of American country music icon, Kenny Rogers, 81, marked the end of an epic life that featured the three times Grammy winner.
His family sadly confirmed his passing in a statement last Saturday, a day after his death. The statement said Kenny died "peacefully at home from natural causes under the care of hospice and surrounded by his family." Available records on his life and times say the singer spanned jazz, folk, country and pop with such hits as "Lucille," "Lady," "Islands in the Stream," and was the star of TV movies based on "The Gambler" and other songs that made him dominate the '70s and '80s music scene with top charts album.
Other hits included "You Decorated My Life," "Every Time Two Fools Collide" with Dottie West, "Don't Fall in Love with a Dreamer" with Kim Carnes, and "Coward of the County." His biggest success was "Lady," written by Lionel Richie, a chart topper for six weeks straight in 1980. The Houston-born performer thrived for some 60 years before signing off touring in 2017 at the age of 79.
Despite his crossover success, he always preferred to be thought of as a country singer. "You either do what everyone else is doing and you do it better, or you do what no one else is doing and you don't invite comparison," Rogers told The Associated Press in 2015. "And I chose that way because I could never be better than Johnny Cash or Willie or Waylon at what they did. So I found something that I could do that didn't invite comparison to them. And I think people thought it was my desire to change country music. But that was never my issue."
One of his hit songs, "Islands in The Stream", was a 1983 duet with fellow country music legend Dolly Parton and people always saw electricity between them. But there was never any romance. Instead, they became life-long friends. Kenny joked of their relationship: "I'm a believer that tension is better if you keep it than if you satisfy it. And then secondly, she said no to me! Everybody thought we were having an affair but we didn't. We just flirted with each other for 30 years."
Dolly later said: "I'm not his type. We are almost like brother and sister. So we just never went there." He once summed up his global popularity by saying: "I do ballads that say what every man wants to say and that every woman wants to hear." The lyrics, combined with his gravelly voice, led him to become one of the most successful country-pop crossover acts and the tenth bestselling artiste in history in terms of album sales.
He sold more than 47 million records in the United States alone, according to the Recording Industry Association of America. He had 20 No 1 singles from 1977 to 1987 and was inducted into Nashville's Country Music Hall of Fame in 2013, getting a lifetime achievement award and playing the Legends slot at Glastonbury the same year.
"Kenny was one of those artistes who transcended beyond one format and geographic borders," said Sarah Trahern, chief executive officer of the Country Music Association. "He was a global superstar who helped introduce country music to audiences all around the world." Kenny was a five-time CMA Award winner, as well as the recipient of the CMA's Willie Nelson Lifetime Achievement Award in 2013, the same year he was inducted into the Country Music Hall of Fame. He received 10 awards from the Academy of Country Music.
A true rags-to-riches story, Kenny was raised in public housing in Houston Heights with seven siblings. His breakthrough came when he was asked to join the New Christy Minstrels, a folk group, in 1966. After the group broke up in 1974, Kenny started his solo career and found a big hit with the sad country ballad "Lucille," in 1977, which crossed over to the pop charts and earned Kenny his first Grammy. Suddenly the star, Kenny added hit after hit for more than a decade.
Kenny's childhood was tough, with an alcoholic father, and he was raised in social housing with seven brothers and sisters. Before he finally found true love, Kenny's personal life was wild, to the extent that in the 1980s, he even set up a special number for women to call so he could have phone sex with them — a scandal that threatened his career at the time. He later said: "I thought that phone sex was the safest sex there was, only to get hammered by it. It was great, it was exciting, it was fun."
By then Kenny had enjoyed years of fame and fortune, though his success had not come to him on a plate. He went on to work with charities including the Red Cross and MusicCares, as well as being part of the 1985 all-star We Are The World recording for famine relief. Kenny married first wife Janice Gordon on May 15, 1958. In his 2012 memoir, Luck Or Something Like It, he revealed that the first time they had sex, Janice got pregnant with their daughter Carole, which led him to marry her. He said: "I loved her. At 19, I thought, 'This is OK with me'. Her parents thought I'd ruined her life and were determined to break me. The marriage didn't work and it's sad, because I think it could have."
They divorced in 1960 and Kenny wed Jean Rogers in October that year. They divorced three years later. In October 1964, he married Margo Anderson – and this time, it lasted for 12 years and they had a son, Kenny Jr, now 55, before divorcing in 1976. Marriage number four was to TV actress Marianne Gordon, who Kenny wed on October 1, 1977. They had a son, Christopher Cody Rogers, now 37, but they split and divorced in 1993.
Finally, in June 1997, he married his "soulmate" Wanda Miller, 52, who, despite a 28-year age gap, he described as the love of his life. They had twin boys, Justin and Jordan, now 14. He said: "She's 28 years younger than me, and I say this from the bottom of my heart – she is my soul mate. She loves me better than anyone else has known me. She loves what I do and I'm not as insensitive to her needs as I may have been in the past."
But in all, there was one regret in Kenny's life, and that was having plastic surgery on his face. He said: "I had the money to do it and I had time off. You look at yourself and think, 'Could I be better if I did this or did that?' And I did it, and the guy who did it was one of the world's best. He had this concept that the edge of your eyes had to be higher than a certain place, and I regret that. But the truth is I don't know what I would have looked like if I hadn't done it. You do it and you live with it."
The sad news of his death sparked a flood of celebrity tributes from around the world. Actor Channing Tatum tweeted: "The gambler himself, RIP Kenny". Rapper MC Hammer shared an image of the star with the word RIP, while Piers Morgan recalled: "I asked Kenny Rogers which of his songs was his favourite. He immediately said, 'Lady', then corrected himself – 'Actually it would be We've Got Tonight'. The lyrics seem apposite today: 'We've got tonight, who needs tomorrow? Let's make it last, let's find a way.'"
Kenny's "Islands in the Stream" collaborator and friend Dolly Parton posted a heartfelt tribute to Instagram. "You never know how much you love somebody until they're gone," Dolly wrote alongside an emotional video in which she struggled to hold back tears. "I've had so many wonderful years and wonderful times with my friend Kenny, but above all the music and the success, I loved him as a wonderful man and a true friend. So you be safe with God and just know that I will always love you."
Kenny's longtime friend, Lionel Richie shared an emotional tribute. Taking to his Instagram, 70-year-old Lionel wrote alongside a heartbroken emoji: "I lost one of my closest friends. So much laughter so many adventures to remember, my heart is broken. My prayers go out to Kenny's Family." Kenny had previously admitted and explained during a joint performance that Lionel had a huge impact on his career by working on the song "Lady" with him. "He's not just a friend of mine, but the song he wrote was truly a changing point in my career. It's one of the most identifiable songs I've ever done."