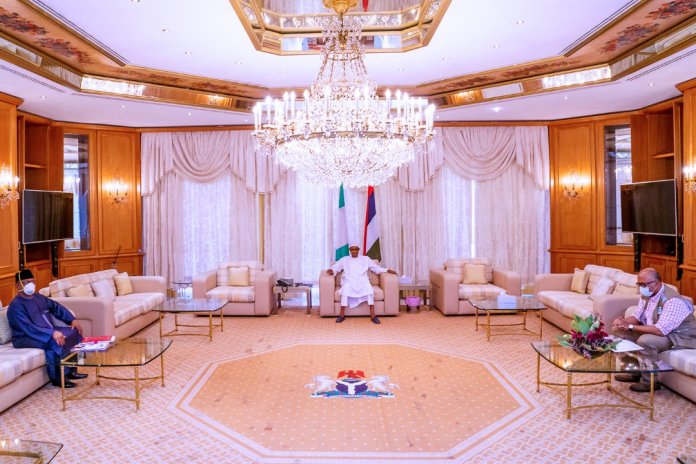 The Minister of Health, Osagie Ehanire, and National Centre for Disease Control Boss, Dr. Chikwe Ihekweaze,  briefed President Muhammadu Buhari at the State House Abuja on Saturday on the efforts to curb the spread of Coronavirus in the country.
The two top health officials at the forefront of the fight against the spread of the contagion in Nigeria were seen in  photos obtained by THISDAY  briefing the president at the State House.
A video obtained by THISDAY also showed the two men arriving the Presidential Villa. Ehanire and Ihekweaze wore surgical masks. Both men were subjected to temperature checks by State House health officials with hand-held electronic thermometer.
President Buhari, who wore a white  gown and cap, was seen in the video acknowledging cheers from aides on his way to the briefing room.
The President walked briskly into the briefing room and was ushered to his seat by a protocol officer.  The trio sat far apart in compliance with the social distancing directive of the NCDC.
Nigeria currently has 81 confirmed cases of coronavirus. Of the 81 cases, three have been discharged with one dead.
See video
See Video