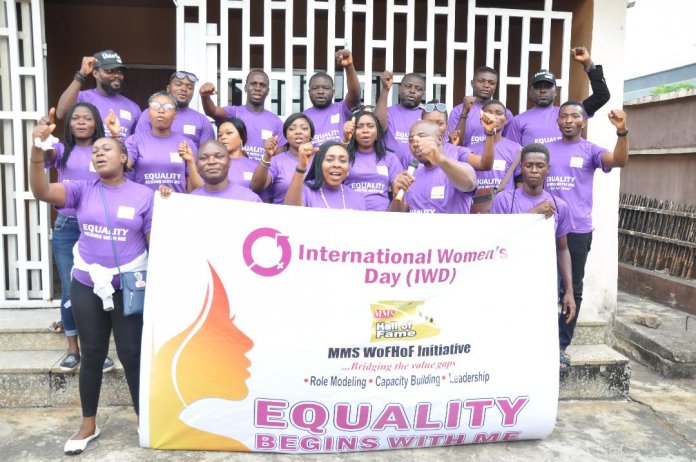 Empowers Over 300 Women
Mary Nnah
Founder, MMS Woman of Fortune Hall of Fame(WoFHoF) initiative, Mr. Kingsley Anaroke has admonished Nigerian women to push for enforcement of the numerous laws which kick against gender discrimination in Nigeria and Africa.
This is even as it empowered over three hundred women via career and entrepreneurship mentoring, as well as provision of small and micro credit grants.
Speaking during the initiative's organised road walk held in Lagos, recently, to mark the 2020 International Women's Day (IWD), Anaroke said there were sufficient laws to suppress the victimisation of women in the country, nevertheless the menace persists across several sectors of the nation's economy, including governance.
Anaroke also admonished women to develop the leadership, fiscal and entrepreneurial capabilities to correct the paltry representation of 4.5 per cent on global Chief Executive Officers index.
Expressing optimism, Anaroke noted that the initiative has empowered over 300 women through career, entrepreneurship mentorship and capacity building as well as providing small and micro credit grant to them to be self-actualised and fulfilled, noting that women have proven to be better managers of resources and personnel.
"We have initiated vision 5W-250,000 through which 250,000 women will be fortified economically in the next five years", he added.
He said that to boost its efforts so far, come April 2, 2020, the MMS Hall of Famers' Day will hold in commemoration of the 2020 IWD during which 10 women of substance shall be recognised as UN Generation Amazons.
The UN Generation Amazons to be celebrated at the event have been selected from Nigeria's transportation, finance, oil and gas, among other sectors.
The event which is the third MMS Hall of Famers' Day would take place by 4pm at Golden Gate Restaurant, Ikoyi, Lagos, and would have the Chairperson, Nigerian Ship-Owners Forum, Barr. (Mrs.) Margaret Orakwusi, as chief host, while the Lagos State Commissioner for Women Affairs and Poverty Alleviation, Mrs. Cecilia Bolaji-Dada, will be guest speaker.
The chairman of the event would be the Lagos Chairperson, International Federation of Women Lawyers (FIDA) Mrs. Phil Nneji, who is to represent the national president of FIDA. The Minister of Women Affairs, Dame Pauline Tallen will be the special guest of honour, while the Minister of Transportation, Hon. Rotimi Amaechi will be the chief guest of honour.
Also speaking at the event, the Programme Manager, MMS WoFHoF Initiative, Mr. John Kwushue urged women to break barriers of gender inequality with preparedness in self-actualisation and empowerment in career, education and entrepreneurship.
"Despite increased awareness on gender parity, it is disheartening to note that the gap in gender inequality in economic spectrum would take 257 years to be closed, according to the World Economic Forum (WEF) recent report," he said.
He lamented that in politics, women hold less than 20 per cent of the elected positions worldwide despite the numeric advantage across most nations of the world.
"Women hold less than 20 per cent of the elected positions worldwide, gender bias in the media is nine out 10, and musicians are mostly men because men are easily accepted than women. At work, the average working woman make less money than an average working man in the same qualification," he asserted.
"We are looking forward to a situation where we will have 50 per cent women involvement in these indices and we are getting there.
"So, what we are saying is that gender bias in our society is still there and at MMS WoFHoF Initiative, we would remain resolute in the bid to close this gap", he said.