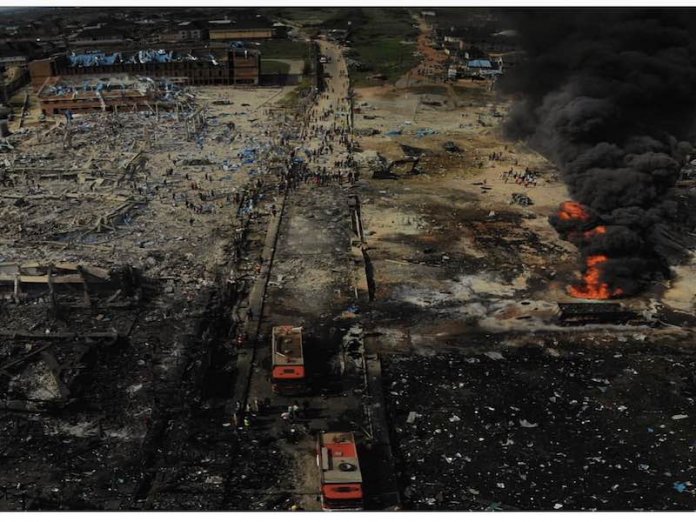 Eddy Odivwri
Ours is a really funny country. 
 Funny? So why are you not laughing? Can't see what is funny here when we are all being hunted by so much troubles from all sides.
Do we really pause to check what these troubles are? Or was it not just a dozen days ago that we had the massive explosion that literally tore the Festac Community and its environs in Lagos apart? Was that not where over 23 people were killed, many more injured, some even missing and many structures and properties worth billions of Naira destroyed? 
Twelve days after, what has been confirmed as the cause of that explosion? We just moved on, jut like that, as if the lives of those 23 people don't count for anything.
Hmmm, my father used to say what is crawling on your skin and what is biting you on your skin are different. You will surely attend to the one biting you first. Lagos and indeed Nigeria was still pondering on the Abule-Ado explosion when the COVID-19 pandemic broke into a frightening proportion. It became a biting matter and not a crawling issue.
Or did you even forget that before the pandemic, the running national issues were the dethronement of former Emir of Kano, Alh Sanusi Lamido Sanusi, and then the issue of the return of Comrade Adams Oshiomhole tothe APC secretariat, having got his suspension as National Chairman upturned by an Appeal Court? Did you hear anybody discussing those matters again? It makes the point that issues of greater importance will always overshadow those of lesser importance. And that's what has happened to the Abule-Ado blast.
Don't give me that warped argument. Abule-Ado explosion was an accident of great proportion while COVID-19 plague is not. The latter had been waxing round the world since January. We chose to neglect it and did nothing. But Abule Ado suddenly bursted on the people on Sunday, March 15 2020, the Ides of March. 
What is more, while thus far, the COVID-19 has killed only one person, the Abule-Ado explosion crushed 22 people immediately. So which one should get the greater attention? Or is it because the Abule Ado victims are unknown names who have nothing to do with the Aso Villa? See why I said we are a funny country?
But the NNPC issued a statement explaining that the explosion was caused by the pressure on a gas pipeline, that a tipper was loaded with granite and parked atop the pipeline overnight, and that it was the pressure that triggered the explosion.
That explanation had been faulted by NEMA which gave a different reason for the explosion.
In fact, many people believe it was a bomb explosion, because a gas explosion should have caused huge fire that would consume wide expanse of land and properties. But the fire outbreak was just around a defined space. They believe that only a bomb explosion could have wreaked that degree of havoc that extended far beyond the scene of the accident.
Those who believe it was a bomb explosion argue that it may be a plot targeted at the Bethlehem College that was destroyed in the blast, especially as the hitherto dormant Federal Housing Authority (FHA) hastily came forth to lay claim to the ownership of the land where the school was built. They say there is more to the explosion than meets the eye.
Hmmm, those are mere speculations and wild theories that cannot be established by law and proper judgement.
Let us believe that government is determined to attend to all the victims of the blast, just as an official statement as to what really happened would be released. I can assure you that after this COVID-19 phase, they will get back to the issue.
So, until then what happens to those who lost their loved ones, and whose properties were destroyed?
Somebody has to be punished for the huge loss caused the concerned persons. We cannot continue like this in this country. There must be consequences for ill actions. But often times, these kind of costly infractions get swept under the carpet. That is why they keep re-occurring. Somebody should be punished for this disaster that claimed innocent lives. The people want to know. Government must communicate their findings and actions to the people. It is one disaster too many. Let those responsible for the blast be brought to book.
It is then and only then would people be cautious and careful, knowing that they would be held accountable for their actions and even inactions.
Be rest assured that a new sheriff is in town. And this sheriff will do all that is needful. I repeat, all that is needful.