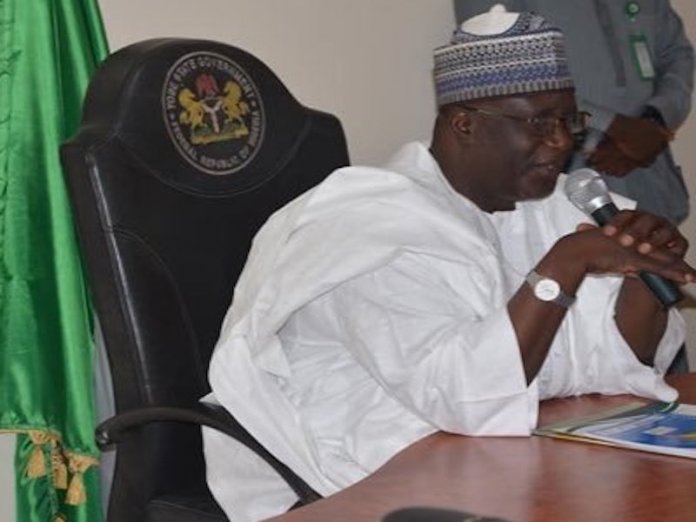 Michael Olugbode in Damaturu
Yobe State Government on Tuesday inaugurated a committee to harmonize the state's action plans to contain COVID-19 pandemic.
A statement by the Yobe Commissioner of Home Affairs, Information and Culture, Malam Abdullahi Bego said the committee will be chaired by the Deputy Governor, Hon. Idi Barde Gubana.
The statement said the committee is comprised of the Honourable Commissioners of Health and Human Services, Home Affairs, Information and Culture, Humanitarian Affairs and Disaster Management, Commerce, Women Affairs, Transport and Energy, Environment, Youth and Sports, and Religious Affairs as well as the Chairman of the State Council of Chiefs, State Commissioner of Police, State Director of the Department of State Services and the Commandant of the Nigeria Security and Civil Defence Corps.
The State House of Assembly, Yobe State University Teaching Hospital, State Primary Healthcare Management Board, State Emergency Management Agency (SEMA), World Health Organisation (WHO), and the UN Office for the Coordination of Humanitarian Affairs (OCHA), amongst others, are also represented on the committee.
The committee which immediately swung into action after his inauguration, adopted among others measures and recommendations for application throughout the state, include that all government workers from Grade Levels 12 and below should stay at and work from home, except those on essential services, including healthcare, water supply, SEMA, media, and fire service.
"People throughout the state are advised to practise social distancing and observe good personal hygiene, especially regular hand washing with soap and water for at least 20 seconds each time. They are also advised to practise safe respiratory etiquette such as the use of handkerchief and tissue paper when coughing or sneezing".
"Mass social and political gatherings, including weddings and naming ceremonies, should be avoided or minimised significantly".
"People coming from parts of the country with confirmed cases of COVID-19 should self-isolate for at least 14 days upon arrival in the state. Places of worship, markets, motor parks, etc should provide hand washing points for people who may come into those places".
The Yobe State Government has also directed all public and private schools, including Islamiyya schools, to close down for a month from March 26, 2020 to April 26, 2020.
The Commissioner of Commerce and that of Transport and Energy would meet separately with market leaders and the Union of Road and Transport Workers and KEKE NAPEP riders to discuss the COVID-19 outbreak and what their members need to do to ensure people across the state stay safe.
The Commissioner of Religious Affairs, is also instructed to meet with religious leaders to discuss what measures they need to take to enlighten their congregations about the Coronavirus disease and to pray for divine intervention.