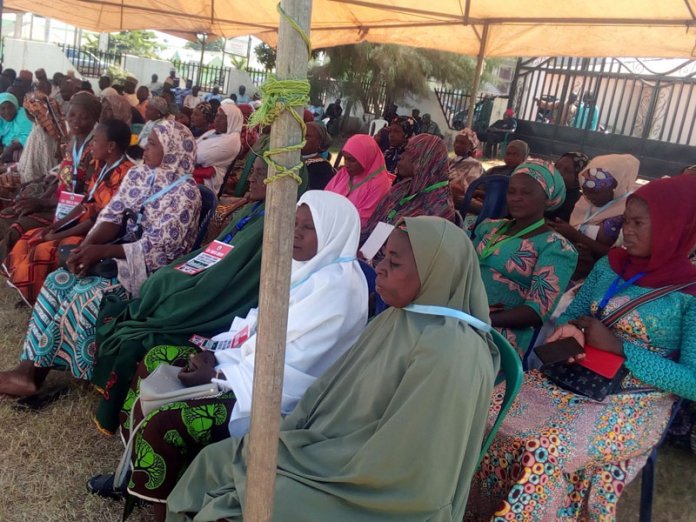 Igbawase Ukumba writes that Senator Umaru Tanko Al-Makura recently empowered the youths and women in his Nasarawa South senatorial district in a bid to create a sustainable way for beneficiaries to eke a living
Perhaps, it could be established that empowering someone with money here and there, or during festivities, is not the best empowerment. Therefore, it could be arrived at that the best empowerment is to create a sustainable way by which the beneficiaries would eke their living rather than begging political appointees whenever they are faced with certain challenges.
It was against this fact that Senator Al-Makura recently at his constituency office in Lafia, the Nasarawa State capital, donated 50 pieces of power generating sets and 50 grinding mills to some vulnerable youths and women respectively in his constituency of Nasarawa South Senatorial Zone.
The constituency office of Senator Al-Makura, who is also chairman of the senate committee on solid minerals, located opposite the Lafia Township Stadium was filled beyond its capacity as boys and girls, young and old rolled out their drums to celebrate what they described as the first benevolence of its kind to people of the zone since inception of the present political dispensation in the country.
This perhaps explains why Al-Makura's benevolence to his constituents was viewed by the National Vice Chairman of the APC for the North Central Zone, Alhaji Suleiman Wambai, as first of its kind in the state's sourthern senatorial district since inception of the present political dispensation.
According to Wambai, "before today, we had observed that even if we had had a representative in the National Assembly, Abuja, it was nothing but a mirage as we did not receive any dividend of democracy which we are receiving today courtesy of our senator and the immediate past Governor Al-Makura."
The APC chieftain continued that in every state of the country there is a political juggernaut, hence in Nasarawa State at the moment Al-Makura is the political emancipator of the state. According to him, "if we go to the South-west geopolitical zone, there is a man we call Asiwaju Tinubu; therefore in Nasarawa State, Senator Al-Makura is our Asiwaju."
Wambai justified his reason to equate Tanko Al-Makura with Asiwaju Tinubu: "Because if you look at the back of Asiwaju Tinubu, you will see that he had planted people in strategic political sphere. In a similar way, Senator Tanko Al-Makura has planted people all over the places in Nigeria. In conclusion, Al-Makura is our Asiwaju of Nasarawa State. We are hopeful that the state will continue to see an egalitarian leadership qualities in the senator."
As encomium continued to shower on the former governor's leadership qualities during the event, the state secretary of the APC, Aliyu Bello, rated him as a representative devoid of tribal or religious sentiment. "This is a type of representative devoid of Alago, Gwandara, Hausa, Christian or Muslim sentiment. But this is a truthful representation," he asserted.
The state's APC scribe consequently revealed that what led to the election of Senator Al-Makura to the senate was not borne out of sentiments, but based on the leadership qualities majority of people in the senatorial district discovered in the former governor of the state during his stewardship as the third democratically elected governor of the state.
Speaking on behalf of women and youths of the senatorial district who were earmarked for Al-Makura's benevolence, the provost of the state's College of Education, Dr. Rebecca Umaru, thanked Al-Makura for thinking about the plight of his constituents and hitherto coming home to tell the women and youths of what was in stock for them from Abuja.
Dr. Umaru said: "With this gesture, we are convinced that throughout your (Al-Makura) stay in the National Assembly, you will never forsake us the people of your senatorial district. Therefore, I am calling on the beneficiaries of these items to make judicious use of the donations for their good and that of their various communities."
Speaking to journalists shortly after making the donations, Al-Makura explained that his gesture was a zonal intervention to his constituency.
"This is an initiative to lift people of my constituency. I was informed by the yearnings of the people for empowerment and in doing so, I was mindful of the most vulnerable groups that are in need of this empowerment for upliftment," he said.
He continued that "these categories of people are the youths and the women. They are vulnerable because a lot of times they have been at the brunt of what it takes to generate support. I feel they should be reciprocated one way or the other."
"So I decided that the youths who are engaged in one kind of vocation or another requested for power generation sets and we supported them by donating 50 pieces of power generation sets so that they can power their various businesses to sustain their living."
"The same time with women who are engaged in household delicacies need to be supported by way of giving them something that will have a value chain or boost their production. So I decided to provide these 50 grinding mills which can be used for different purposes."
He continued that that was the first time he was empowering his constituents practically by way of donating equipment. However, the senator disclosed that since his stay in the senate, he had done one empowerment or another to his constituents, but it was not as practical as the donations he had just made.
"So I am assuring my constituency that the only way to reciprocate and appreciate them for the trouble they have taken to elect us and to continue with this support, we will reciprocate that support so that with time this support will consolidate into impenetrable support that we will have APC as a party that will remain for as long as we sustain this kind of gesture," Al-Makura added.