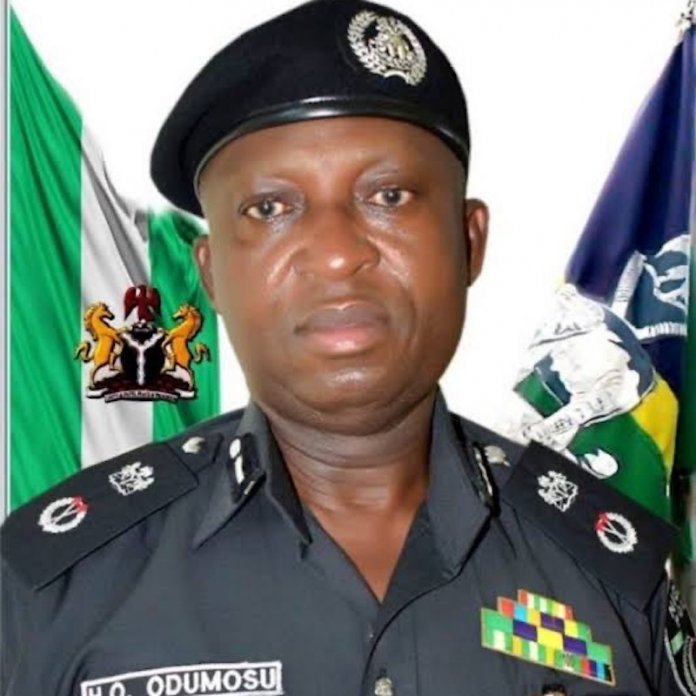 Chiemelie Ezeobi chronicles the series of arrests recorded by the Lagos State Police Command in the first 119 days in office of the 36th Commissioner of Police, CP Hakeem Odumosu
Upon assumption of office as the 36th Commissioner of Police, Lagos State Police Command, on November 15, 2019, CP Hakeem Odumosu, had pledged round-the-clock security. While warning criminal elements to change their ways or have the police to contend with, he had also sought the cooperation of all, including the media, in the fight against crime and criminality.
Despite the inherent challenges in policing a metropolitan state like Lagos, Odumosu is determined not to let that deter him from staying the course in the fight against crime.
Just last week, the CP while appreciating the Inspector General of Police, Mohammed Adamu Abubakar, and his management team for their continuous support to the command, he also expressed gratitude to the government and people of Lagos State for partnering the command in the discharge of their statutory duties of maintaining law and order, just as he regaled crime reporters of the arrests made in the first 119 days of his assumption of duty.
Mission
According to Odumosu, he had made it clear in his maiden press briefing that his mission is to provide a safer and better secured state that will guarantee the socio-economic well-being of the people and enhance their quality of life. "This is being achieved through mobilisation of a more courageous, dedicated, humane and professional police officers in the state".
2020 Policing Plans
He further clarified that this is being achieved through his rolled out Command's 2020 Policing Plans which includes: "Full implementation of community-based policing policies of the present police authorities, evolving strategies that will close the gaps between the police and the people, foster cordial relationship and build strong and effective partnerships;
"Visibility policing and prompt response to distress calls; Intelligence-led policing approach, professional and unbiased investigation of criminal cases and diligent prosecution; Respect for and protection of human rights and zero tolerance for corruption; Multi agencies collaboration; Capacity building for officers and men of the command and enhanced welfare package."
Achievements
He noted that the strategies are already yielding positive results as evidenced by the arrests made in the last 119 days. Giving a breakdown, he said the command had arrested 164 armed robbery suspects and successfully foiled 98 armed robbery attempts while 13 armed robbery suspects died during exchange of fire with the police.
Also, 165 suspects were arrested for cultism and four suspects were arrested for kidnapping, while 103 suspects were arrested for murder.
He also disclosed that the state recorded 10 cases of suicide and prevented seven suicide attempts while 34 assorted firearms with lots of ammunition of different calibre were recovered, adding that the command also recovered 22 stolen vehicles.
On the enforcement of restriction of motorcycles and tricycles on 48 routes, bridges and express ways, he said: "I make bold to declare that a total of 3,512 motorcycles and 202 tricycles were impounded since the commencement of the enforcement and 40 suspects were arrested. Twenty five traffic offenders, mostly those driving against traffic (one way) were arrested and successfully prosecuted.
"A number of intelligence-driven raids were carried out on criminal hideouts, uncompleted and abandoned buildings in different parts of the state. A total of 981 suspects were arrested. Out of this number, 190 were screened out, 791 were charged to court. 723 suspects were convicted, 25 suspects were discharged, 21 suspects had their cases struck out, and 22 suspects are awaiting trial."
Giving a further breakdown of the arrests he said in the case of the arrest of seven notorious armed robbery suspects and top cult members; with six pistols recovered, on February 27, acting on credible intelligence, operatives from the Special Anti-Robbery Squad stormed a criminal hideout at Iyana-Iba criminal where a notorious armed robbery kingpin popularly known as Shola Okoko danger and gangs were believed to be occupying.
He said four suspects were arrested- Idris Musa, Oluwaseyi Oguntobi, Ramon Adebimpe and Saheed Kareem. Four locally made pistol with three live cartridges were recovered from them. In a follow up investigation, three suspects were arrested in some criminal hideouts at Ilupeju and Onipanu-Tosin Benjamin a.k.a Lube, Segun Ogunmola a.k.a Segun Alapata and Joseph Oyebowale a.k.a Jossy. Two locally made double barrel pistols with three live cartridges were recovered.
Following incidents of violent cults and gang clashes in Ogudu area by some notorious cultists in a battle for supremacy that left two persons dead and few others injured, the Command's Special Strike Force on Social Miscreants and other tactical units were deployed to Ogudu to restore sanity to the area. 19 suspects were arrested- Alade Samuel, Nurudeen Babatunde, Olumadu Damilola, Onibudo Rilwan, Rafiu Olamilekan, Bamidele Sulaiman, Ahmed Saka, Bolaji Ogunniyi, Olamilekan Saheed Adebisi, Kolawole Ayotunde, Ikenna Cosmos, Olaide Ogungbele, Korede Joyi, Yekini Abiodun, Aborinde John, David Atanda, Opeyemi Fasola, Aladeniyi Aladegbami and Obuh Onyekachukwu.
In a bid to sustain the ongoing onslaught on cultists and other social miscreants in Ikorodu, Imota, Agbowa, Owutu, Ijede, Ipakodo and Owode Onirin, the CP deployed the Special Strike Force on Social Miscreants to Ikorodu axis and they arrested a deadly leader of Aiye confraternity, Sikiru Samuel a.k.a Samora, at Imota. Other members of this gang arrested are: Adegboyega Ismaila, Sunkanmi Shonubi 'm' a.k.a Napel, Adigun Faruq, Rilwan Akinwale, Victor Uju 'm' a.k.a Zino, Juwon Idowu 'm' a.k.a lighter, Rasak Adebola 'm' a.k.a 'Bobo' and Kehinde Keshinro.
On February 12, information was received from members of the public that some persons suspected to be robbers and cultists were sighted at Itupate and Daudu area of Ikorodu attacking and robbing unsuspecting victims of their valuables. On receipt of the information, police operatives from Igbogbo Division and SARS were mobilised and they arrested the following suspects: Seun Opanusi, Ahmed Tajudeen, Emmanuel Olowu, Jimoh Balikis, Mariam Owolabi, Ayomide Omotosho m and Rabiu Suleiman. They confessed to be members of Aiye and Eiye cult groups.
On February 23, operatives of anti-kidnapping squad arrested one Jerome Ukena, a native of Egun Cotonou, Republic of Benin. The suspect was arrested at the water way, Ilaje community, Bariga Makoko. He is arrested in connection with a case of kidnapping reported by one Ola Makinde Abidemi, whose wife Oluwatoyin Makinde, and their six-month-old daughter were kidnapped in his residence and released two days later. The suspect led detectives to their hide out at Ajegunle of Ikorodu where a three year old baby was found and rescued. The phone used by the suspect to demand for ransom was recovered. The suspect confessed to the commission of the crime.
Also, police burst a syndicate that specialised in shop breakings in major markets in Lagos Island. On receipt of the information, operatives from RRS were drafted to closely monitor the area. The exercise paid off as the syndicate comprising one Isa Seidu, Tairu Melaye and Lucky Chukwudi were arrested while breaking into a shop at Balogun market, Lagos Island. Items recovered from the suspects include: 97 pairs of shoes, seven fabrics, children wears and Lady's bags. The suspects confessed to have burgled several shops in the past.
On March 3, police burst armed robbery syndicate who disguise as police officers in Ikorodu and robbing people of their motorcycles. One Musa Ibrahim and Umar Saliu reported at Shagamu road Division, Ikorodu that one Sunday Shaibu and Samson Akoh of Odogunyan in Ikorodu and two others members of their gang snatched their Bajaj Motorcycle with registration number 3 AA144 QP at Ileepo Oba, Ikorodu on 21/01/2020 at about 2030hours.
The suspects operate in Volkswagen Golf Car with registration number TD448 KJA wearing black T-Shirts with the word 'Police' boldly written at the back. Their modus oparendi includes, stopping their victims at strategic locations and arresting them for traffic offences. They extort money from the victims, impound their motorcycles and tell the victims to meet them at the police station to collect the motorcycles with proof of ownership and other necessary documents.
Noticing the victims must have left to get the documents, the suspects will quickly disappear with the motorcycles to where they will contact their buyer. The same syndicate snatched a Bajaj Motorcycle along Sabo roundabout Ikorodu. The two principal suspects were arrested while the third suspect, Daniel Agala was arrested.
On February 8, on the strength of information and credible intelligence, police operatives from Oke Odo Police Station arrested a notorious car snatching suspect, Yusuf Akinradewo. The suspect took one Mitsubishi Montero Jeep with registration number GGE 620 AQ to one Wasiu Ogunsola to buy. When the buyer demanded for the original particulars of the vehicle, the suspect absconded.
Police detectives eventually arrested the suspect and recovered another stolen vehicle from him, a Toyota Camry saloon car with registration number AGL 480 EC belonging to one Alhaji Nurudeen Rasaki of Isiaka Adekoya street Igbogbo, Ikorodu Lagos State. The owners of the stolen vehicles were contacted and they confirmed that the vehicles were stolen from Ikorodu.
On February 11, information received from a reliable source revealed that some armed robbers were sighted along LASU/Isheri Road by Iyana School bus stop, robbing unsuspecting victims of their valuables such as phones, jewelries, cash etc. On receipt of the information, police operatives from Iba and SARS were mobilised to the scene. On sighting the operatives, the robbers scampered to different directions to avoid arrest but were given a manhunt.
In the process, one of the robbers was arrested and a double barrel gun with two live cartridges were recovered from him. During interrogation, he gave his name as Ahmed Aminu and later led the operatives to apprehend one of his fleeing members named Ahmed Alimi. Investigation is ongoing with a view to apprehend other members of the gang.
On January 24, a renowned owner of a bakery at Ajangbadi area of Lagos went to Agbara town and withdrew N1, 500,000 from three commercial banks. He was trailed home by some armed men operating on a motorcycle. The robbers fired him on both legs, before dispossessing him of the entire money he withdrew from the bank. Police operatives from Ajangbadi and SARS were promptly mobilised to the scene. One Chinonso Ndioziri a.k.a. Smart, who led the gang was arrested. One double barrel gun with four live cartridges and one expended cartridge were recovered.
On February 14, two armed robbery suspects were arrested and their firearms recovered. The gang, operating in a motorcycle trailed a victim from his place of work at Abolarin Mushin to his house at Mushin. As the victim was opening his entrance gate, the robbers attacked him at gun point and dispossessed him of his bag containing N400, 000.
The victim raised an alarm which attracted operatives from Olosan Division who were on crime prevention patrol around the area. One Dayo Adebayo was arrested and one berretta pistol with two live ammunition was recovered from him. Investigation led operatives to the gang's hide-out at Sadiku Junction, Mushin where another gang member, Omotoyosi Abdullahi was arrested. Investigation is ongoing to apprehend other suspects at large.
On February 4, the command arrested Berry Boys' Supreme Cult Leader and 11 others in Itire and environs. Following sustained monitoring, operatives from Itire Police Station arrested one Maliki Bello, the supreme leader of the notorious Berry Boys Secret Cult with operational base at Itire. Maliki has been on the wanted list of the police for violent crimes and gang clashes.
The suspect confessed to be responsible for series of violent attacks, murders and armed robbery incidents recorded in Idiaraba, Lawanson, Dosunmu, Ashimowo Bakare, Omo-Bola Mushin and Itire. The suspect told detectives that, he was initiated into the cult at age 12 when he was in Junior Secondary School (JSS1). He later rose to the number one position. The gang has an official Facebook page (Bbl Baloteli) with 1,928 friends.
According to Maliki, they use the Facebook page and other social media accounts to recruit new members, plan attacks and give updates to members. Investigation led to the arrest of 11 additional suspects who are his gang members. The case is under thorough investigation at the end of which, they may be charged for murder, cultism, and other sundry offences as the investigation may reveal.
In Agbara, the police burst a syndicate that specialised in robbing market women. The same gang of robbers who operates on a motorcycle were sighted by police operatives deployed to the area on surveillance patrol from Morogbo Division and SARS along Badagry expressway, close to Agbara market robbing unsuspecting victims. One Godwin Michael was arrested and one locally made gun with three live cartridges was recovered from him while others escaped with their operational motorcycle. Investigation was extended to their criminal hideout at Okuofor where another member of the gang, Kazeem Abiodun 'm' a.k.a KC, was arrested.
Another achievement was the arrest of a suspected 'one chance' robbery gang leader and recovery of a Sienna bus used for the robbery operations. The gang were sighted along Agidingbi road, Ikeja, operating in a Toyota Sienna bus with Reg. No. APP 488 FH, attacking and robbing unsuspecting victims of their valuables.
This is Toyota Sienna was described by quite a number of victims on several occasions, especially on the social media. On the receipt of the information, operatives from RRS, who have been on the lookout for the said vehicle and gang swung into action. The vehicle was intercepted and one Matthew Tokeme, 50yrs, who is the leader of the robbery gang and also the owner of the vehicle, was arrested. He confessed to being the leader of the 'one chance' robbery gang.
The command also arrested a fake mobile policeman, one Monday Job, who was riding a commercial motorcycle at Oshodi fully dressed in police mobile uniform. In the cause of investigation, he confessed to be an impersonator. It was revealed that he has been wearing the uniform to commit all kinds of criminal activities, ranging from illegal escort of contraband goods from Cotonou to Lagos, escorting vehicles from Lagos to other parts of the country, intimidating, harassing and extorting money from innocent members of the public, claiming to be a mobile police man.
Also, three suspects were arrested with human skull
on March 1 by a team of policemen from Area E Command, Festac while on routine stop and search duty at Alakija Bus Stop along Lagos-Ibadan, Badagry express way. They intercepted one Dauda Tijani, 42years old with a black polythene bag containing a human skull. He confessed that he was sent by an herbalist one Olawale Shodolamu. The said herbalist was also arrested. He claimed that he bought the human skull from one Seun Falana, a staff of Trinity Cemetery Ajegunle at the sum of N10,000. The third suspect was equally arrested.