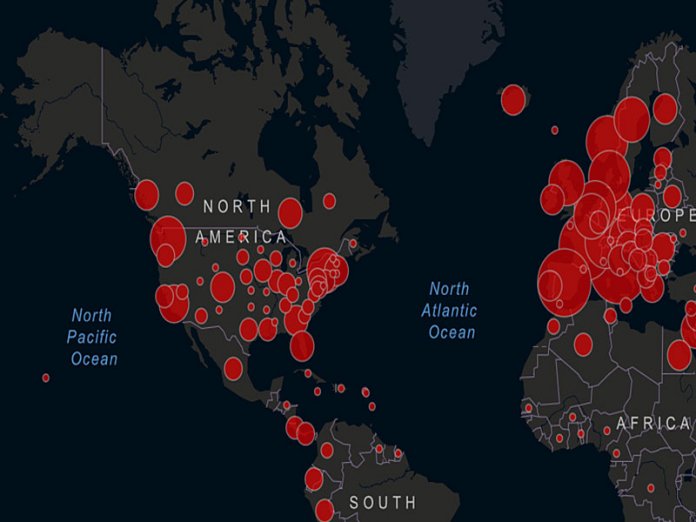 By Martins Ifijeh
As Coronavirus pandemic continues to spread across the globe, not less than 6,456 persons have died so far, with 167,693 persons infected by the respiratory disease in 159 countries across six continents.
Apart from Antarctica, other continents, including Asia, Europe, North America, South America, Africa and Oceania have been hit by the virus which started December 19, 2019 in Wuhan city, China.
One international conveyance; the Diamond Princess Cruise ship harbored in Yokohama, Japan has also been hit by the dreaded disease.
Asia is Worse Hit
In Asia, all countries on the continent, except East Timor, Kyrgyzstan, Myanmar, Syria, Tajikistan and Turkmenistan, have all reported cases of the virus, with China, which is the epicenter of the virus, worse hit by the spread.
So far, 110,000 cases have been recorded in Asia alone. Although reports of new infections outside of China have accelerated, it has outpaced new cases in China for the first time. China still accounts for most of the cases reported overall since the beginning of the outbreak.
As at March 15, China has recorded 80, 849 cases with 3, 199 deaths, while 66, 931 persons have recovered from the disease in the country. Presently, there are 3, 226 persons on critical care battling with the disease in China.
China Puts Entire Country on Lockdown
Chinese government has put the entire country on lockdown, and has taken other drastic measures to curtail the spread, including building emergency clinics for diagnosis, isolation and treatment.
It has mandated all residents to remain in their homes for almost 50 days; a policy that is controlling the movements of over a billion people.
Citizens are also financially rewarded for reporting those who fail to follow quarantine orders; a move the health ministry believed reflects a decades-long history of social control.
Iran, which is the second worse hit country in Asia, has had 13, 938 cases, with 724 deaths so far recorded.
Among those who have been infected are parliamentarians, its deputy health minister, and other high profiled government officials, including a 71-year-old senior adviser to supreme leader Ayatollah Ali Khamenei who died last week.
How Iran is Curtailing the Spread
Iran's Foreign Minister, Zavad Jarif said the government has ordered the ban on all public gatherings, including Friday prayers in Tehran and other major cities, schools, transport systems, and other places with high risk.
He said: "Strict preventive measures, including screening of air travelers at departure gates must be implemented."
A few days earlier, he had pleaded for supplies for Iran, including masks, ventilators, test kits, and protective wear, blaming the United States sanctions for endangering Iranians.
South Korea has recorded 8,162 cases and 75 deaths, while Japan has recorded 832 cases and 24 deaths.
South Korea's largest outbreak is in the city of Daegu, which accounts for more than three-quarters of cases.
South Korea Measures against Coronavirus
The Asian country, where the number of new cases has been on the decline, has been a model of coronavirus testing. The country has 50 drive-through screening clinics where people can get a medical examination and have a sample taken in just 10 minutes. Health workers are processing up to 15,000 tests every day.
The country also is subsidizing small- and medium-sized business owners so they can provide flexible work hours to employees who have children home from school, ABC News had reported.
Kindergartens and elementary schools are required to operate emergency child-care for those whose parents are working.
Europe is Second Most Hit Continent
Although COVID-19 spread has slowed down in Asia, especially China, same cannot be said of Europe which records increased cases daily, with Italy, Spain, Germany, France and Switzerland worse hit.
As at yesterday, about 49,000 people have been infected by the virus in Europe with about 2,300 persons said to have lost their lives.
The most hit country on the continent is Italy, with a total of 24, 747 cases and 1,809 deaths; an unfortunate scenario that has prompted the Italian government to put the country on total lockdown; banning all public events, as well as putting decrees in place to force residents to remain in their homes until the outbreak is defeated.
The 368 deaths Italy reported last Saturday exceeds the highest single-day number China reported at the height of its outbreak. China's highest daily toll was on February 13 when the country reported 254 new deaths, according to the World Health Organisation (WHO).
Italy's Approach against Coronavirus
As part of measures to curtail the spread, the Italian government has banned public gatherings, with freedom of movement sharply curtailed. It also suspended all domestic sporting events in the country until April 3 — a big deal in soccer-prone Italy.
In a release last week, the Italian health ministry said the citizens must change their habits. It cited the rising number of cases and deaths as some of the reasons for the drastic measures. It also warned that with the spread of the virus, its health system was being strained; hence all residents must comply for the greater good.
Spain is the second most hit country in Europe with 7, 843 infected persons and 292 deaths. Although 517 persons have recovered from the disease in the country, 272 infected persons are said to be in critical condition with aggravated symptoms of COVID 19.
The Spanish government Saturday placed the entire nation on lockdown, calling all public and private institutions to suspend activities until further notice.
Germany has recorded 5, 813 cases with 11 deaths. The country has so far recorded one of the least deaths when compared to number of persons infected.
Same cannot be said of France which has recorded 5, 432 infected cases, as 127 are said to have died since the first outbreak was recorded in the country.
France Puts Country on Lock down
France announced a nationwide ban on gatherings of more than 1,000 people, with exemptions for public transit. The Paris Marathon and a Six Nations rugby match against Ireland have both been postponed until October.
The government has placed additional restrictions on four zones with clusters of coronavirus cases: "Morbihan in Brittany, Haute-Savoie in eastern France near the Swiss border and the départements of Oise and Haut-Rhin in North east France. In these places, there is a ban on all public gatherings including markets, community groups and church services," according to Local France reports.
President Emmanuel Macron yesterday also advised citizens nationwide against visiting older people as part of efforts to avoid spreading the disease to those most vulnerable.
Switzerland has recorded 2,217 cases and 14 deaths, while United Kingdom has recorded 1,372 cases and 35 deaths. Norway has recorded 1,242 cases and three deaths.
Considering the widespread of the virus in Europe, the United States President, Donald Trump last week, placed a travel ban on all European countries, including the United Kingdom and Ireland; a move the European Union frowned at.
North America is Not Left out
North America has become the third most hit continent with the United States recording the highest on the continent.
As of March 15, over 3,400 persons have been infected across several states in the US, while at least 317 persons have died so far.
Although the country did not take drastic measures on time, according to pundits, it has now placed several countries in Asia, including the whole of Europe on travel ban as part of measures to address the growing spread of the virus.
Trump Saturday underwent a test to ascertain whether or not he has been infected by the virus, after he had contact with the Brazilian president who eventually tested negative to the virus.
Canada has also experienced its fair share of the disease with at least 317 persons said to be infected so far. Only one death has been recorded in the country.
One of those who have been infected is the wife of the Canadian President Sophie Trudeau, although her husband has tested negative to the virus.
Africa Now Experiencing a Steady Spread of Coronavirus
Although it took Africa over 50 days after the outbreak in Wuhan before it recorded its first case of the virus, it has now started seeing a steady spread of the disease with 26 countries so far affected in three weeks.
Africa has 54 countries in total.
The countries affected on the continent are; Egypt, Algeria, South Africa, Tunisia, Senegal, Morocco, Cameroon, Burkina Faso, Nigeria, Togo, DR Congo, Congo, Seychelles, Rwanda, Central African Republic, Namibia, Sudan, Mauritania, Eswatini, Kenya, Guinea, Ghana, Gabon, Ivory Coast, Ethiopia and Republic of Congo.
Eswatini, Equatorial Guinea, Mauritania, Namibia and Rwanda reported their first cases Saturday. All were brought to the continent by travelers from overseas, as with almost all the other cases reported in Africa, according to health authorities.
So far, Egypt is the 45th most affected country globally, and the most affect in Africa with 110 cases and two deaths.
Nigeria has recorded only two cases. One of the two has recovered, while the index case, an Italian, is said to be fast recovering, although he is still secreting the virus.
How Nigeria is Addressing Coronavirus
The Nigerian government has placed five countries with community transmission of COVID-19, comprising Italy, Iran, South Korea, Japan and China on its watch list.
It said travellers from these countries are asked to observe self-isolation for 14 days upon arriving in the country, and that additional information were given to persons from coming from these countries to enable them seek proper guidance should they come down with the virus during isolation.
The Director General, Nigeria Centre for Disease Control (NCDC), Dr. Chikwe Ihekweazu said the country has also strengthened its Ports Health Services and its various laboratories across the country for effective diagnosis and other protocols.
Ihekweazu said: "We have been preparing for this for the past six weeks. So far, we have done several tests and only two came up positive. This shows our system is actually working. We are testing people that meet our case definition.
"As you have seen in Lagos, we have had only two positive case and we have been able to mount a response in partnership with Ogun and Lagos States.
"This virus is circulating around the world and over 157 countries have been affected. We will do our very best to ensure it doesn't further enter Nigeria and even if a few more cases happen, we can walk together to defeat it. Nigerians are also very cooperative. They have shown that truly, we can come together to address these incidents."
According to him, one of the best investments the federal government has made is setting up NCDC, which has grown to become the pride of Africa.
He said the centre has a team of 250 persons who work 24/7 in the laboratories, surveillance, risk communication, among others; NCDC, he added, had built a team of scientific experts.
"We are building a long term investment in science, thinking and in knowledge base as this will help us respond to incidence like this.
"We have 23 emergency operation centres in the country as of today. This is an investment we have made over the past few years. We have five new molecular laboratories, which are actually not easy to set up. The buildings are actually the easiest part. The more difficult ones are the laboratory and scientific expertise, the reagents, and the likes," he added.
He called on state governments to invest in health security, adding that the federal government cannot tackle issues around disease outbreaks alone.
Meanwhile, seven African countries recorded increases in their coronavirus tallies yesterday.
The seven countries are Cameroon, Rwanda, Kenya, South Africa, Senegal, South Africa and Ethiopia. Seychelles, Mauritania, Rwanda, Namibia, Central African Republic, Republic of Congo, Eswatini all recorded index cases Sunday.
Cameroon's Health Ministry late Sunday confirmed that the country had recorded its fourth case of the coronavirus. The March 15 statement read in part: "The fourth case involves a 34-year-old Cameroonian citizen living in Yaounde."
Rwanda announced that it has confirmed four more cases, bring its total to five after the index case was reported on Saturday. The cases involved three Rwandans and a Ugandan.
Ghana had reported four new cases bringing the tally to six. The West African nation announced first two cases last Thursday. The government also announced a travel ban for persons from countries that had 200 or more coronavirus cases.
In a statement yesterday, the Ghanaian government said it has imposed travel restrictions on all travellers coming into the country following six confirmed cases.
In a statement issued by the Minister of Health, Kojo Oppong Nkrumah, it said "all travel to Ghana is strongly discouraged until further notice."
"Any traveler, except for Ghanaian citizens and persons with Ghana residence permits, who, within the last I4 days. has been to a country that has recorded at least 200 cases of Covid-l9, will not be admitted into the Ghanaian jurisdiction. Airlines are instructed not to allow such persons to embark. Border posts are instructed not to allow such persons into the jurisdiction."
Nkrumah said that there would be a mandatory 14-day self-quarantine for persons who are otherwise allowed to enter the Ghanaian juridiction.
He added that guidelines for self-quarantine would be available at the various Ghanaian ports of entry, stressing that enforcement protocols are being deployed in collaboration with state security and health authorities.
Nkrumah added, "Persons determined to be unable to satisfactorily self-quarantine will be quarantined by the State. Any admissible traveler, who exhibits symptoms of Covid-l9 will be quarantined and tested upon reaching Ghana."
In Kenya, President Uhuru Kenyatta disclosed at a press conference on Sunday that two new cases had been confirmed. The government announced a raft of measures including ban on public gatherings.
Senegal's Health Ministry in its daily updates disclosed that two cases had been confirmed bringing the total number of cases to 26 out of which two have recovered and the remaining still undergoing treatment.
Ethiopian authorities said contact tracing associated with the index case led to 117 persons out of which three tested positive. They are two Japanese and an Ethiopian. The index patient was a Japanese.
South Africa's confirmed case toll hits 61 leading to a raft of stringent measures imposed by government. South Africa, Kenya, Rwanda, Senegal have all banned public gatherings in order to curb the outbreak.
South America
While the number of coronavirus cases in South America remains relatively low, they are rising steadily.
Brazil now has 121 confirmed cases, Chile has 61 cases, Peru 38, Argentina 34, and Mexico 23. Uruguay and Venezuela each have fewer than 10.
Colombia, Chile, Venezuela, Uruguay and other countries on the continent have outlined measures to combat the pandemic, including placing travel restrictions on high risk countries.
Oceania
Oceania is the continent least hit by coronavirus, although the spread is gradually on the rise, no death has been recorded. Australia has so far experienced 300 cases.
Guam, French Polynesia and New Zealand have all recorded one case each with no deaths.
Fiji is yet to record any case, but it has toughened border security. Fiji's government said it has closed all borders to foreign nationals who have been in mainland China and other high risk countries within 14 days of their intended travel to Fiji.
Yesterday, the Prime Minister of Fiji, Frank Bainimarama, announced that from today, cruise ships will be banned from berthing anywhere in Fiji and international events will not be allowed in Fiji, adding that government ministers and staff will be restricted from traveling overseas.