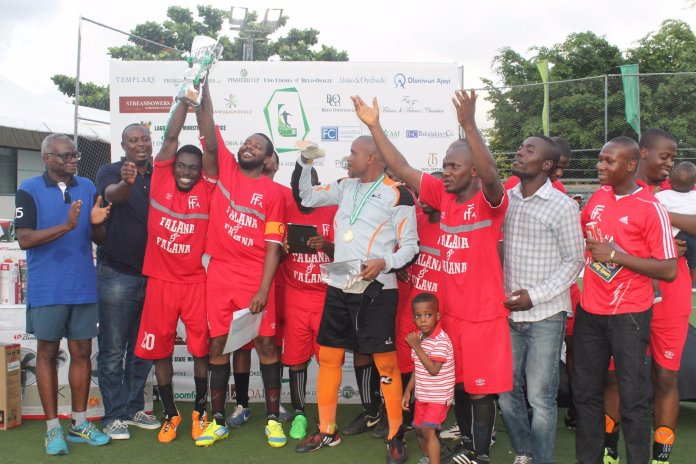 Tokunbo Orimobi LP will be looking forward to upstaging DOA Law//Bloomfield this afternoon as Group B leaders when Matchday 4 fixtures of the 2020 BOA Lawyers' Football Tournament hold at the AstroTurf 2000 facilities in Ikoyi, Lagos.
Orimobi are on four points behind leaders DOA/ Bloomfield with six points from two matches. But Orimobi whose fortunes took an upward swing following Ejiro Odivbri's hat trick in their 3-1 defeat of ALP/SOOB last weekend, will be looking forward to consolidating when they face Pinheiro.
Odivbri is the first player to score hat trick in this 2020 edition of the tournament named after late Bankole Olumide Aluko, a partner in the law firm of Aluko & Oyebode who died 18 years ago.
Similar scenario is expected to play out in Group D where leaders, SPA Ajibode/Niccom LLP Will also hope to maintain lead. OAKE Legal is aiming to leapfrog the SPA Ajibode as the are both tied on six points but separated by goals difference.
SPA Ajibode/ Niccom LLP have a date with Olaniwun Ajayi in this Matchday 4 fixture while OAKE Legal who lost 0-3 to to the leaders have the weekend off to strategize on how to return to winning ways. Other fixtures include; Advocaat versus AELEX while BA Law / Probitas Partners are paired against OANDO/AXXELA Legal.
Champions Falana & Falana who have just one point from a possible six and have been languishing in the fourth position of Group C will be aiming to pick their first maximum points of the season when they play UUBO/Ajumogobia & Okeke this afternoon.
The last game of the evening is between Templars and Aluko & Oyebode. Banjo & Ighodalo, George Etonian/FRA Williams are joining OAKE Legal to observe the weekend as their rest days.
Twenty teams are participating in the 2020 edition of the lawyers' football tournament with six mergers. The teams are divided into four groups while eight matches are to be played every Sunday over a six week period.