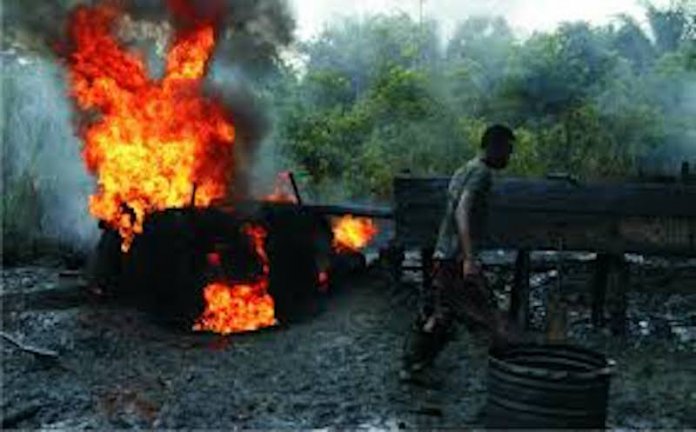 Ernest Chinwo in Port Harcourt
The Rivers State Government has disclosed plans to set up modular refineries to discourage illegal refining of petroleum products, also known as "Kpo-fire" and check the increasing soot menace in the state.
Rivers State has been awash with "black soot" arising from illegal refining of petroleum products and the burning of seized products by security agencies.
Addressing a consultative meeting yesterday in Port Harcourt with leaders of Community Development Committees (CDCs) in the state on ways to end the menace in the state, the Deputy Governor, Dr. Ipalibo Harry-Banigo, said the state was determined to find a solution to the menace.
She said the state Governor, Nyesom Wike, had set up a technical committee made up of technocrats on the incidence of soot in the state and that the committee had determined that the incidence was dangerous to people, plants and animals and could cause cancer and other terminal diseases.
She said the state was therefore poised to take steps to establish modular refineries to check the proliferation of illegal refineries in order to protect both residents and environment of the state.
She emphasised that the aim was not to arrest people in the illegal business but to encourage them to form co-operatives to get assistance to operate modular refineries to protect the people and the environment.
Harry-Banigo said: "We need you to come on board this vision. We need you to buy into this policy. We want those involved in artisanal refining to know that we are doing all we can to accommodate them.
"The governor wants the best for the people of Rivers State. We want our people to be gainfully employed in a venture that will not be injurious to our environment.
"We called because you are CDC Chairmen and your committee is about development. This is an innovation, it is not something that is happening every day.
"We are ready to encourage them, we are not arresting them. We are ready to assist them to form cooperatives or clusters and we will register them. After meeting with you, we will meet with federal agencies like NNPC, DPR and NCDMB."
Also speaking at the meeting, the Commissioner for Environment, Dr. Igbiks Tamuno, revealed that illegal bunkering and refining activities are going on in communities in no fewer than 14 local government areas in the state.
Tamuno expressed regrets that an illegal activity involving about 2,000 people have put the lives of over seven million people of the state at risk of cancer.
He said: "We have called you because you are very important stakeholders in this issues. Issue of kpo-fire is with us and those involved are sons and daughters of Rivers State.
"The development is causing a lot of devastation of the environment and the health of Rivers State.
"Kpo-fire is operational in at least 14 LGAs. We have soot everywhere. While few people smile to the bank, others are suffering health-wise. In few years to come, there will be lots of cancer-related health challenges in the state. As government we are concerned about the health of our people.
"We are here to provide viable alternative for a win-win situation. As a government we have on the table, the idea of modular refineries. With it, we will produce the same product the big refineries produce, but it will be on small scale. Government will be the driver of this project and we will provide the enabling environment.
"About 2,000 people are involved in kpo-fire but over seven million people are suffering the effects.
"We are here for the environment and health issues. Nobody is going after anybody, we are in this together. We are hoping that in no distant future, we will see construction going on in the areas marked out."
In his response, the Coordinator General of CDCs in Rivers State, Mr. Chidiebere Onwubualili, welcomed the development and called for "genuine" collaboration between the government and the people.