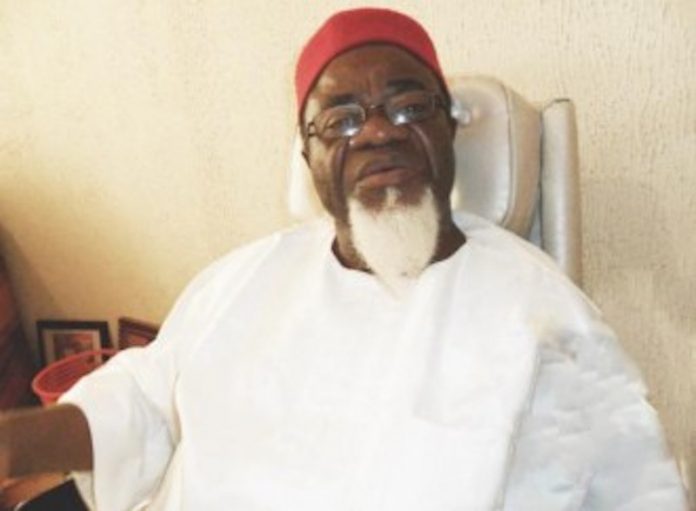 COUNTERPOINT
With Femi Akintunde-Johnson
It is commonly accepted as fallacy any idea that derives its meaning or position from a generalisation. So, I will not participate in equating the recent outburst of the former Governor of Anambra State, Dr. Chukwuemeka Ezeife, as the prevailing thought of Ndigbo in the political future of Nigeria. Yet, it is important to interrogate the gentleman's warning (someone may even call it a threat) with the contemplation that some others may share a similar position, or may be spurred towards accommodating such.
Ezeife reportedly warned the Nigerian political establishment, and, by extension, the populace, that any action or process that is devoted to disallowing an Igbo person from succeeding President Muhammadu Buhari in 2023 equals to a clear invitation for the Igbos to leave the country! That is worrisome coming from a man whose democratic credentials should ordinarily accord him statesmanship. But that is even the less troubling aspect of Ezeife's unsubtle threat.
He further predicated his alarm on the premise that any denial of the next presidency to the South East zone would obviously translate to denying the people of that region the citizenship of Nigeria… and therefore… whatsoever the South East people do as consequences of being flagrantly politically excluded, would be justified – in the face of humanity, if not of God (last emphasis mine).
How this did not cross Ezeife's mind as a call to disorder in lieu of 2023 manoeuvering beats me. Historically, and with the emotive benefit of political affiliations and developments, it is a crying shame that we have not had an elected president of Eastern extraction. Of course, there are hundreds of pundits that will churn out realms of arguments contradicting the possibilities and existential obstacles that can abort the emergence of a South East president.
We are not here justifying or vilifying the emergence of such an overdue candidate, amongst hundreds that are manifestly capable, but to remind our political gladiators to dump down on rhetorics that can easily inflame nerves and topple the relative inter-religional peace we now enjoy within the space afforded us by our current insane security challenges.
We ought not to add threats of sectional or regional devastations in political retaliations for electoral choices or selections of vested political parties. People like Ezeife should be told in certain terms that no region can foist its will and fancies, however righteous, on all other regions. Threats and insinuations of unrest and affray can hardly win any region the presidency in a nation where political and electoral calculations are fraught with all sorts of imperfections and irregularities.
Short of all major political parties agreeing to field candidates from the South East region, the prevailing rickety and cash-soaked apparatus of electioneering activities can hardly respond positively to Ezeife's alarm. Rather than threaten and filibuster at a system malevolently designed and operated to frustrate certain political agitations, and deep-seated desires to serve in the truest form, elders like Ezeife must collaborate with like minds across regions and religions, hewing quietly and fervently at the suffocating structures and strictures erected to undermine a truly egalitarian society and functional democracy.
People who rise in anger and wilful antagonism in response to stifling and unfair political manipulations merely make the route to prosperity and political ascendancy more arduous and traitorous to generations afterwards. This should be our mantra: Build bridges – of whatever substance and span – and don't throw fire-bombs at the tiny planks we are currently managing – or is it massaging?
Civil Servants, Stop Looking for Coronavirus!
Nigerians are unique in many ways. One is in our capacity to believe we are naturally immune from something that others dread or cringe from. Usually, our confidence is mostly based on ignorance, or foolhardiness. Remember, when HIV/AIDS started to lay waste swathe of humanity in the western world….our people below the Savannah believed it was the White man's disease, and therefore orchestrated efforts to promote safe sex and encourage abstinence were seen as the usual craving of the Western world to deny us the full measure of God's blessings and directives… that man shall not be alone…that he shall multiple…flesh on flesh was divine, and no scare-mongering racists were going to stop our fun and formula. Later, with gory pictures and horror stories of our relatives, friends and others flooding our mass media, we somehow fell in line.
Yet, for all our "shakara" and air of courage and manliness, we are mostly terror-stricken at diseases and ailments of epidemic or pandemic dimensions. We lose our bluster, and run under the canopy of religion, when a blaze of seemingly incurable pestilence like Ebola, SARS (not our infamous Yahoo-Yahoo 'lovers'), Bubonic plague, Lassa… threaten to storm our comfort zones.
It is thus no surprise to hear that some of our top civil servants are still afoot all across the world, attending conferences and all what not – even as the world is battling, on different levels, to stem the surge and spread of the now dreaded Coronavirus (COVID-19) which presumably originated in Wuhan, China.
It came to light recently that the Nigeria/West Africa Director of The International Emergency Management Society (TIEMS), Ismail Sani, called on President Muhammadu Buhari's and governments of nations affected by Coronavirus to impose an international travel ban on their officials. The TIEMS Director lamented that despite the alarming rate the virus was spreading across the world, some Nigerian government officials, and their colleagues elsewhere, were still travelling outside their countries for conferences and events!
Now, what in God's name could be the stimulating benefit of putting at grave risk your life, the lives of your family and countless others all across the world? Estacodes? Knowledge? Service (or eye-service)? How does a diseased mind and a carrier of a booming plague be of any service to his or her society? Let the presidency immediately cancel and reverse any travel approvals, in view or ongoing, and demobilize all transit public and government officials, after they have been duly screened, quarantined (or by self-isolation for required days) if afflicted.
Do not be fooled: Coronavirus is not immune to the black man, and certainly not a Nigerian (whether on self-serving or righteous assignment)… Sit at home, and save us the possibility of contamination and distribution.