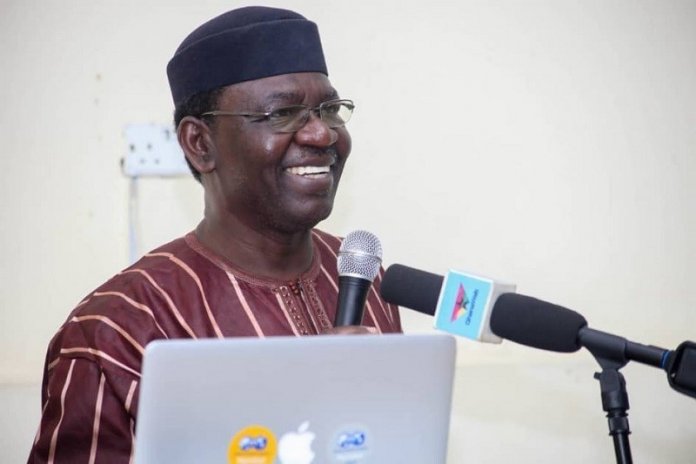 Prof. Wumi Iledare, is an emeritus professor of petroleum economics and policy research, and currently the Director, Society of Petroleum Engineers (SPE) African Region as well as the Ghana National Petroleum Corporation's Chair. In this interview with select journalists, he speaks on a number of issues in the Nigerian oil and gas industry, suggesting a lesson from Ghana on how best to utilise oil revenue for the development of critical sectors. Peter Uzoho brings the excerpts:
The Nigerian oil and gas industry has over the years been asking for reforms and many stakeholders still believe that we have not really seen that reform. Do you share this view?
Yes, the reform has not been concretised. There have been one piecemeal here and there. The Petroleum Industry Governance Bill was to be the reform in terms of the governance of the industry. The Petroleum Industry Fiscal Bill was to be the reform in terms of taxation and royalty. The Petroleum Administration Bill was to be the reform in terms of the administration of the oil and gas industry; and the Petroleum Host Community Bill was to have been the ultimate reform in terms of the relationship with the community. So, we are not there yet.
We started in 2000, with the Oil and Gas Policy which was to cummulate to the ultimate final decision of an Act that is supposed to replace the old Act, which is the Petroleum Act of 1969 and the Petroleum Profit Tax of 1959. So, the laws are archaic. But if you look at what was done recently with respect to Inland Water Basin and Frontier, it is a way forward, but not the ultimate end, and one must understand that in a clandestine manner, that is, it is not fully open yet, but they are working behind the scene in form of the governance bill and in form of the fiscal bill. I think they are working on it, I think it is being spearheaded in an inter-agency manner.
In terms of the PIB, do you think starting from the scratch is what we need to do or they should rely on the documents from the one that had been done previously?
Well, I think, in a pragmatic sense, they cannot start from the scratch, because from 2008 to now, that is 12 years, you have had PIB 2008, you have had PIB 2012, and you have had PIB 2018. So, there is no way anybody will come and claim that they are starting from the scratch, even PIB 2012 was not from the scratch, PIB 2018 was not from the scratch. So, there is no starting from the scratch. They don't necessarily have to come up with the same format that you had in the past, they can improve on some of the limitations that will appear which was why they rejected it. But starting from the scratch is not effective, is not efficient and to me, it's a waste of assets. And I can say it authoritavely that they are not starting from the scratch.
But the Senate President recently said a new version of the bill will have to be presented to this new National Assembly?
No, that's not what he meant by starting from the scratch. What he meant was that it is not going to be a re-presentation of the bill that was presented to the former national assembly, because normally everything that did not get through in an old national assembly is dead at the beginning of a new assembly. So, what he is saying is that what you are going to see is a presentation of the bill that will go through the first reading, second reading and third reading, that's what I think he meant. It is not that you are going to start the drafting. No, you are not starting from the scratch – going through the nitty-gritty of debate and all that. I don't think that's what he meant.
Over the years you have seen this bill go to the National Assembly, now the third time was during the eight National Assembly. What do you think were the major challenges that actually hampered the passage of this bill?
Well, if I'm going to be offering an opinion, since I'm not part of those who truncated the bill, I think the last bill was not an executive bill, it was a legislative bill, and maybe there is a feeling that the executive who is supposed to execute the bill were not in sync with them. And that is of course the political environment in which APC found itself. Even though they control all the arms of government, there seem to be no synergy between the executive and the legislature. So, that might have informed them. Again, that's just my opinion. But it's not that they were not carried along; I mean the bill advisors engaged both the executive and legislature and the industry about that.
I just think the situation got caught up in the political environment when the election was coming and every politician was trying to score a point to have a public advantage. The only difference now is that there seems to be a sync between the executive and the national assembly. Well I just hope the National Assembly will not be a rubber stamp, and I think I have confidence that they will have someone to review whatever the executive presented to them and there will be conversation with the advisers and the representatives of the government, so that there could be optimality.
You recently moved to Ghana and you are the Ghana National Petroleum Corporation Chair. Having spent some time in Ghana and you have looked at the petroleum sector there, what do you think they are doing differently that is helping their petroleum sector?
Well, they are just emerging. So, they are probably where we were when we produced the first barrel in 1958. So, comparing what is going on in Ghana with what is going on with us now is like comparing apple and orange. Here, we have a solid local content in which indigenous people are really engaged and we have the capacity that we are under-utilising. Ghana is just building local capacity at this stage of their development. The only advantage I think they have is that they have Nigeria to learn from, and so they are trying to not make the type of mistake Nigeria made with respect to local involvement.
I wish though they are mindful that local content does not mean local pocket, there must be a capacity, and I think that's why the Ghana National Petroleum Corporation endowed the Chair to be able to help them. They have four Chairs: one in Kwame Nkrumah University of Science and Technology, dealing with petroleum engineering. They have another one in the University of Ghana, Accra, dealing with geosciences; and you have one in the Western region, dealing with mining. And you have me, in the University of Cape Coast, dealing with petroleum economics management and finance, which is what is called petroleum commerce. The purpose of the Chair is to build capacity and the industry experts so that local professionals who could manage and participate in the exploitation are properly prepared to do that.
I think the only advantage Ghana as a country has over us is structure and organisation. Ghana is organised and structured and they are not as openly ethnicised as Nigeria. And then the university which is actually the agent for the future is also well structured and well organised compared to ours; and anybody from Ghana could be called upon to head any university in Ghana. They don't have to come from the area in which the University is. That is some of the aspects that we have lost. So, that's quite the advantage that Ghana has, which makes the future to sustain and grow the economy, even though they have less resources than us, more likely.
And they are also working to wean themselves off the dependence on Nigeria in terms of gas because they are developing a lot of the gas resources that they have?
Yes, certainly, and the other difference is the fact that they think more of using their gas as an economic engine rather than for revenue. Right now I think they have an LNG that they are using to power their electricity. So in that case they are different because gas is looked at more as an engine to power an economy than as a source of revenue. And another thing that they have going for them in my opinion is the wisdom at the beginning to dedicate a portion of their money to what they call petroleum fund, that means it cannot be used for concurrent expenditure.
It has to be used for capital development from one sector to the other. So if it is agriculture infrastructure area they want to concentrate on, the money will go there as the priority, which I think is very good. I think when we were writing the Petroleum Industry Bill in 2018 there was the thinking of having a petroleum revenue management bill but they said it was a-no-go area, because it was a constitutional mandate that every money that is made from petroleum must be spent, which I think is not necessarily correct.
So what about the Excess Crude Account that we have, isn't that serving that purpose?
Well, I'm not sure there is any law that talks about excess crude account, except the budget process that says that if you have a budget that says the price of what you are going to use to generate your revenue is $50 and the price then becomes $60 then the $10 must not be used to do anything but to put away. But I don't think there is any Act in the country that supports that, unless you use the budget process to do that, and that's why state governments will always come to ask for that excess money to be distributed. But if there is an Act that says that only a portion of this amount that is generated every year can be spent, then there is a lot to that, that any government that spends more than that proportion or spends the allocated proportion for something else you will be violating an act.
So why do you think that is necessary for Nigeria?
No, a nation must be governed by rule of law.
I'm talking about the petroleum management fund that you are saying should be in place?
Yes, because it becomes an Act that must be obeyed from government to government.
The point is, you are talking about the petroleum management bill that will dictate how money that is generated from revenue is spent. So why is that important?
No, because, then there is a law that must be obeyed. Then why is the Petroleum Industry Bill important? A nation operates on the basis of law, which means if you have to change it, then there has to be an Act of Congress to change the formular. Look at the Revenue Allocation Formular, when was the last time it was reviewed? Look at the Petroleum Act of 1969, when was the last time it was reviewed? So that's why you need an Act and that Act must be thoroughly debated, because you don't know when it is ever going to be changed. In a civilised society, laws are not perpetual.
There are provisions to revise or review it. So you could see, even when you have a law, it is not obeyed, then everything is free for all, and it becomes more difficult if you are doing a deficit budgeting as we have. The argument is, how can you have money? You even find people arguing, how can you have external reserves, without understanding what the external reserves is. External reserves is not savings.
Are you worried that for some years now we have been weak in the area of oil exploration?
I'm concerned because the only way to sustain petroleum business is to find new reserves. The only way to find new reserves is to explore; the only way to explore is to get new blocks, and none of them is in place. We have not been able to do any bidding since 2007, that's 13 years ago, whereas you go to some jurisdictions, every year they are offering oil blocks for exploration. So, those are things that the Governance Bill and the Fiscal Bill and the Administration Bill set out to address. But I must confess, they are working on it. If the PIB will possibly come out with two bills, I don't know.